7-Layer Klondike Lasagna: The Dessert You Never Knew You Needed to Make
Matt R.
Food Beast has introduced the world to what we believe is the first-ever ice cream lasagna.
And we're not sure how we feel about it.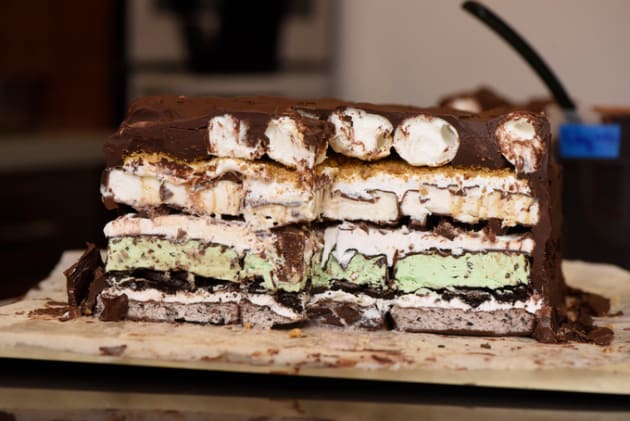 The following Klondike Lasagna calls for 36 Klondike Bars and, on one hand, seems ideal for a child's birthday party.
But, on the other hand... 36 Klondike Bars?!?
According to Food Beast, the knife used to cut this creation had to sit in boiling water for a few minutes beforehand in order to cut through all that ice cream.
As for what this unique dessert recipe entails? Prepare to be blown away...
36 Klondike Ice Cream Bars (we used Oreo, Mint Chocolate Chip, and S'mores flavors)
Oreo Cookie Crumbles
White Icing
Crushed Chocolate Candy
Marshmallows
Graham Cracker Crumbs
1st Layer: Lay out 12 Oreo Klondikes on a flat surface (4x3).
2nd Layer: Slather a generous amount of icing over the Oreo Klondikes and sprinkle Oreo cookie crumble topping as well. Freeze layer completely.
3rd Layer: After the Oreo Klondikes, icing and Oreo crumbles layer has been frozen, add a new layer of 12 Mint Chocolate Chip Klondike bars atop it.
4th Layer: Spread another thick layer of icing over the Mint Chocolate Chip bars. Sprinkle crushed chocolate candy bars over the icing layer. Set the entire lasagna-in-the-making in the freezer, and freeze again.
5th Layer: Once the Oreo and Mint Chocolate Chip Klondike layers have solidified, add a final layer of 12 S'mores Klondikes. (You can also wait to add this layer after step 6, if desired, so that the S'mores Klondikes sit on top of the marshmallows).
6th Layer: Cover layer of S'mores Klondike bars with icing as well—this time a bit less that the other iced layers—and sprinkle graham cracker crumbs and pre-toasted marshmallows on top.
7th Layer: After all stacked layers have been frozen completely together, cover the entire 'lasagna' in a chocolate shell, and place it in the freezer so everything solidifies entirely.
Tags:

Related Videos:

Uploaded by:

Uploaded: