Traditional Corned Beef and Cabbage Recipe
Janette Fuschi | Culinary Ginger
Corned beef and cabbage is everyone's favorite meal from across the Atlantic. Beef brisket is brined in spices and many flavorings then cooked with carrots, onions and cabbage.
Corned Beef and Cabbage is a dish that is synonymous with St Patrick's Day, but only in the U.S. What?
Yes! This is true. Of all the dishes the Irish are eating on this day, this dish is not one of them.
Corned beef has been around for centuries and is most popular in England, not Ireland where it is also sold in cans.
In the 17th Century, the British land owners brought the cattle into Ireland, but the Irish could not afford to eat the beef because it was considered a luxury. Pork was more their traditional meat to eat, and the dish boiled bacon and cabbage.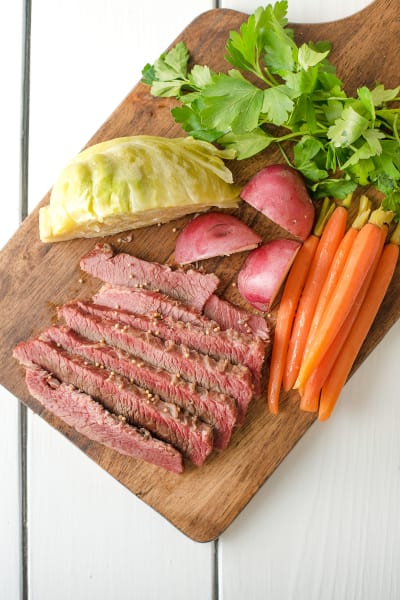 So how did corned beef and cabbage makes its way to the U.S.?  
In the 1800's when the Irish first started arriving on the shores of North America, they yearned for some home-style dishes, and since beef was more readily available and cheaper to buy here, this excited them that they ate like kings.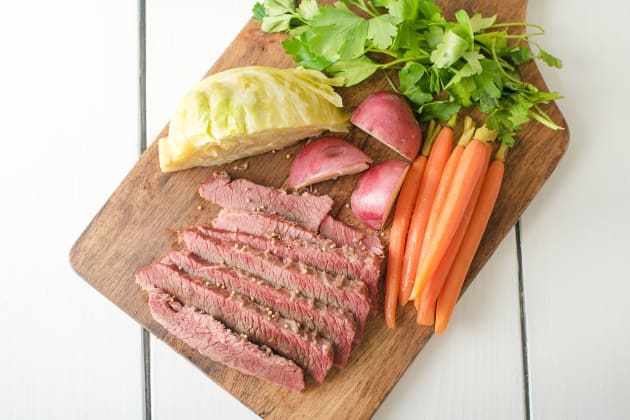 So it became the meat of choice for the newly Irish-Americans who still eat it to this day. I'm sure that boiled bacon and cabbage is not going to catch-on anytime soon in the U.S.
The name 'corned beef' comes from the corn shaped rock salt that is (and used to be) used to cure the meat before cooking. For ease of product availability, I did not use or specify this salt in the recipe, I used regular coarse salt which gets the job done.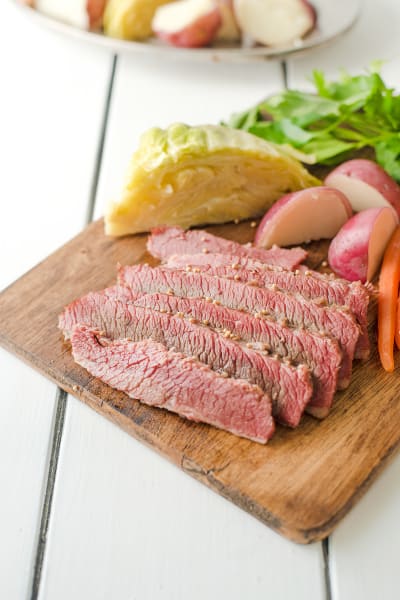 Irish ex-pats do love to celebrate St Patrick's Day. It seems more than the Irish back home, because on this day you will see lots of celebrating with green beer, green food and even green rivers.
In Ireland, it used to more of a religious celebration with the donning of a shamrock badge and attending mass. It has also grown over in the homeland to become a great celebration with parades and green clothing.
When it came to choosing the brisket for this recipe I wanted the best and freshest cut I could find since it must brine/cure for 10 days.
I bought my brisket from a local meat market and watched them cut the beef fresh off the bone. This was a very cool experience and I knew it was going to be as fresh as I could get.
This may seem like a laborious undertaking for some boiled meat, but trust me, when corned beef is done right, it can't be beat. Another advantage of making your own from scratch, is the store bought already-brined corned beef comes with the addition of sodium nitrates which gives the beef it's distinct pink color.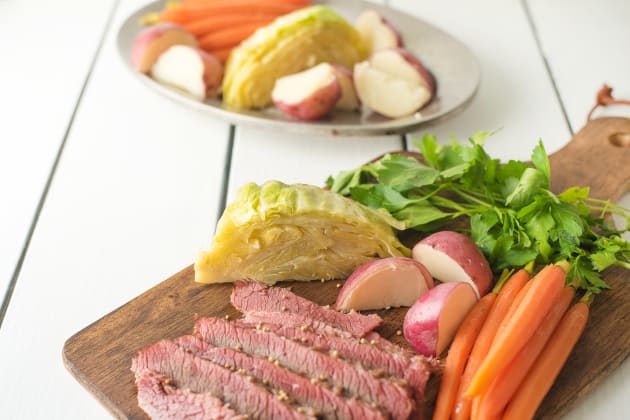 As you can see from the pictures, the beef I made has a strip of brown through the center, this shows it was not prepared with this food additive.
Are you tired of the dinner routine?
Stuck in a rut or looking for fun new recipes to try?
Our Facebook Group is growing every day! If you haven't joined yet, we invite you to come check it out and join the fun.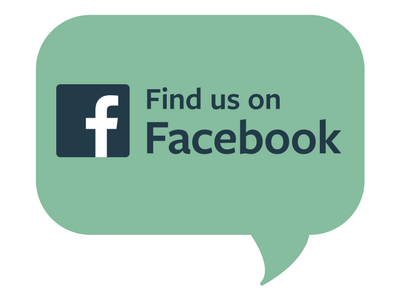 You can ask for recipe ideas, talk about cooking techniques, or get help figuring out the right new pan set for you. If you've already joined, invite a friend along!
Traditional Corned Beef and Cabbage Recipe
Ingredients
For the Brine:
1 cup Salt, coarse
3/4 cup Light Brown Sugar
2 Bay Leafs
12 juniper berries
2 teaspoons Whole Black Peppercorns
2 teaspoons Yellow Mustard Seed
10 Whole Cloves
1 teaspoon Ground Ginger
1 Cinnamon Stick
1 teaspoon Allspice, ground
3 pounds Beef Brisket
For Cooking the Brisket:
1 Onion, peeled and quartered
2 stalks Celery
2 teaspoons Yellow Mustard Seed
1 teaspoon Whole Black Peppercorns
2 Bay Leafs
1 pound Carrot, peeled
1 1/2 pounds Potatoes, red skinned, quartered
1 head Cabbage, cut into 6 wedges
Directions
To a large stock pot (I used an 8-quart pot) add 4 cups water and all the brining ingredients.
Bring to a simmer and turn off the heat. Add 4 cups cold water and allow the brine to cool down. Refrigerate until it reaches 45°F.
Submerge the brisket in the pan, cover and refrigerate for 7-10 days.
After 7-10 days remove the brisket and discard the brining liquid. Rinse the meat.
Add the brisket back into the cleaned pan and cover with water. Add the onion, celery, mustard seeds, peppercorns and bay leaves. Bring to a boil and simmer for 2 1/2 hours. After 2 1/2 hours add the carrots, potatoes and cabbage and simmer for 20 minutes.
Recommended
Nutrition Facts
Servings Per Recipe 6
---
Amount Per Serving
Calories from Fat 135
Calories
578
---
% Daily Value*
18%
Total Carbohydrate
53g
---
* Percent Daily Value are based on a 2,000 calorie diet. Your daily values may be higher or lower depending on your calorie needs.
** Nutrition Facts are estimated based on ingredients and data provided by
Fat Secret
. Please consult a doctor if you have special dietary needs.