S'mores Brownies Recipe
Kim Beaulieu | Cravings of a Lunatic

S'mores brownies are the completely irresistible summer dessert you didn't know you needed in your repertoire.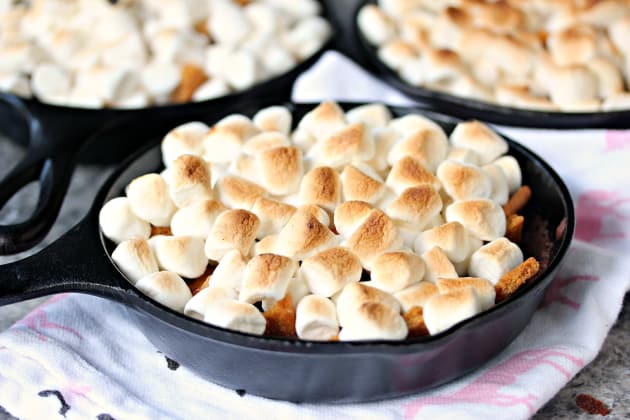 I love grilling. Like REALLY love grilling. I grill almost every day, even in winter. There's something about it that just makes me ridiculously happy.
Honestly I think grilling ranks right up there with chocolate in my book. So why not combine my two loves in one tasty recipe? It's perfection!
I'm a brownie girl through and through. I crave them constantly. So does my daughter. I don't want to go all summer without making my favourite brownies, so I bake them on my grill.
Grilling is such a big part of my life that I even have a grilling blog. You can swing by Kiss My Smoke to check it out. I love sharing fabulous, easy grill recipes.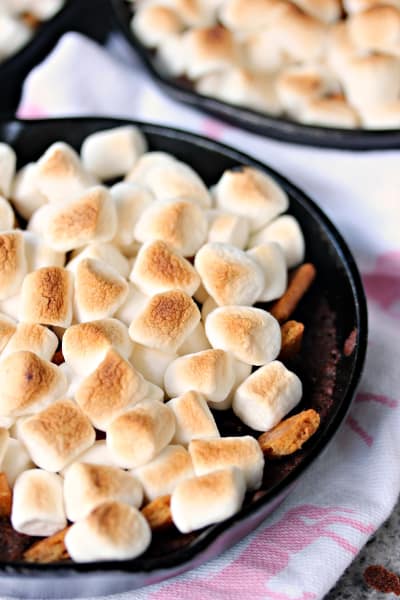 Here's the thing about grilling - you can grill just about anything. Not even kidding, people. People get so stuck on only cooking savoury dishes on the grill. I'm here to tell you that's just wrong. Wrong, wrong, wrong. 
You can cook anything on that grill, and you can bake on it too. The key to baking on the grill is indirect heat. You turn on your burners on one side of your grill, and preheat your grill just like an oven. Then place what you're baking on the side without the heat. It bakes just like an oven. 
If you bake on the grill, I highly recommend using a thermometer right on your grill grate. You can purchase some amazing ones. You can easily attach it where your food will be cooking. That way you ensure you have the proper temperature. I can tell if you use the temperature gauge on the top of you grill it's not always giving the correct temperature. It's always better to have one inside the grill, right where you cook. 
So think outside the box when it comes to grilling. You can bake these brownies while you are enjoying some sunshine. They are amazing, and totally worth waiting for.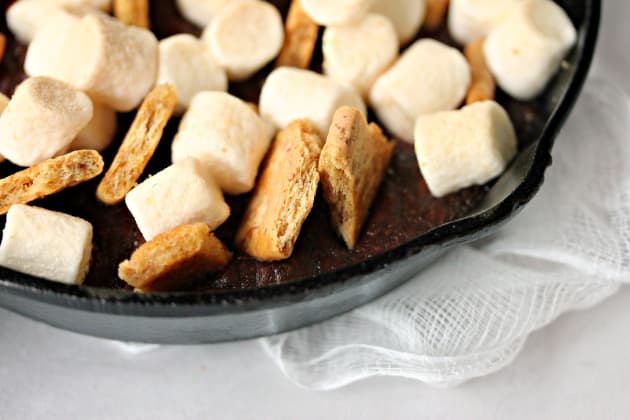 I used my favourite brownie recipe, it's a riff on Katherine Hepburn's brownies. I use a recipe a friend recommended years ago, it's from a blog called Tasty Eats at Home. I use this brownie recipe almost exclusively because we love it so much.
These brownies are a fudgy, ooey, gooey recipe. Which is perfect for s'mores brownies if you ask me. They stay fudgy and if you eat this hot you can just dip graham cookies right in the batter. It's pretty much orgasmic. Not even kidding. 
If you like cake-like brownies this recipe is not for you. These are not cake-like brownies at all. You can add more flour to the recipe if you want to make them more cake-y. But why mess with perfection? I mean really, why.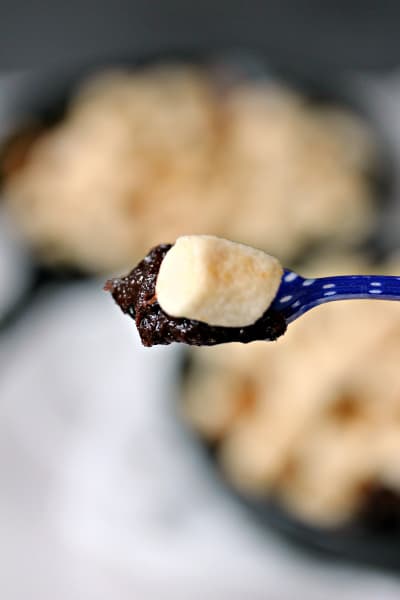 When you top them with marshmallows keep your options open. You can do one of three things. You can toss marshmallows on at the end and cover the pan so they melt really well. Or you can use a mini handheld blow torch to brown and melt the marshmallows. I've done them both ways, and they both work well.
You can also melt the marshmallows in the microwave and just pour the mixture over top of the brownies. I know, right? How awesome does that sound right now! The one thing I don't recommend is tossing the marshmallows on and not covering the pan. They just don't melt properly and will get hard instead of gooey. Which is sort of icky. So don't do that. Just saying.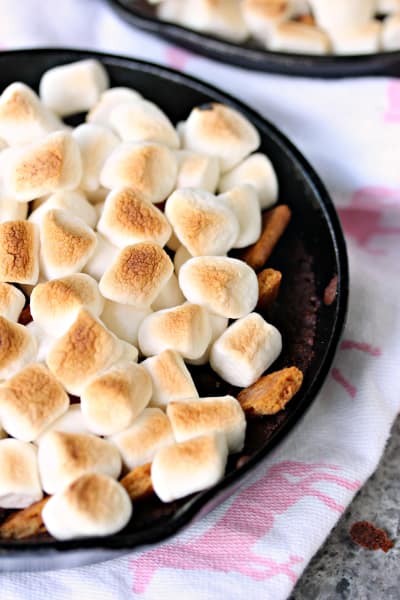 I use my burner on my grill to prep the brownie base, but you can do it on the stove top if you like. Either way works. I'm sure you could use a microwave for the batter prep as well, although I've not done it that way myself. These are pretty fool-proof, so it would be hard to mess them up. 
Hope you get a chance to make these! The base brownie recipe is amazing. You should probably make an extra batch just to be on the safe side. 
Are you tired of the dinner routine?
Stuck in a rut or looking for fun new recipes to try?
Our Facebook Group is growing every day! If you haven't joined yet, we invite you to come check it out and join the fun.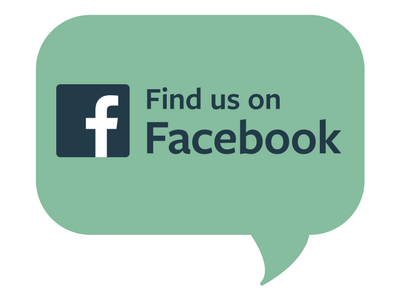 You can ask for recipe ideas, talk about cooking techniques, or get help figuring out the right new pan set for you. If you've already joined, invite a friend along!
S'mores Brownies Recipe
Ingredients
For the Brownie Batter:
8 tablespoons Butter
2 ounces Unsweetened Chocolate
1 cup Granulated Sugar
2 Eggs, beaten
1/2 teaspoon Pure Vanilla Extract
1/2 cup Semisweet Chocolate Chips
1/4 cup All-Purpose Flour
1/4 teaspoon Salt
For Topping:
1 cup Miniature Marshmallows
1 cup Graham Crackers, broken into pieces
Directions
Preheat grill to 325°F, using the indirect heat method. You want one side of the grill burners turned on, the other side off. You'll be placing the brownies on the side with no burners on. That is indirect heat.
Spray your pan with non-stick spray, or use a little butter on them. You can use an 8 x 8 inch baking pan, or use a cast iron skillet, or multiple mini cast iron skillets. Your choice.
On your grill's side burner, or on your stove top, melt the butter and unsweetened chocolate together over low heat in a medium saucepan. Stir with a wooden spoon.
Once the butter and chocolate melt completely you can remove the pan from heat, and add the sugar. Stir well.
Add your eggs and vanilla, stirring until it's smooth.
Add chocolate chips, flour and salt. Stir until well blended.
Pour into pan (or pans) and place over indirect heat on the grill.
Bake over indirect heat for 35-45 minutes, you can adjust the time depending on whether you like your brownies really fudgy or more stiff. About 5 minutes before your brownies are done toss the marshmallows and broken graham crumbs over top of the brownies, cover with a lid, or tinfoil (carefully, that pan is piping hot!) and then continue cooking for that final 5 minutes.

Option 2 is to remove the brownies when fully cooked, toss the marshmallows and broken graham crumbs over top of the brownies, then use a mini blow torch to melt the marshmallows.

Option 3 is to melt the marshmallows in the microwave and pour over top. Add a little butter to the marshmallows if using this method. About 1 tablespoon of butter is ideal.

Dive right in while they are piping hot. That's my preferred way of eating them. Just be careful if using cast iron pans. You can buy handle covers for them, which really helps tremendously.
Serve with a big old s'mores loving smile.
Recommended
Nutrition Facts
Servings Per Recipe 6
---
Amount Per Serving
Calories from Fat 215
Calories
508
---
% Daily Value*
22%
Total Carbohydrate
65g
---
* Percent Daily Value are based on a 2,000 calorie diet. Your daily values may be higher or lower depending on your calorie needs.
** Nutrition Facts are estimated based on ingredients and data provided by
Fat Secret
. Please consult a doctor if you have special dietary needs.