Oven Baked Tuna Steak Dinner
Cyd Converse

This Oven Baked Tuna Steak Dinner is quick and easy to make - just perfect for busy weeknights!
After a busy day at work, sometimes you just don't feel like cooking when you come home. You may even be tempted to order takeout or perhaps go out to a restaurant to eat. But not only can this get  expensive, but it can also be pretty unhealthy too.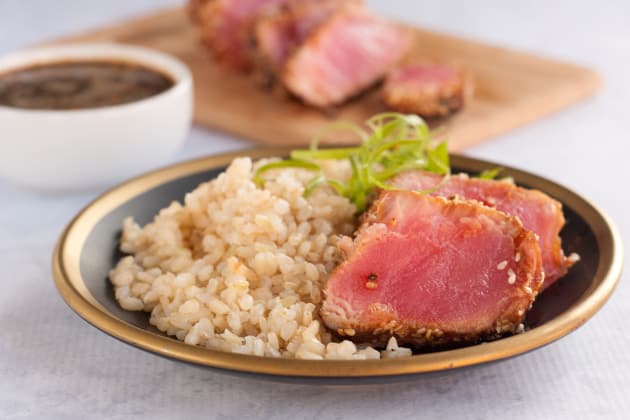 The good news is that this Oven Baked Tuna Steak Dinner is not only quick and easy to whip up, but it tastes as good as eating out! 
This keto-friendly recipe is ready in just 25 minutes ! And to save time on cleanup afterwards, line your pans with aluminum foil before you start.
What type of tuna should you use in this recipe?
If you can get fresh tuna steaks at your local supermarket or fish monger, try and opt for steaks that are about an inch thick and weigh roughly six ounces.
If not, frozen steaks work just as well - just pop them into the fridge to defrost in the morning before you head out to work.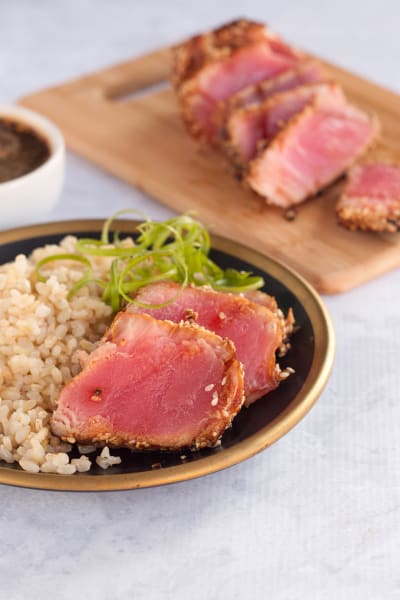 When considering which type of tuna to buy, you can opt for Yellowfin. It is easy to find and is less expensive than Bluefin - but it's just as nice!
This recipe also works well with salmon if you prefer it over tuna steaks. Rather than placing the salmon onto the baking pan, you can create little foil pouches in which to cook the salmon instead.
This method of cooking is known as en papillote. The liquid helps to create steam within the foil which helps to cook the fish. It will also work well with the tuna if you would like to give it a try!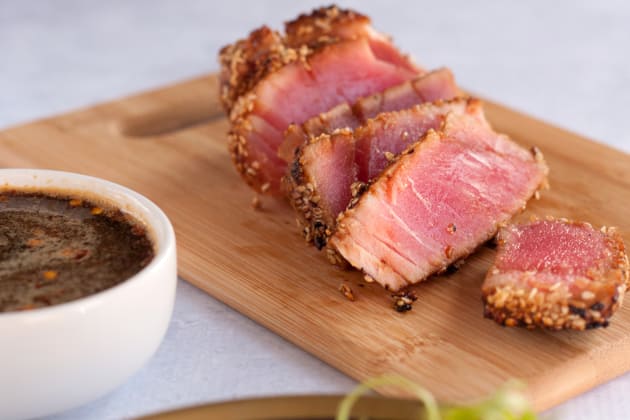 We love to serve this with asparagus, but if you are not a fan, you can substitute the asparagus for green beans.
For a healthier alternative when cooking the asparagus, hold the parmesan and squeeze over some lemon juice instead. 
More Ideas with Tuna:
Oven Baked Tuna Steak Dinner
Ingredients
2 servings Ahi Tuna Steaks, (6 oz each)
1 medium Lemon
6 tablespoons Extra Virgin Olive Oil, divided
1 teaspoon Salt, divided
1/2 teaspoon Black Pepper, divided
1 teaspoon Dried Dill
12 spears Asparagus
1 teaspoon Garlic Powder
1/3 cup Parmesan Cheese
Directions
Preheat your oven to 400°F.
Place the tuna steaks into a large bowl. Zest the lemon over the tuna steaks. Cut the lemon in half and squeeze its juice over the tuna. Add the half of the salt, pepper and olive oil. Sprinkle over the dill weed.
Shake the steaks around to coat them evenly. You can also use a pair of tongs to turn them to ensure they are properly coated.
Line a baking pan with foil and fold the sides up so that none of the oil can leak out.
Place the steaks into the baking pan and spoon the oil mixture leftover on top of the tuna steaks.
Line a baking sheet with foil.
Cut the woody ends of the asparagus off and put them onto the baking sheet. Add the onions to the asparagus and drizzle with the remaining olive oil. Add the rest of the salt, pepper and all of the garlic powder. Evenly distribute the parmesan cheese over the asparagus and onions. Shake the baking sheet to coat everything well.
Place both the baking sheet with asparagus and the baking pan with tuna steaks into the oven. For a medium well tuna steak, you will need to cook it for about 10-12 minutes. (*if your steaks are thicker than one inch, you will need to cook it for longer to achieve medium well).
Test the asparagus with a fork, prodding it to see if they have softened.
Serve with a slice of lemon.
Nutrition Facts
Servings Per Recipe 2
---
Amount Per Serving
Calories from Fat 357
Calories
647
---
% Daily Value*
---
* Percent Daily Value are based on a 2,000 calorie diet. Your daily values may be higher or lower depending on your calorie needs.
** Nutrition Facts are estimated based on ingredients and data provided by
Fat Secret
. Please consult a doctor if you have special dietary needs.