Asian Nicoise Salad Recipe
Taylor Kiser | Food. Faith. Fitness.

Asian Nicoise Salad is the best healthy salad that you'll adore completely. Full of superfoods!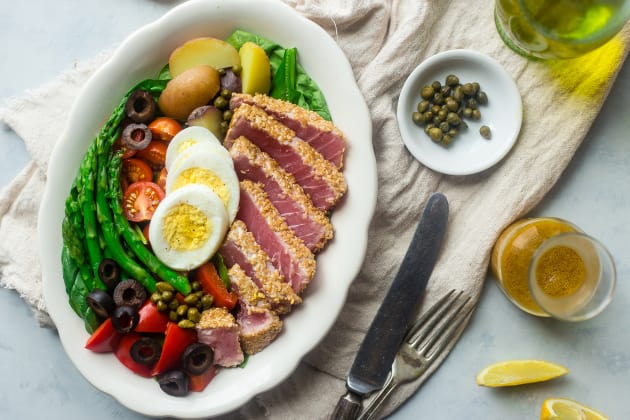 Ohhhhh we faaaancy today.
Like, we're eating some classic French food AND making our own (SESAME CRUSTED!) seared Ahi tuna steaks all in one recipe.
Are we the next Food Network Star? I THINK YES.
Anyway.
So, Nicoise salad. Have you had one? Or have you spent MOST of your life seeing it on menus at fancy-people restaurants where they have tools to scrape crumbs off tables (WHAT ARE THOSE?!) and you really want to try it. HOWEVER, you feel like the impending doom of you butchering the name is looming, because your French does not extend past "fromage"
Maybe that's just me though.
Either way. A few weeks back I was at a bar (like where they serve non-fancy but delicious things like a Hawaiian Pizza BURGER) and my eyes peeped this classy little salad full of veggies and juicy tuna on the menu.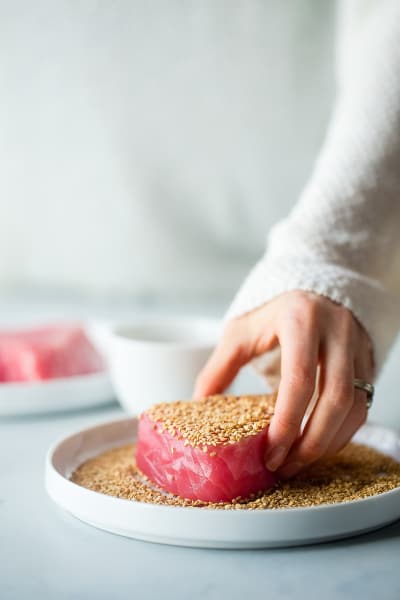 Feeling adventurous (and like there may be a lack of judgement in a bar atmosphere) I made the wise-person choice to finally take hold of my own life and TRY THE SALAD ALREADY.
WHOA. Soft pieces of boiled eggs, all mixed with crisp spinach, salty capers, tangy olives, tender potatoes (potatoes in salad might just be my new JAM) and then topped off with a protein-packed tuna steak, thats juicy-goodness rivaled that of the SOY vinaigrette that was competing for the numero uno place in the best-part-of-the-salad competition?
I could eat that all. Day. Long.
If you are a classy person who has had this salad you may be suspiciously pondering the addition of asparagus and soy vinaigrette, and the lack of beans and general herb-a-licious dressing.
Well, I guess it was a SPIN on the traditional salad. SO, I GUESS I have still never eaten the "classic" version.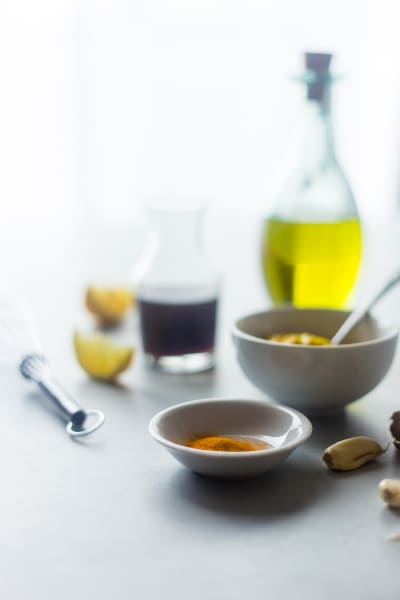 Whatever. It just means that I have nothing to compare it to and my re-make version wins the salad competition by default.
I don't care what your mom said. ERYTHANG is a competition. AND it IS about winning.
And this (whole30 approved!) salad that is actually, like, FILLING (hello aforementioned new favorite addition of potatoes in lettuce) is most definitely winning the yummy-healthy-food-that-you're-gonna-love category of life.
I'm not gonna try to keep any secrets from you though: this bowl of love and happiness and health is a touch more time consuming to prepare than some of the other salads that you may have mixed together, and called it DONE, in the years that your salad-eating-self has walked the earth.
BUT, one thing I can PINKY PROMISE, is that every moment you spend blanching asparagus (WAY easier than it sounds,) waiting for potatoes to boil, and making a second batch of vinaigrette because you accidently drank the first batch after tasting it's addicting tangy-salty deliciousness, is SO WORTH IT.
Mostly because it's a salad that is amazingly-yum and equally full of superfoods, protein and general good-for-you-ness.
But also because an excuse to put carbs in a bowl of spinach.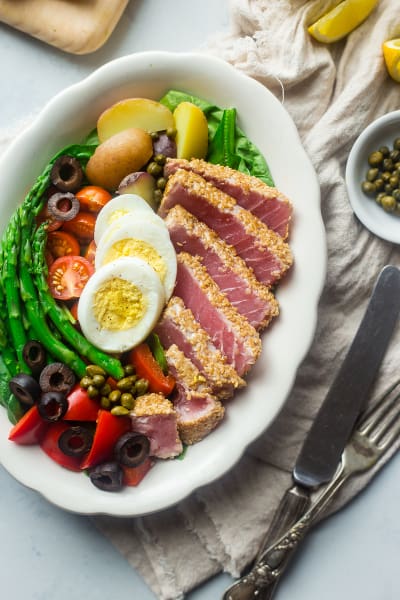 You understand me.
Which means you understand that it is now your turn to pave the way of your own life and stop missing out on delicious food for fear of name-butchering-judgement.
YOU GOT THIS.
Are you tired of the dinner routine?
Stuck in a rut or looking for fun new recipes to try?
Our Facebook Group is growing every day! If you haven't joined yet, we invite you to come check it out and join the fun.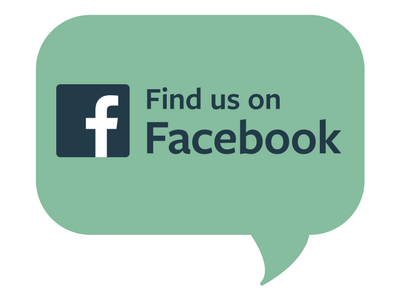 You can ask for recipe ideas, talk about cooking techniques, or get help figuring out the right new pan set for you. If you've already joined, invite a friend along!
Asian Nicoise Salad Recipe
Ingredients
For the Salad:
6 ounces Creamer Potatoes, About 6 small potatoes
Salt
2 Eggs
1/2 large Red Bell Pepper, Cut into large cubes
1 small bunch Asparagus
2 teaspoons Extra Virgin Olive Oil
2 tablespoons Toasted Sesame Seeds
8 ounces Ahi Tuna Steaks, 2 small steaks
6 cups Spinach, Packed
1/2 cup Cherry Tomatoes, Halved
3 tablespoons Sliced Black Olives
4 teaspoons Capers
For the Vinaigrette:
1 tablespoon Coconut Aminos, Plus 1 teaspoon
1/2 tablespoon Fresh Lemon Juice
1/2 teaspoon Minced Fresh Garlic
1/2 teaspoon Minced Fresh Ginger
1/4 teaspoon Mustard
1/8 teaspoon Ground Turmeric
1/8 teaspoon Sea Salt
1 tablespoon Extra Virgin Olive Oil
Directions
Place the potatoes in a large pot and cover with cold water. Season generously with salt. Bring the pot of water to a boil over high heat. Once boiling, reduce to medium-high and cook the potatoes until fork tender, about 10-12 minutes.
While the potatoes cook, place the eggs in a medium pot and cover with 1 inch of cold water. Bring the water to a rapid boil over high heat. Once boiling, turn the heat off, cover the pot (but don't remove it from the heat) and let the eggs stand for 10-12 minutes. Then, drain out the water and cover with cold water to chill until ready to use.
Bring another medium pot of generously salted water to a boil. Once boiling, add in the red pepper and asparagus, and cook just until fork tender, about 3 minutes. Immediately drain and transfer to a bowl of ice water to stop the cooking process.
Heat the 2 tsp of olive oil in a large pan over medium-high heat. While the oil heats, spread the sesame seeds into a shallow plate that has sides.
Lightly press each side of the tuna steaks into the sesame seeds until all sides are evenly coated.
Place the tuna into the hot pan and sear just until the seeds darken, about 1-2 minute per side, depending on how cooked you like your tuna. Make sure you sear all the sides, not just the front and back! Set aside while you make the vinaigrette.
Whisk all the vinaigrette ingredients, up to the olive oil, together in a medium bowl. Then, while constantly whisking, stream in the olive oil until well mixed.
Place the spinach, tomatoes, asparagus and bell pepper into a large bowl and toss with the vinaigrette. Divide between two large bowls.
Then, divide the capers, olives, eggs and potatoes (slice them if you wish) on top. Finally, slice the tuna and divide between the bowls.
DEVOUR.
Recommended
Nutrition Facts
Servings Per Recipe 2
---
Amount Per Serving
Calories from Fat 188
Calories
508
---
% Daily Value*
10%
Total Carbohydrate
29g
---
* Percent Daily Value are based on a 2,000 calorie diet. Your daily values may be higher or lower depending on your calorie needs.
** Nutrition Facts are estimated based on ingredients and data provided by
Fat Secret
. Please consult a doctor if you have special dietary needs.