Turkey Tenderloin Instant Pot - Our Top Tips and Tricks
Nicole Austin

Our Instant Pot turkey tenderloin recipe is one of our favorite ways to serve up a good turkey dinner without a lot of fuss or stress....
Our Instant Pot turkey tenderloin recipe is one of our favorite ways to serve up a good turkey dinner without a lot of fuss or stress.
Much like our Instant Pot turkey breast recipe, it produces tender turkey equally delicious when served on a weeknight or for a special occasion.
Looking to streamline cooking this holiday season or cooking for a smaller crowd? The Instant Pot is the perfect way to please the entire family.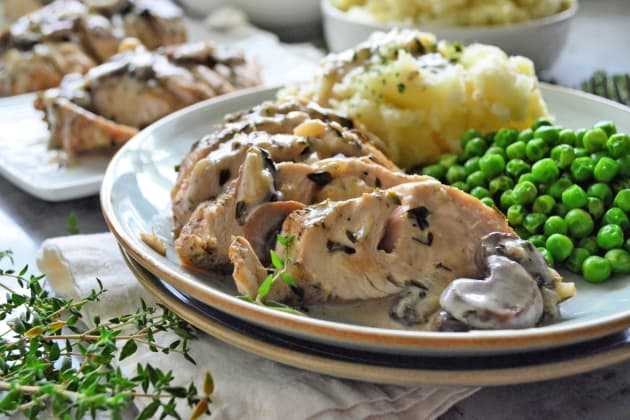 Why We Love Instant Pot Recipes
An electric pressure cooker, the Instant Pot is a fast way to serve up favorite recipes when you're tight on time or looking to save some oven space.
Instant Pots are multi-cookers with tons of functions, including pressure cooking, slow cooking, rice cooking, steaming, warming, and sautéing.
Instant Pots are especially popular in the fall and winter months as people begin to cozy up and seek solace in their favorite comfort foods.
We also love to use the Instant Pot for holiday cooking, which can be tedious and time consuming.
It's perfect for big batch cooking and meal prepping, which can save even more time and money down the line.
The Instant Pot social media presence is heavy, saturating your feeds with videos, recipes, tips and tricks, and more.
There's virtually nothing you cannot make or replicate with an Instant Pot in way less time and using fewer dishes making it a win-win!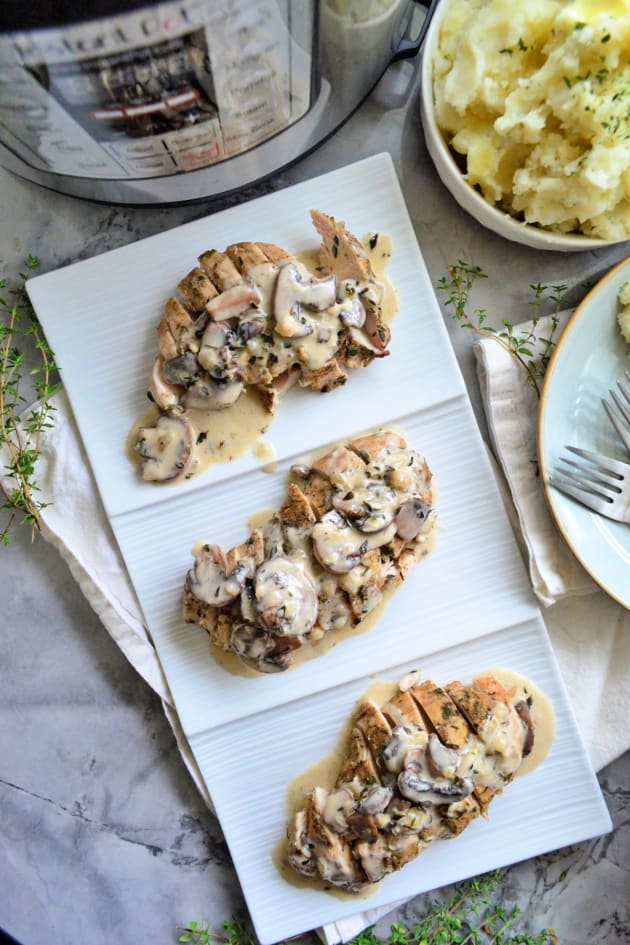 What's the Difference Between an Instant Pot, a Pressure Cooker, and a Slow Cooker?
Pressure cookers are an easy way to get food on the table fast, much like an Instant Pot.
Electric pressure cookers and stovetop pressure cookers reduce cook time by raising the boiling point of water and trapping the steam in the machine.
Pressure is released manually or with natural pressure release after food is done cooking.
You can easily cook turkey in a pressure cooker, but it is important to follow the recipe exactly and to use the cooker safely.
Pressure cookers can be very intimidating for first time users, despite their worldwide popularity.
Slow cookers are, as described, a slow method to cook your meals. You generally leave them for anywhere from 6 to 8 hours depending on your recipe.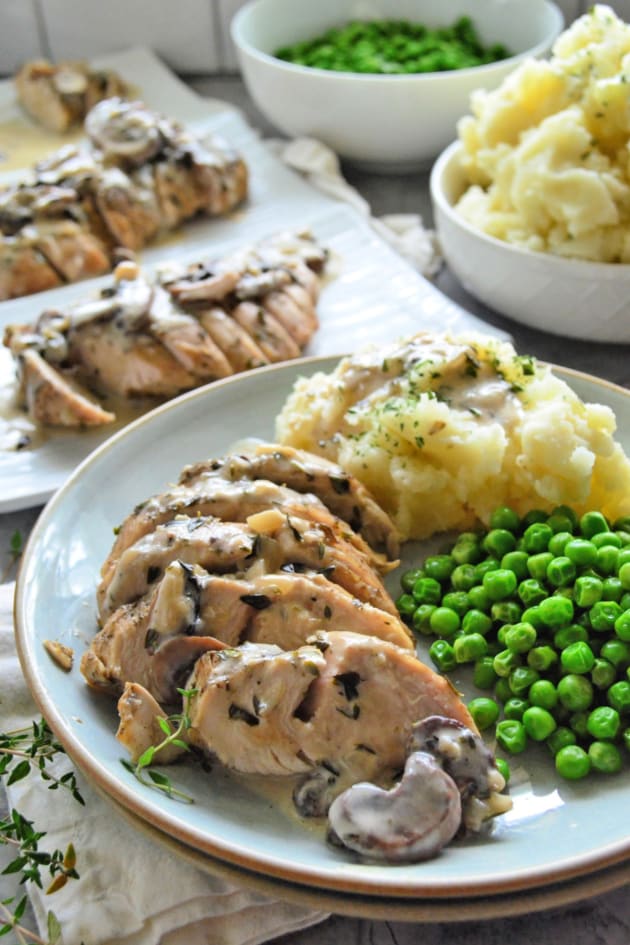 Some more advanced models have timers that turn off the cook setting and switch to a warm setting to keep the food fresh until it's time to eat.
Slow cookers also go by the brand name "Crock Pot" when referred to in pop culture, but are made by multiple companies.
Instant Pot is a multi-cooker which can perform all of the above functions and more.
This means that the Instant Pot can pressure cook, slow cook, make rice, steam and warm foods, and even sauté.
Many people prefer the Instant Pot because it can cook foods so quickly, even from frozen, saving time for the user while creating a home cooked meal in no time.
Why We Love Turkey Tenderloin Instant Pot Recipes
Turkey tenderloin is a great alternative to Thanksgiving turkey and our easy turkey tenderloin recipe serves up a delicious meal.
This simple turkey recipe includes a creamy mushroom gravy that is out of this world.
You can pair Instant Pot turkey breast tenderloin with all of your favorite side dishes like green beans, Instant Pot cranberry sauce and mashed potatoes.
What Is the Difference Between a Turkey Breast and a Turkey Tenderloin?
A turkey tenderloin is a portion of the turkey's breast and is boneless and skinless. It is lean white meat, and is a convenient cut for a quick, easy dinner.
A turkey breast is usually bone-in and skin-on, which takes longer to cook but will also have a different flavor profile.
How Do You Keep Turkey Tenderloin From Becoming Dry?
The first tip to making sure your turkey tenderloin remains moist and juicy is to marinate it for at least 30 minutes, or longer if you have time.
This not only creates a great flavor, but helps the meat stay moist and tender.
Searing the tenderloins slightly before you cook with any method will caramelize the marinade and lock in moisture.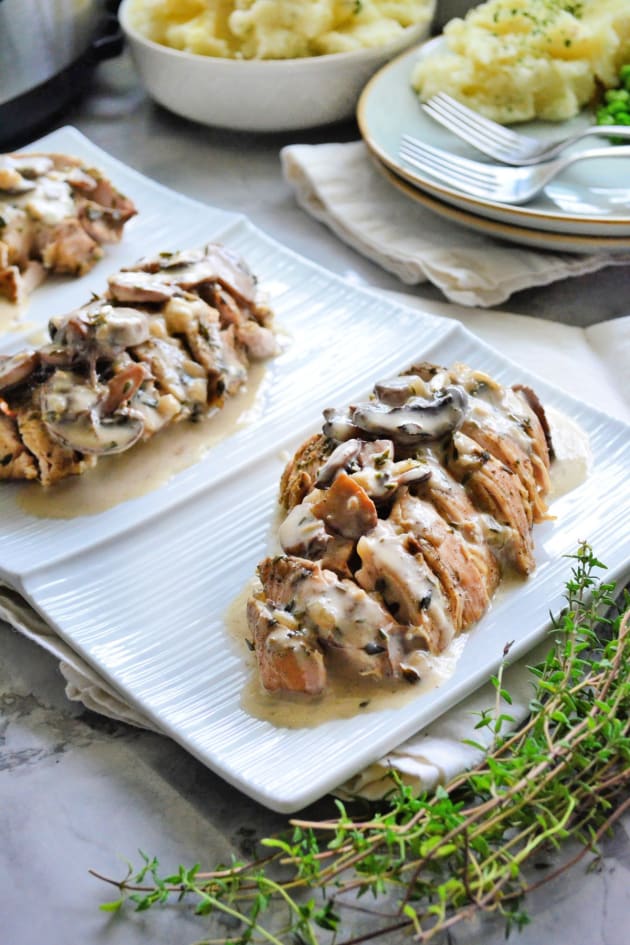 Our Tips + Tricks for Making Turkey Tenderloin in Your Instant Pot
After extensive testing in our own kitchens, we've devised a few tips and tricks that help make turkey tenderloin a pretty perfect comfort food dinner recipe.
Thaw your tenderloin overnight in the fridge. Place a bowl or plate beneath your packaged tenderloin to avoid spills and messes.
If your turkey tenderloin came in a sealed package with a salt solution in it, rinse the turkey well to remove the salt.
Don't overcrowd your cooker. Save space for heat and air circulation.
Use chicken broth in the bottom of the Instant Pot when cooking the turkey. A cup of water is all that is needed to cook in the Instant Pot, but broth will keep the flavor rich.
Marinate the turkey in olive oil, fresh herbs such as fresh rosemary, and spices before cooking.
Sauté the turkey tenderloin as your first step to help hold in moisture.
Use plenty of flavorful ingredients to keep your turkey tenderloin recipes fresh and new. Borrowing ideas from similar recipes like our Instant Pot pork tenderloin recipe will give you fun new ideas.
As with any time you are cooking turkey, do not overcook the turkey tenderloin. Follow each recipe exactly and check the internal temperature of your turkey when done.
Always keep a cup of liquid in the pot. Check the liquid amount when changing settings.
Allow the tenderloin to rest after removing it from the Instant Pot. Cover it in aluminum foil and let it sit for a few minutes.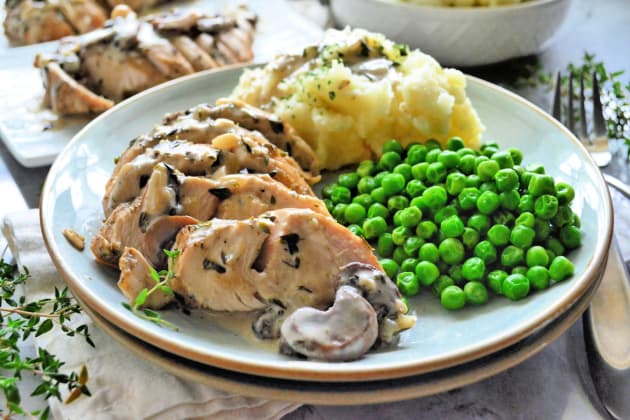 What To Do With Leftover Turkey Tenderloin
If you have leftover turkey tenderloin, allow them to cool fully before transferring it to an airtight bag or container.
This will keep in the fridge for 3-4 days, though we recommend always smelling leftovers even within this window to make sure that nothing smells off.
Leftover turkey tenderloin can be easily reheated using any traditional methods, but try to account for the fact that the meat can dry up if you don't heat it with additional moisture.
Due to moisture loss, slower and lower cook times are good for reheating turkey - think lower oven temps and longer cook times.
The best way to reheat turkey tenderloin is to set the oven to 300 degrees and place your meat in a baking dish.
Add broth or stock to the pan. Cover the pan tightly with aluminum foil and place it in the oven until the meat heats through, or about 20 to 30 minutes.
You can make sandwiches, add it to soups, make tacos, put it in casseroles, or just eat it again as-is!
Planning a dinner party and need some inspiration?
How about looking for a new slow cooker dinner idea?
We've got you covered in our ever-growing Facebook group! If you're not a member yet, why not?!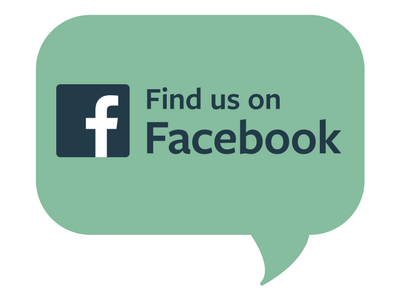 We're chatting cooking techniques, dessert ideas, and everything in between. If you're already a member, invite your friends to join us too!

Nicole is a self-published author of fiction novels, and a lover of food and spending time in the kitchen with her six children. She lives in coastal Maine where she loves exploring new recipes especially those that can save time, money and wow a crowd.

Tags: Instant Pot, Turkey, Thanksgiving, Easy Dinners, Easy, Family Meals and Snacks, Holidays