Viral Chipotle Fajita Quesadilla Hack Is Now on the Menu Thanks to TikTok
Ryan Nadolny | Ryan Eats Everything

The new Fajita Quesadilla Hack is a digital exclusive, meaning all orders need to go through the Chipotle app or website.
TikTok is frequently the topic of controversy these days. Half the country loves it, while the other half are afraid of change and have nothing good to say.
No matter the side of the fence on which you reside, TikTok has plenty of value. In this case, it's the viral sensation that is the Fajita Quesadilla from Chipotle.
TikTok users went so crazy for this foodie mashup that Chipotle has now announced they've added the so-called Fajita Quesadilla Hack to the menu!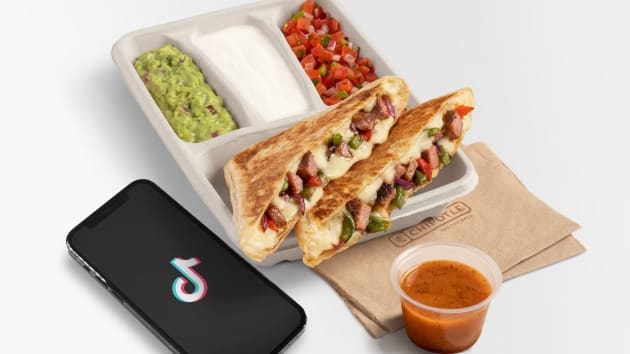 What's the Hype Around the Fajita Quesadilla All About?
The Fajita Quesdailla Hack went viral after TikTok food reviewer Alexis Frost shared a 22 second clip of her trying "what the employees eat" at Chipotle.
It was said that the quesadilla tasted like a Philly cheesesteak, so she tried it out for her two million (and counting) followers to share her thoughts.
Like Hailey Bieber's pizza toast recipe, we love a good TikTok food trend. (And don't get me started on how good the Chipotle carnitas are!)
So without even trying it? Yes, I'm a fan.
Following Frost's rave reviews, fellow TikTok foodie, Keith Lee, gave Frost's version of the quesadilla mashup a try - and his video also went viral. 
Lee suggested mixing together sour cream and chipotle-honey vinaigrette as a dipping sauce or adding both directly to the quesadilla to level things up.
Known on TikTok for reviewing food from various restaurants and food trucks around his hometown of Las Vegas, Lee gave this combo a "10 out of 10."
Once word got out, people flocked to Chipotle to try it out. Some were successful but others were told that the restaurant couldn't grant their request.
Following backlash from customers, a chipotle spokesperson said, "Currently, our quesadilla offering does not include fajita veggies with a protein, however, we are exploring the possibilities of adding this combination in the future."
Thankfully, Chipotle did exactly that and introduced the product in just a couple of months. That's a pretty quick turn around if you ask me!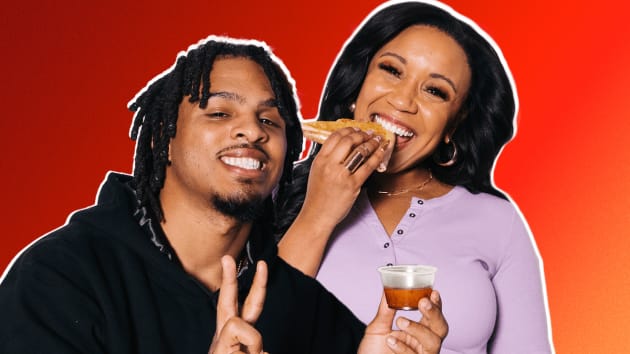 Just What Is the Fajita Quesadilla Hack at Chipotle?
Just What Is the Fajita Quesadilla Hack at Chipotle?
The Fajita Quesadilla Hack at the center of the hype is a quesdailla loaded with Chipotle's grilled steak, fajita style peppers and onions and extra cheese.
Each order comes with three sides, like Chipotle's corn salsa, beans, the world famous Chipotle rice recipe or whatever else you might fancy.
Customers can choose between five different styles, plus two that are inspired by the original TikTok videos that generated the sensation in the first place.
The one caveat is the quesadillas are digital exclusives, meaning they are only available on the app or on the Chipotle website where you can customize your quesadilla or even add things like Chipotle's guacamole - the best "fast food" guacamole ever made!
Planning a dinner party and need some inspiration?
How about looking for a new slow cooker dinner idea?
We've got you covered in our ever-growing Facebook group! If you're not a member yet, why not?!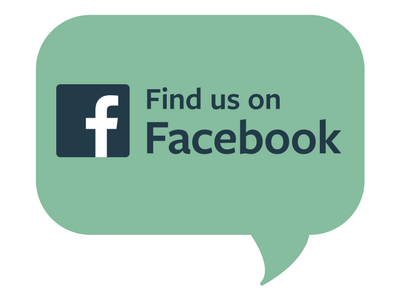 We're chatting cooking techniques, dessert ideas, and everything in between. If you're already a member, invite your friends to join us too!

Ryan is a food and writer from Toledo, Ohio where he's had a love affair with food since 1984. When he's not cooking or writing, he's planning the next he wants to eat.

Tags: Food News, Tex Mex, Steak, Food Trends