Old Bay Shrimp Boil
Amber Bracegirdle | Bluebonnet Baker

What is Old Bay Shrimp Boil and how do you make it? We'll tell you everything you need to know about this mouthwatering one-pot dish!
There are just so many reasons to love Old Bay Shrimp Boil!
The main one, of course, is the wonderful flavor that will have you cooking it over and over again. But just as wonderful is the convenience of the dish - everything cooks in one pot, with no fancy cooking skills required! You simply throw it all in and wait for the magic to happen.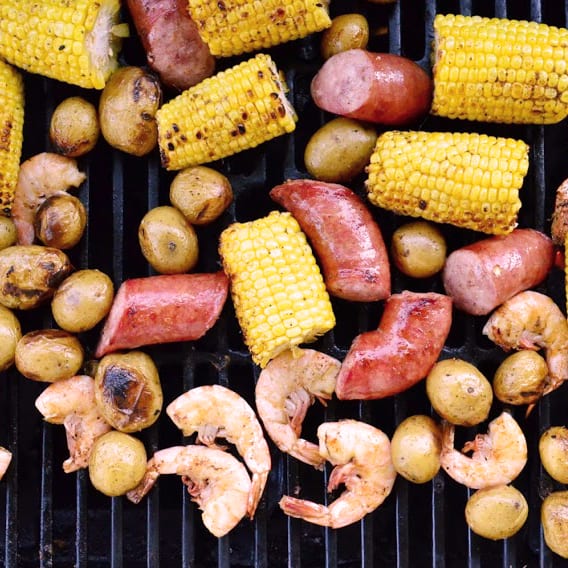 And eating this dish is FUN, whether with the family or at a party (this is a brilliant meal to make for a crowd!). You can just pour it out into large serving dishes, give everyone a bowl and tell them to dig in!
How to Make Old Bay Shrimp Boil
Shrimp Boil is simply a mixture of seafood and vegetables, boiled in seasoned water (and optional beer!) and served with butter. 
Choose large shrimp in their shells - the shells add lots of flavor to the dish. You can find deveined shrimp in their shells if the vein bothers you, or simply remove it after making a slit in the shell with a sharp paring knife.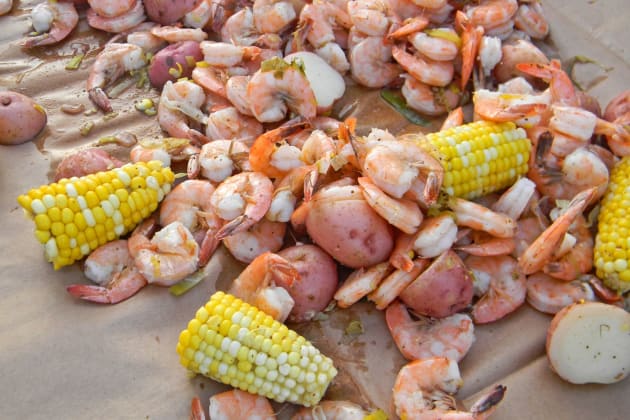 This recipe serves around 4 people 
1/4 cup Old Bay seasoning
1 tbsp salt
2 quarts water
12 oz can beer*
4 medium red potatoes, cut into quarters
1 large Vidalia onion, cut into thick slices
1 lb smoked sausage, cut into 2 inch lengths
4 ears of fresh corn (shucked) or frozen corn on the cob (thawed)
2 lb large shrimp, tail-on or in shells
*Lager works well in this dish.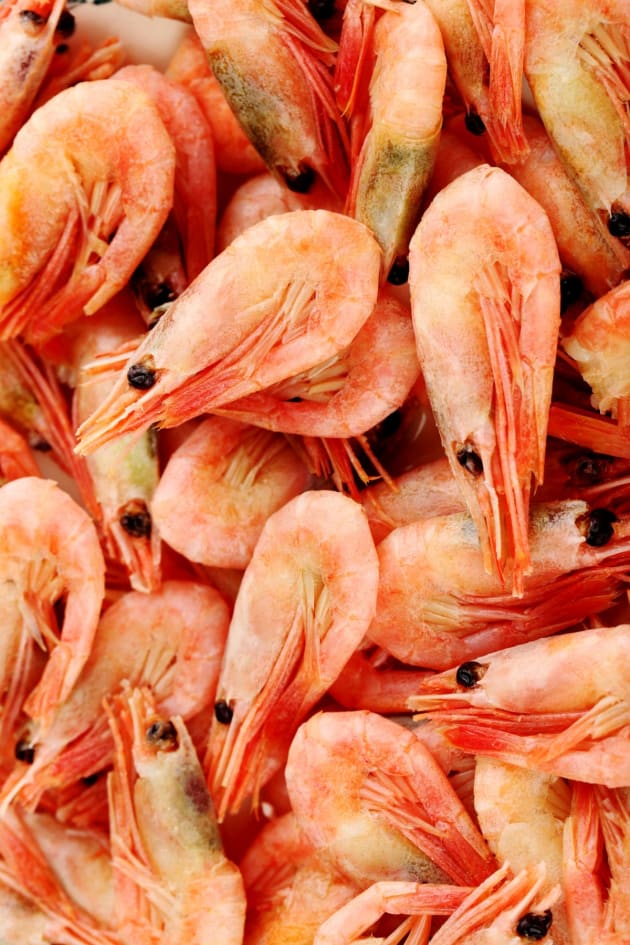 In the largest stock pot you have, combine the seasonings, lemon, beer and water and bring to the boil.
Keeping the heat high, add the potatoes and onion slices. Cook for 8 minutes.
Next, throw in the sausage and cook for 5 minutes.
Now add the corn and continue to cook for 7 minutes.
Finally, add your shrimp and cook for 4 minutes more.
Drain away the cooking liquid (or reserve for other uses) and serve with quartered lemons and melted butter, either the traditional way (on newspaper) or in large bowls.
Enjoy!
Variations on the basic recipe

There are lots of ways to customize the basic Old Bay Shrimp Boil recipe and make it your own!

For a richer flavor, you can use chicken broth instead of water (or a combination of the two). 

You can also try adding garlic, either to the cooking liquid (no need to crush), or minced and used to create a delicious garlic butter to melt over the top.

Although Old Bay has a nice little kick of heat, if you like things extra spicy try adding some cayenne, or serving your Shrimp Boil with hot sauce on the side. 

Top tip

It seems a shame to drain away that delicious cooking liquid, doesn't it? So why not use it instead of water to cook a tasty batch of rice to serve with your seafood boil!

Tags: Quick, One Pot Meals, Party Food, Family Meals and Snacks