Bruschetta Shrimp
Steph S. | ::steph chows::
Bruschetta shrimp is an easy weeknight dinner that feels like restaurant fare. Skip the takeout, you've got a fab dinner in under 20 minutes right here!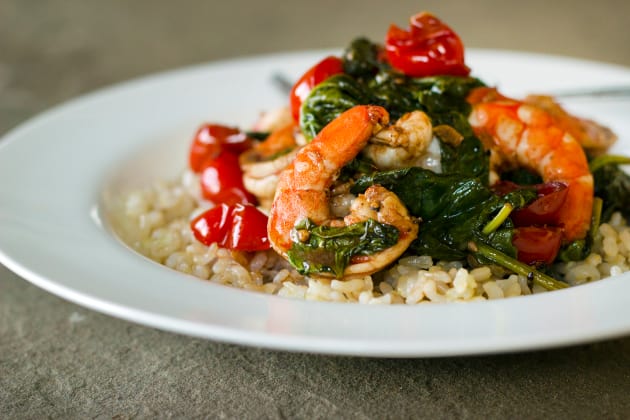 Shrimp is one of my favorite things to add to quick weeknight meals. Sure, it looks all fancy, but really it just takes a few minutes to pull together. Dinner from start to finish in 15 minutes with only one pan to clean? Sounds like heaven if you asked me! Fresh summer tomatoes and spinach pair perfectly with some balsamic and a generous helping of garlic.
This is one of those recipes that came about looking around the kitchen and seeing what I had on hand. The fridge is always stocked with baby spinach (Still loving my green monster smoothies to start my day!) and I had a container full of cherry tomatoes begging to be used in something other than my lunchtime snack… and who can say no to garlic and balsamic?! They're STAPLES in my kitchen, at least.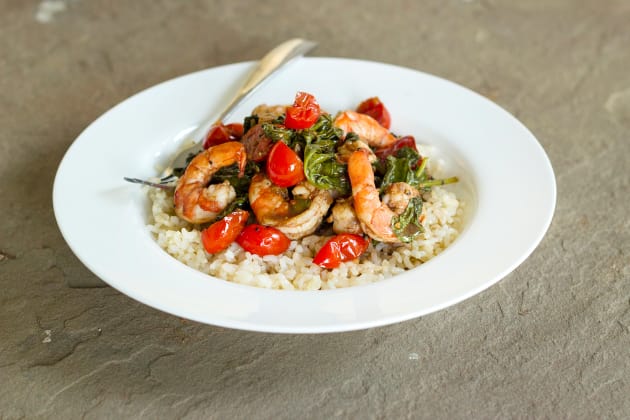 The first time I made this, I served it over some whole wheat pasta. The second time was just straight up in a bowl with some crusty bread to dip into all the juicy, saucy goodness. This last time was over brown rice. I must admit, I'm a bit torn over which I like better, the brown rice was delicious, but I think my carb-loving-self loves the crusty, rustic bread option a little bit more.
But if you ARE going to use brown rice… I'm a fan of using the kind you can steam in the microwave for a meal like this. You can find it in the freezer aisle of your grocery store, and it's magical.
Three minutes in the microwave and you have fluffy, perfectly cooked brown rice. No need to have the stove heating things up for 30 or more minutes.
Back to the crusty bread… (I told you I'm obsessed), make sure to try this rosemary olive oil loaf recipe. It's my 100% favorite bread recipe in the history of all bread recipes. Seriously.
Chow!
Ingredients
3/4 pound Easy Peel Raw Shrimp, Shells removed
1 tablespoon Olive Oil
salt and pepper, To taste
3 cloves Garlic
2 tablespoons Balsamic Vinegar
1 cup Cherry Tomatoes, Sliced in half
3 cups Fresh Baby Spinach
2 cups Cooked Brown Rice
Directions
Peel shrimp and set aside. In a large pan, heat olive oil over medium-high heat.
Add garlic, salt, pepper and cook until browned.
Add in balsamic and tomatoes and cook until they start to release liquid.
Add in shrimp and greens. Cook until shrimp are pink 1-2 minutes each side.
Serve over brown rice.
Recommended
Tags: Healthy Eating, Healthy, Shrimp, Seafood, Italian, Rice, Sauces, Tomatoes, Spinach, Simmered, Quick, Easy, Easy Dinners, Cooking for Couples, One Pot Meals