Champagne Jello Shots
Dionne Baldwin | Try Anything Once
Champagne jello shots are so pretty, so fun. Serve in shot glasses with mini spoons.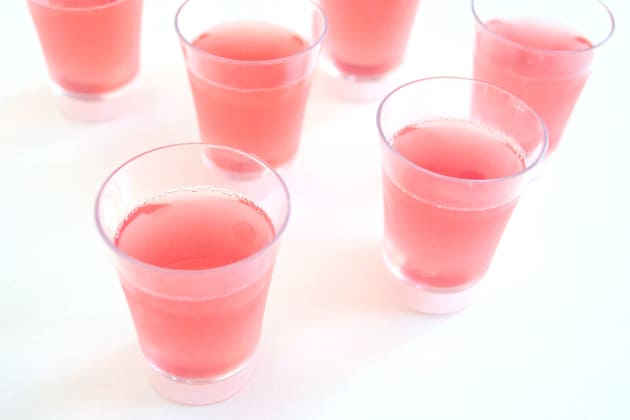 Champagne jello shots are a delicious and fun way to celebrate special occasions! I mean, was there ever a more definitive party food? When these jello shots are requested at parties, I'm always excited to make a trip my local party store for cute little shot glasses and fun little party spoons.
We've been known to prepare batches of jello shots for big family birthday parties. My mother used to indulge with us when we shared jello shots during family dinners and we always had a lot of fun snacking on them, swapping funny stories and family inside jokes. I love these get-togethers.
All of my siblings usually join in along with their significant others and a few friends. We all get so busy during the year that family dinners with my siblings and parents are a reason to celebrate.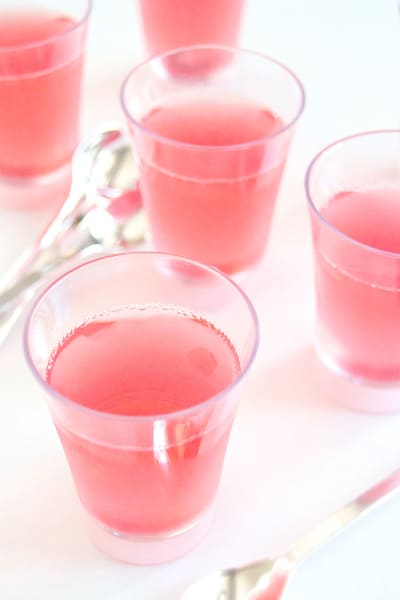 I like making champagne jello shots for our holiday parties. My other half and I really like watching our guest's faces light up when they see those little plastic cups. Making them with champagne is a total bonus and it reminds me of get-togethers with close friends. We regularly have baking days with friends that begin in the mid-morning and last until late evening. Chilled drinks with champagne are a favorite on those days, and I always think of these fun filled days when I make these jello shots.
We like making ours this way because we can taste the champagne and the watermelon flavor makes a beautiful pink color that brightens up any table. Since there are quite a few different colors of jello to choose from, you can find options to fit your party theme.
It only takes a few minutes to mix up a batch, so why not give this a try for your next party? Pick up some shot glasses and don't forget the mini spoons!
Ingredients
1 3 Ounce Box of Jello, Watermelon flavor for this pretty pink color
1 cup Boiling Water
1/2 cup Cold Water
1 1/2 cups Champagne, Chilled
Directions
In a medium sized heat safe mixing bowl, preferably with a pouring spout, and combine one cup of boiling water and contents of Jello packet.
Whisk together for 2-3 minutes or until the powder is completely dissolved.
Pour in champagne, adding to the Jello mixture.
Then add cold water, whisking to combine.
Pour into shot glasses.
Let the shot glasses chill in the refrigerator for 3-4 hours or until completely set or overnight. 
Source: Adapted from the Jello Jigglers recipe.

Tags: Cocktails, Party Food, Drinks, Snacks, Champagne