Cauliflower Mashed Potatoes: Creamy, Dreamy Side Dish
Christina Lane | Dessert for Two
Cauliflower mashed potatoes aren't a replacement for potatoes, they're an upgrade! You're gonna love 'em.
I know what you're thinking: there is no way that mashed cauliflower tastes like an identical copy of mashed potatoes. And mostly, you're right. But what you're missing is that this mashed cauliflower is better than mashed potatoes. I speak the truth!
Mashed potatoes can be so one-dimensional. They taste like creamy butter. I'm not arguing the deliciousness that is melted, creamy butter in a bowl of mashed potatoes. I'm just saying that mashed cauliflower is creamy, smooth and has a flavor all its own. Let's start thinking of this as cauliflower puree, not as a mashed potato substitute.
Also while we're being honest: there are gobs of butter and cream in this puree. If you are here for a low calorie mashed potato recipe, I am afraid you took a wrong turn. But, if you are here for deliciousness, you are definitely in the right place.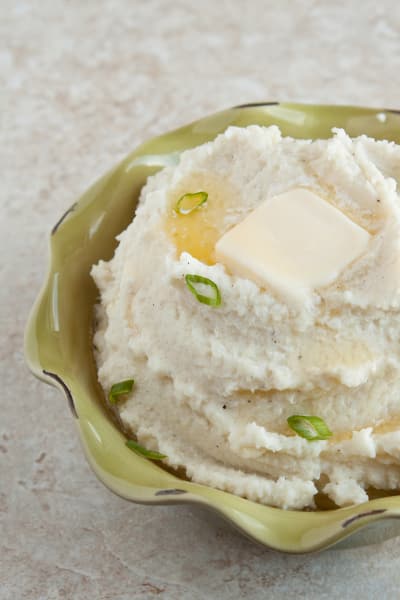 Another perk to cauliflower puree over mashed potatoes? It is so much easier to make cauliflower puree. I quick chopped this cauliflower: peel off the outer leaves, cut out the core, diced in half, and then chop each half into 6 pieces. Then, I tossed it in a big glass bowl with a splash of cream. I covered it with plastic wrap to trap steam, and microwaved it. Yes, microwave!
I make this recipe at least once a week during cauliflower season, which runs from fall until early spring. It's easy, delicious, and requires minimal clean-up. Win!
It's a side that goes well with everything - from lemon rosemary chicken to braised beef shanks. I'm not gonna lie though, just occasionally, it might make a great dinner all on its own. You know, when it's been a hard day and you need comfort food and a glass of wine or three. It's also great with gravy on top.
Ingredients
1 large head Cauliflower, 3 pounds
1/4 cup Heavy Cream
2 tablespoons Unsalted Butter
salt and pepper, to taste
Directions
Begin by prepping the cauliflower: peel off the outside leaves, then cut out the core carefully. Slice the whole head in half, then chop each half into 6 pieces. Place all pieces of cauliflower in a large glass bowl. Add the heavy cream, then cover the bowl with plastic wrap.
Microwave for 5 minutes. Carefully, remove from the microwave and peel back the plastic wrap (be careful! The steam is very hot). Stir the cauliflower, then add the salt and pepper. Cover again and microwave another 5 minutes.
When ready to serve, mash the cauliflower with a potato masher and the butter. For a very creamy puree, I use an immersion stick blender. A food processor is a great substitute, too.
Recommended
Tags: Cauliflower, Side Dishes, Easy, Quick, Microwave, Vegetables, Vegetarian