Tortellini Bolognese: Pure Italian Comfort
Lisa Grant | Jersey Girl Cooks
Tortellini Bolognese is an easy weeknight dinner, sure. But it's also full of pure Italian flavors that everyone loves.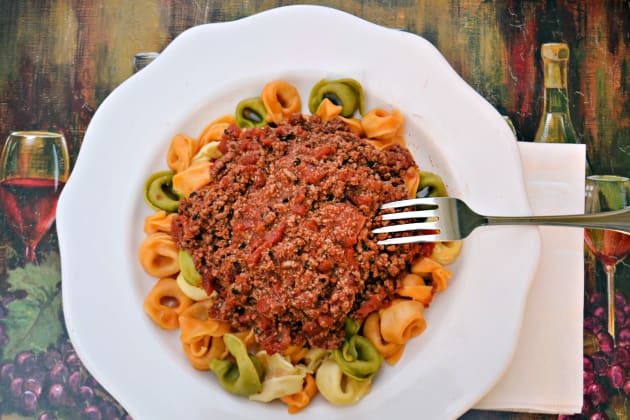 I have wonderful memories of big Sunday dinners at my grandparents' house.  My nana and grandpa lived near the shore and our family visited as much as we could.  Every Sunday while I was growing up, we had our usual routine.
First we went to church. Then we came home and my mother and grandmother would get dinner started.  Dinner was served in the early afternoon, usually at one or two o'clock. After feasting on a big meal, it was time to watch football, read a book or take an afternoon nap.  Most of these Sunday meals included some type of pasta.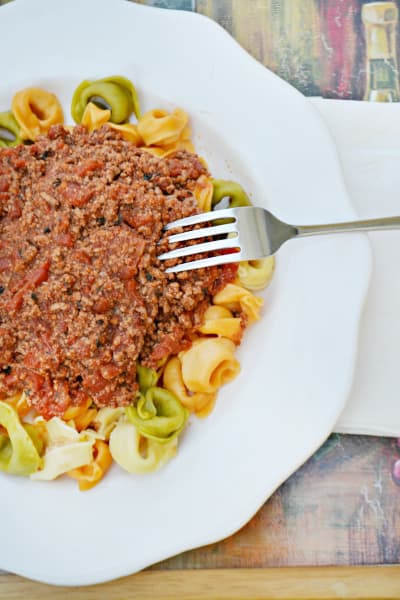 Now that I have my own family we still try to keep the tradition of having a big pasta dinner as much as we can.  My kids play different sports and our weekends are filled with many games and lots of running around.  I do not always have the time to cook a big meal so sometimes our big pasta dinner is on a week night.  Since my week night cooking time can be limited also, I have to think of meals that can be made in less time than they used to when I was a child.
This tortellini Bolognese cooks quickly but it still brings back memories of having a big bowl of spaghetti with slow cooked pot roast or meatballs. It may not be Sunday gravy but it sure is good! I pair it with a crisp salad and some Rosemary Roasted Garlic Bread.  It now turns into a comforting meal. The adults get a glass of wine and everyone is happy. If you are looking for the perfect dessert to go with this meal, try this lightened up Tiramisu recipe with the dinner.
My love of pasta has been around since I was a child. I cannot get enough of it and plan to continue to cook it often. 
Ingredients
12 ounces Tortellini Pasta with Cheese Filling
1 tablespoon Olive Oil
1 pound Ground Beef, lean
3 cloves Garlic, chopped
1 tablespoon Dried Basil
1 tablespoon Onion Powder
28 ounces Crushed Tomatoes
2 tablespoons Tomato Paste
1/2 cup Red Table Wine
Directions
Cook the tortellini ala dente in a large pot of water according to package directions. Keep warm until ready to use.
While tortellini is cooking, heat the olive oil to medium heat in a large frying pan and cook the ground beef for a few minutes until starting to brown. 
Add the garlic, basil, onion powder, crushed tomatoes, tomato paste and wine. 
Cover pot and simmer on low for 25 minutes while stirring occasionally until sauce is thick. Add salt and pepper to taste.
Serve the meat sauce over the cooked tortellini. 
Recommended
Tags: Easy Dinners, Easy, Italian, Pasta, Family Meals and Snacks