Stovetop Mac and Cheese: Easy Comfort
Christina Lane | Dessert for Two
Super easy stovetop mac and cheese. Christina says it makes enough for two, but we won't blame you if you eat it all yourself!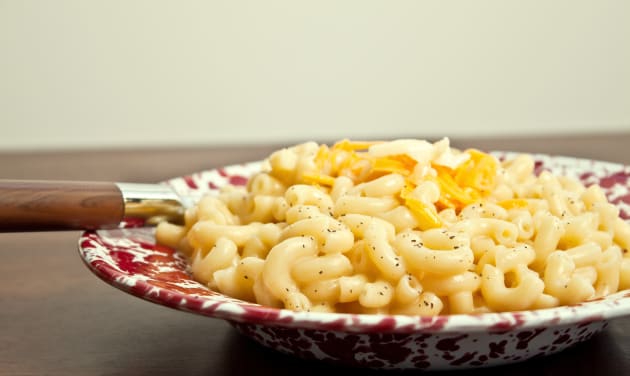 If there ever was a recipe for a big bowl of comforting food, it is stovetop mac and cheese. There's hardly a soul who wouldn't be warmed by this stuff. Creamy, cheesy and comforting, everyone loves this dish. But shouldn't you have a recipe that just makes 2 bowls?
You can whip this up anytime your honey has a bad day. As you share a pot of this mac 'n cheese, they can tell you all about their day. By the end of the bowl, I guarantee your loved one will be feeling better. If you are the one that has the bad day, well, make this and eat both servings.
This recipe is easier than standard macaroni and cheese, because it doesn't require a roux for thickening. I've found that by whisking flour into a small amount of cold milk separately, and then pouring this into the warm milk on the stove, the result is even creamier. Add the grated cheese once the mixture thickens slightly.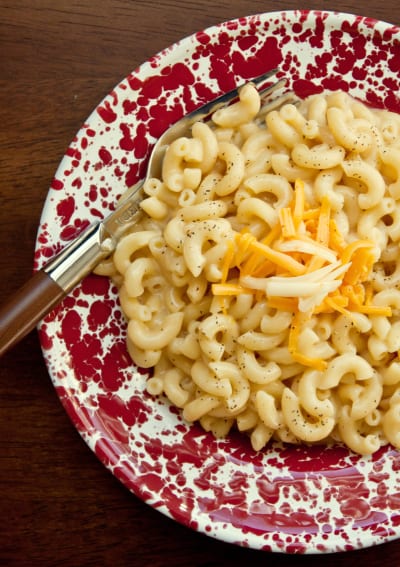 I use Meunster in my mac 'n cheese for its creamy, melting properties. In my opinion, it's the American version of young Fontina commonly used in Fondue. It melts smoothly and evenly every time. I also stir in a bit of cheddar at the end for the tang that you know and love in mac 'n cheese. The cheddar is entirely optional; the recipe is just as good made with all Meunster cheese. Please, though, grate your own cheese. The pre-grated stuff is covered with a sawdust-like material that can be grainy in the final dish.
I hope this stovetop macaroni and cheese brings you comfort!
Ingredients
1 1/2 cups Elbow Macaroni
3/4 cup Milk, plus 2 tablespoons, divided (1% or higher)
1 tablespoon All-Purpose Flour
1 cup Muenster Cheese, freshly grated
1/4 cup Sharp Cheddar Cheese, grated
Salt, to taste
Black Pepper, to taste
Directions
In a medium saucepot, bring water to boil for the noodles. While waiting for the water to boil, grate the cheese. 
Add the noodles to the boiling water with a hefty pinch of salt. Stir once and let cook for the amount of time recommended on the package, usually 8-9 minutes.
Once the noodles are cooking, begin making the sauce. 
In a small saucepan, heat 3/4 cup of the milk. Do not let it boil, but look for steam to rise from the surface. 
Next, in a separate small dish, whisk together the flour and remaining 2 tablespoons of milk. 
Stir the flour and milk mixture into the steaming milk and stir gently. Once it begins to thicken (but not boil), add the cheeses and turn off the heat. 
Stir very well until the cheese melts. Taste and add salt and pepper to taste.
Drain the macaroni and pour it back in the cooking pot, and add the cheese sauce on top. Stir and serve immediately.
Recommended
Tags: Cooking for Couples, Macaroni and Cheese, Easy Dinners, Easy, Quick