Homemade Ben & Jerry's Peanut Butter Cup Ice Cream: No Machines Needed
Ashton Swank | Something Swanky
Ben and Jerry's is America's iconic favorite ice cream, and now you can make it at home! Even better, actually... you can make it at home without an ice cream maker!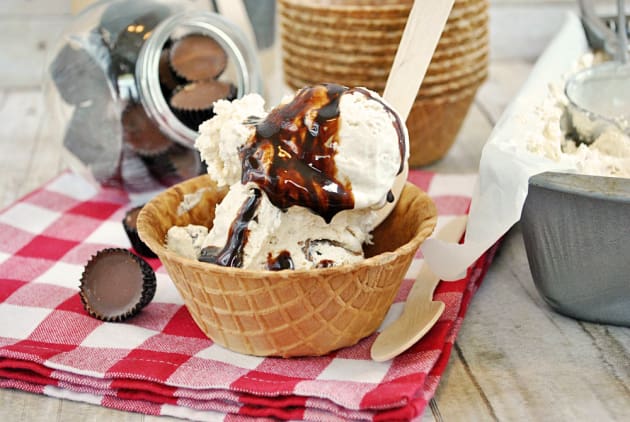 One of the things I love about Ben and Jerry's is that they set out at the start of their business to create chunky ice cream flavors. And if you know me at all, you know that I looooooooove chunky in my dessert. Remember these chunky Oreo Cupcakes??
This homemade version of B&J's Peanut Butter Cup ice cream is simply fabulous. The peanut butter ice cream is smooth and dreamy, and there are huge, bit sized chunks of peanut butter cups in every mouthful!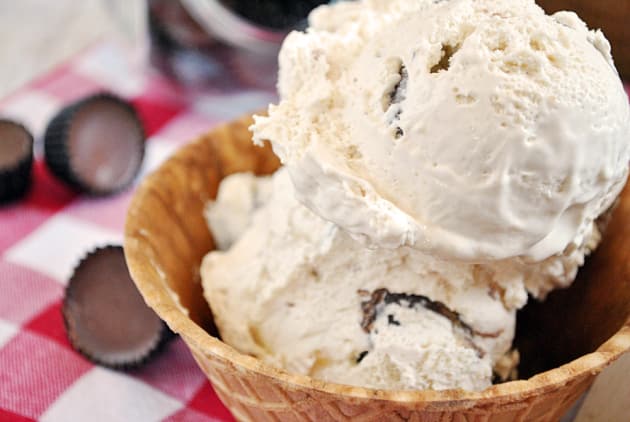 Oh, man. Nothing bugs me more than buying a carton of "Peanut Butter Cup" Ice cream only to find itty bitty shavings of chocolate and peanut butter-- like they managed to use a single peanut butter cup throughout the entire carton. Well, not in my recipe! No sir-ee! Full-on, bite sized pieces only! Just the way ol' Ben and Jerry intended.
And did I mention NO ice cream maker?? This recipe is so simple! Just a few basic ingredients with no machine, no churning, no freezing a machine base, and minimal clean up required! You are going to LOVE this ice cream. 
Want even more peanut butter ice cream goodness, sans machine? Try Steph's Peanut Butter Banana Ice Cream Recipe too.
Ingredients
14 ounces Sweetened Condensed Milk
2 cups Heavy Whipping Cream
1/4 cup Peanut Butter
2 cups Miniature Peanut Butter Cups, halved
Directions
Whisk together the sweetened condensed milk and peanut butter in a large bowl. Set aside.
Use a stand or hand mixer to whip the heavy whipping cream into heavy peaks. Gently fold the whipping cream into the sweetened condensed milk mixture until combined.
Stir in the peanut butter cups. Be sure to use the miniature peanut butter cups, not the peanut butter cup minis (which are the already unwrapped, much smaller, peanut butter cups).
Pour ice cream batter into a freezer safe container and cover.
Freeze for at least 6 hours, preferably overnight, before serving.
Tags: Copycat Desserts, Frozen Treats, Desserts, Peanut Butter, Chocolate, Candy, Ice Cream