Oreo Cupcakes: The Champion of Chunky
Ashton Swank | Something Swanky
The name of these Oreo cupcakes says it all. They combine a classic cookie with chocolate cupcake goodness for quite possibly the perfect dessert.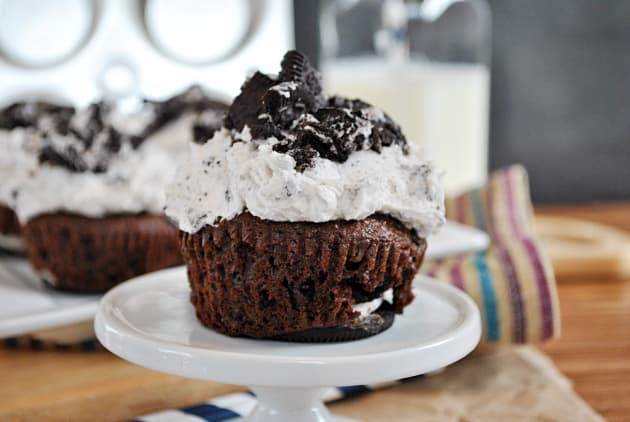 Who here wants a really great Oreo Cupcake??
*All hands raised!*
I'm absolutely crazy about Oreos. One of my very first desserts as a blogger was an Oreo cake that called for 108 Oreos! Seriously. I'm nuts over these cookies. So when I saw this Cookies and Cream fudge, I was drooled over it for weeks and knew I'd have to make another major Oreo treat very, very soon.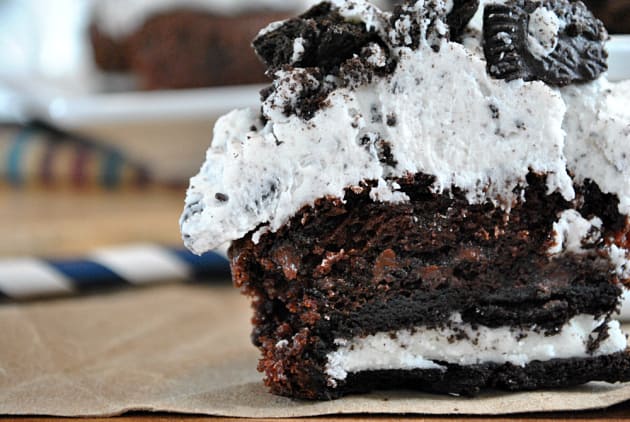 Here's my philosophy about Oreo treats: the chunkier, the better. I cringe when I see cakes and cupcakes claiming to be "Cookies and Cream," with a sprinkling of tiny crumbs. It's just so wrong.
Oreo cookies were meant to be enjoyed in big pieces. You should get a big chocolate and cream filled bite when you crunch into one!
That's why I made these cupcakes the way I did: with an entire Oreo layer on the bottom of a chocolate chocolate chip cupcake, smothered in a decadent butter cream with big chunks of Oreos mixed in - and a few more big chunks on the top.
This, my friends, is an Oreo Cupcake with character. There are no teeny, tiny crumbs here. It's not messing around. This is a cupcake for the big kids.
Ingredients
For the Cupcakes:
55 Oreos, divided
1 box Devil's Food Cake Mix
1 small package Instant Chocolate Fudge Pudding Mix
1 cup Sour Cream
1 cup Vegetable Oil
4 Eggs
1/2 cup Milk
1 teaspoon Pure Vanilla Extract
2 cups Chocolate Chips
For the Frosting:
1/2 cup Butter, room temperature
1/2 cup Shortening
4 sifted cups Powdered Sugar
1 teaspoon Pure Vanilla Extract
2-3 tablespoons Milk
Directions
Preheat the oven to 350°F.
Line 24 muffin tin cups and place an Oreo in each one. 
Make the Cupcake Batter:
Combine cake mix, pudding mix, sour cream, vegetable oil, eggs, milk, and vanilla extract together in a large bowl, mixing until just combined. 
Add chocolate chips and mix again, until well distributed. 
Scoop cake batter over the Oreos, only filling each cup to be about 2/3 of the way full.
Bake for 20 minutes.
Make the Frosting:
Meanwhile, use a stand mixer to whisk together the butter and shortening. Add the powdered sugar and milk, alternating 1 cup of powdered sugar with 1 tablespoon of milk and whisking in between each addition until smooth. Whisk in the vanilla.
Hand crumble 15 Oreos into the butter cream. Use a spatula to mix in well.
Once the cupcakes have cooled, spread the Oreo butter cream on top. Crumble another Oreo on top of the butter cream (you could easily spread one Oreo over two cupcakes).
Notes
55 Oreos, divided equates to two (2) 18 oz packages of Oreos.

Tags: Copycat Desserts, Desserts, Baking, Cupcakes, Chocolate, Oreos