Picadillo: Cuba's Spicy Dip Made Dinner
Christina Lane | Dessert for Two
A Cuban staple, Picadillo makes for a great party dip, or dinner for two. Try it tonight!
Picadillo is a Cuban dish made with ground beef and potatoes. It's the perfect addition to my 'One Pound Ground Beef, Two Dinners for Two project.
This might look like a funny colored bowl of chili, but trust me: you've never had something that tastes quite like this! The sauce is tangy from the apple cider vinegar, and the chipotle peppers bring their heat and smokiness. The tiny cubes of potato make the dish creamy. We like to eat ours with tortilla chips or crunchy red bell pepper strips.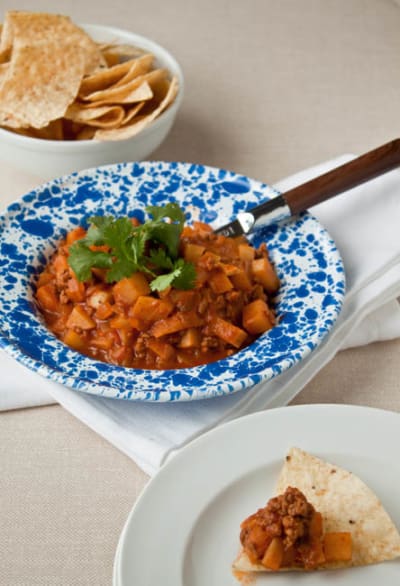 It's the perfect one-pan meal that can be a hearty appetizer or dinner for two. Dig into this one!
Tip: Use the other half of the meat for my Mushroom and Swiss Patty Melts with Spicy Brown Mustard.
Ingredients
1 tablespoon Canola Oil
1 small Onion, diced
1 clove Garlic, minced
1/2 pound Lean Ground Beef, 80% lean
8 ounces Tomato Sauce, (1 can)
1 medium Baking Potato, very finely diced
1/2 teaspoon Powdered Beef Base
1/2 teaspoon Apple Cider Vinegar
1 can Chipotle Pepper in Adobo, canned, minced
1/4 teaspoon Ground Cumin
1/2 teaspoon Salt
1 Bay Leaf, small
Fresh Cilantro, about a handful, chopped
Tortilla Chips, for serving
Directions
Heat a 10" cast iron skillet over medium heat.
Add the canola oil, onion, garlic and ground beef.
Saute the mixture until the beef browns, about 5 minutes.
Drain off excess grease with a paper towel (if desired).
Add the tomato sauce, and then refill the can with water and add it to pan. Add the remaining ingredients except the cilantro.
Simmer for 25-35 minutes, or until the potatoes are cooked through. If the pan ever looks dry, add additional water. 
Before serving, stir in the cilantro.
Serve with tortilla chips.
Recommended
Tags: Cooking for Couples, Dips, Ground Beef, Potatoes, Spicy, Easy Dinners, Easy, Quick