Raspberry Bran Muffins
Megan Myers | Stetted Updated
We know what you're thinking. But these aren't your granny's raspberry bran muffins.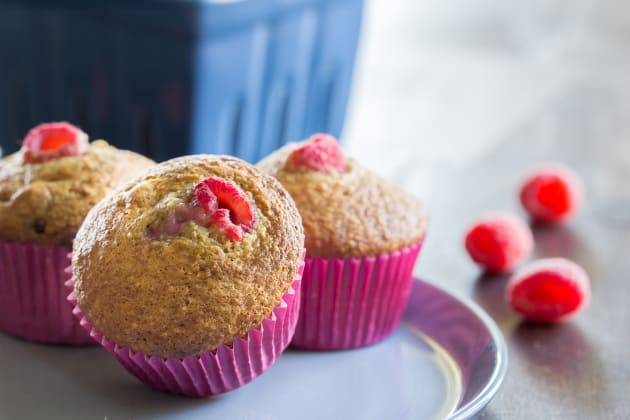 One day while searching for a quick, filling breakfast before work, my eyes lingered over the bakery case. That's not quite a surprise. But what did shock me was the decision to go healthy(er) by grabbing a large bran muffin.
Yep. Bran. But this one was soft, sweet, and full of tart raspberries. I kind of became obsessed, and when I stopped visiting the office (and the bakery case) every day, I knew I had to create my own recipe.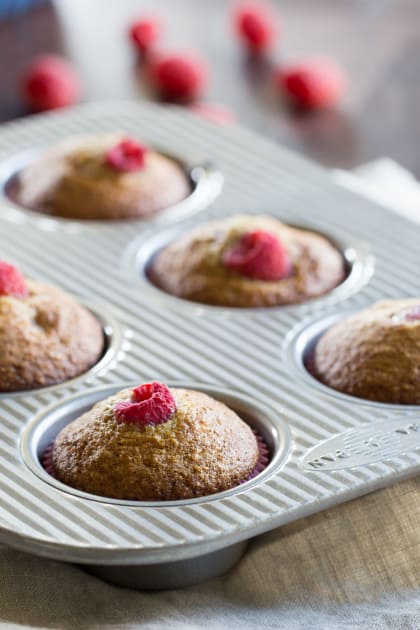 I know what you're thinking. But these aren't your granny's bran muffins. Not overly dense and studded with tart raspberries, they make a great addition to your breakfast spread. I think they're actually better the next day, once the bran has a chance to soften up even more, but fresh out of the oven with butter is never a bad choice.
Many bran muffin recipes call for bran cereal, but this one uses oat bran, which can be found in most bulk sections of larger grocery stores. Wheat bran can be used as well. Whichever you use, the flakes will soften up in the batter and during baking.
Ingredients
1 cup All-Purpose Flour
1/2 cup Whole Wheat Pastry Flour
1/2 cup Oat Bran
1 teaspoon Baking Soda
1 teaspoon Baking Powder
1/2 teaspoon Salt
1/4 cup Brown Sugar
1/4 cup Honey
2 medium Eggs
1/2 cup Half and Half
1 cup Raspberries
Directions
Preheat oven to 400 and prepare a muffin tin with nonstick spray or paper liners.
Mix together flours, oat bran, baking soda, baking powder, and salt, and set aside.
In a large bowl, mix together brown sugar, honey, and eggs, until eggs are beaten and everything is incorporated well. Stir in the half-and-half.
Stir in the dry ingredients until fully incorporated. Fold in raspberries, gently if you care about preserving the shape of the berry.
Divided batter among 12 muffin cups and bake for about 15 minutes.
Notes
You may add 2 tablespoons King Arthur Flour cake enhancer to improve texture.
Recommended
Tags: Breakfasts, Muffins, Healthy, Whole Grain, Brunches, Raspberries, Berries, Baked, Baking