Bruschetta Burger
Shelly Jaronsky | Cookies & Cups Updated
Food Fanatic is proud to present the best burger-topper in all the land! Read on for our Bruschetta Burger recipe!
Let's be honest here: When I crave food that will make be really happy, there is a short list. And at the top of the list is a good burger. Sometimes the burger needs to be fancy-ish and other times, it can be a Big Mac. 
But today, let's talk about this burger. THIS burger makes me weep. It's served on crusty Italian garlic bread, and it's stuffed with fresh mozzarella. AND it's topped with loads of bruschetta, which I now deem the best burger-topper in the land.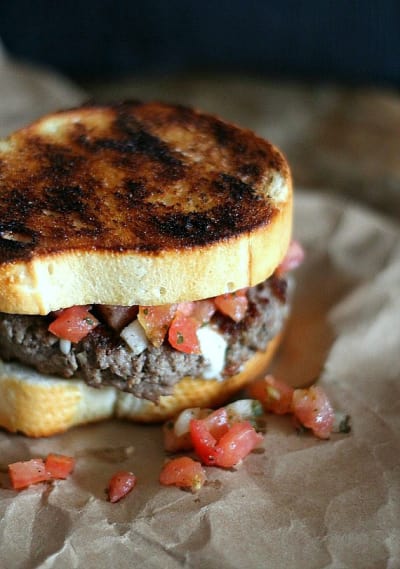 Why have I never done this before?  It's a total no-brainer. 
Usually I'm busy whipping up desserts, but I do have to say that I can make a mean burger. It's one of my specialties, and this one will not let you down!
Ingredients
2 pounds Ground Beef
1/4 cup Grated Parmesan Cheese
1 1/2 teaspoons Fresh Basil
3 cloves Garlic, minced
1 teaspoon Salt
1 teaspoon Black Pepper
1/2 pound Mozzarella Cheese, cut into 6 slices
1 loaf Italian Bread
tablespoon Olive Oil, to drizzle
1 clove Garlic, cut in half
1 8-ounce jar Bruschetta Mix
Directions
In large bowl combine ground beef, parmesan cheese, basil, minced garlic, salt and pepper. Combine all ingredients, using your hands. 
Divide the meat into 6 equal portions. With each portion divide it again in half when forming the burgers. 
Flatten out one half, place a slice of fresh mozzarella on top and top with remaining half of meat, forming into a round flat patty, pinching the sides closed, so the cheese isn't exposed.
Repeat with all the meat, making 6 burgers. Heat grill to medium high heat and cook burgers for 5-6 minutes on each side.
While burgers are cooking slice the loaf of Italian bread into 3/4 inch slices. Drizzle with olive oil. Place bread on a baking sheet and place under the broiler, or on the grill for 1-2 minutes until toasted. (If you use the broiler watch closely so bread doesn't burn!)
As soon as the bread is toasted, remove it from the broiler or grill and rub with the inside of remaining clove of garlic that has been halved.
When burgers are done, place on non-toasted side of bread, top with a generous portion of Bruschetta and the other slice of toast. Serve immediately.
Notes
I use 80/20 beef when making burgers.
Recommended
Tags: Comfort Food, Dinners, Burgers, Grilling, Italian