If you've never had an empanada, you need to try one now!

These filled pastries are extremely popular all over Latin America and whether they're baked or fried, they're absolutely delicious.

So we're making Mushroom Empanadas!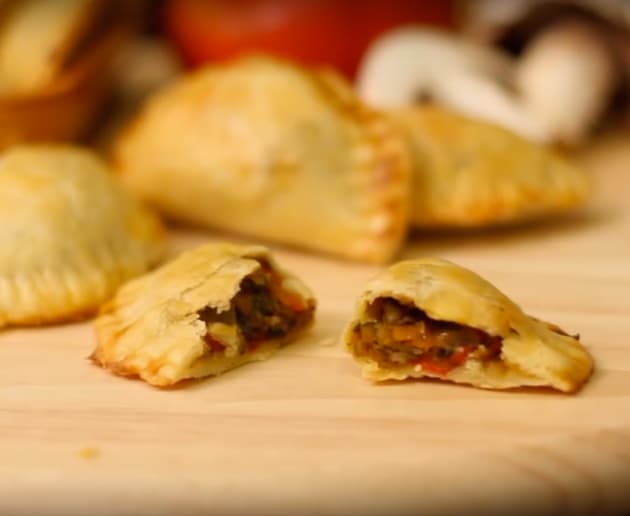 First, prepare the dough:

Sift 1 and 1/4 cup flour and mix with 1/2 teaspoon salt.

Incorporate 1 stick cold, unsalted butter that's been cut into 1/2 inch pieces into the flour, using a pastry blender, a fork or a pastry processor, until crumbs are formed.

Slowly add 4 to 6 tablespoons ice water and stir until the water is incorporated.

Wrap it with plastic, knead slowly to form a disc and refrigerate for at least 1 hour.

Now, in a large frying pan heat 2 tablespoons oil over medium high heat.

Add 1 chopped onion and sauté until soft. Add 1 grated carrot, 4 cloves chopped garlic, 1/2 red pepper, 4 to 5 chopped mushrooms and 2 tablespoons soy sauce and cook until any water evaporates.

Turn down heat and add chopped fresh basil, chopped fresh parsley, salt and pepper to taste.

Remove from heat and set aside to cool.

Preheat your oven to 350F. Line a baking tray with parchment paper.

On a floured surface roll out dough to 1/8 inch thick. Using a 3 1/2-inch circle cutter cut out circles of dough. Re-roll dough as needed.

Repeat procedure with remaining dough until using all the dough and results about 16 to 17 circles.

Place a spoonful of empanada filling on one side of the circle and top with cheese.

(In the video I forgot to add cheese on some but it's a delicious addition).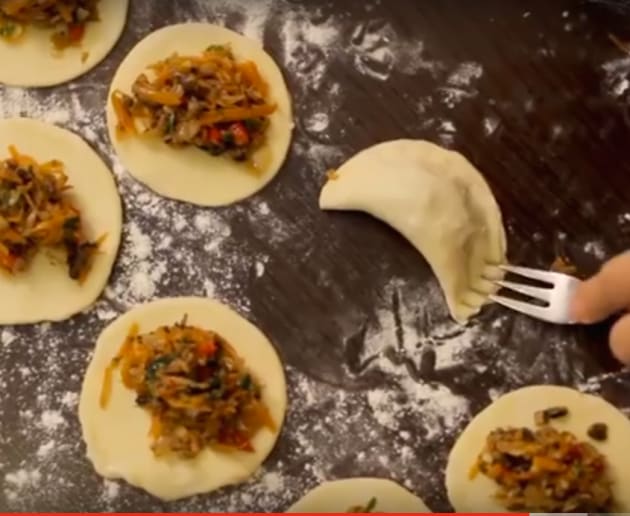 Moisten the edges of the circle with water and fold the dough over the filling to create a semi-circle. Use a fork to press the edges together to seal.

Place the empandas on the prepared baking tray.

Beat  1 egg and brush the top of each empanada. Bake for 25 to 30 minutes, or until golden brown.

Let cool slightly before serving.

Then eat and enjoy!