How to Make Margherita Pizza with Cauliflower Crust
Christine O
Whether you're vegetarian or just want a healthier version of pizza, then this recipe is for you.

It's a great alternative to regular pizza, it's gluten free and it's delicious.

Let's make Margherita Pizza with Cauliflower Crust!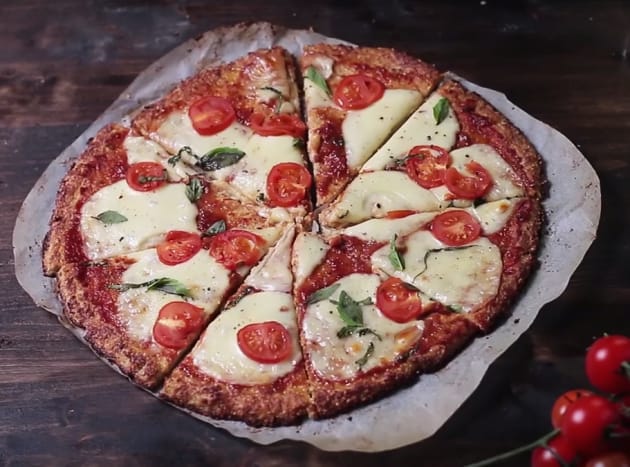 Prepare the cauliflower crust by preheating your oven to 375F.

Line a baking sheet with parchment paper.

Wash and cut 1 medium cauliflower into florets and place in the bowl of your food processor, and process until finely chopped, like rice. Then transfer to the prepared baking sheet and bake for 15 minutes.

Remove and let cool a little.

Place the cooked cauliflower into a tea towel and squeeze as much liquid as you can out of it and transfer to a clean bowl.

Turn the oven up to 470F.

Add 1 cup ground almonds, 2 eggs, 1 teaspoon dried oregano, 1 teaspoon dried basil,  and salt and pepper to taste. Stir until well combined.

Line a baking tray with parchment paper and grease with oil.

Place the cauliflower mixture into the center and using a spoon and hands spread it out onto a 12 inch round.

Bake for 15 minutes until golden brown. Remove and set aside to cool a little.

Spread 4 tablespoons of your favorite tomato sauce over the crust, add 4 and 1/2 ounces mozzarella cheese slices, 3 to 4 cherry tomatoes, sliced on top, chopped fresh basil leaves or parsley and freshly ground black pepper.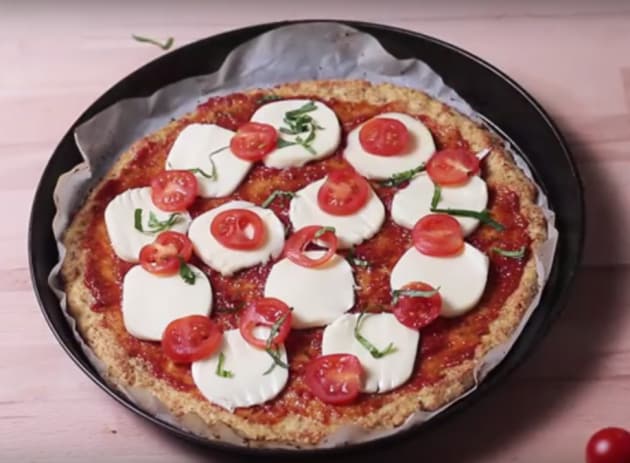 Check out the video below for all of the tasty tips and details.

Bake for another 8 to 10 minutes until cheese is melted.

Let cool a bit before serving and add some more fresh basil/parsley leaves on top.

Then eat and enjoy!