Paleo Cinnamon Roll Cashew Butter Recipe
Taylor Kiser | Food. Faith. Fitness.

Paleo Cinnamon Roll Cashew Butter is super easy to make, and eat. It's proof that you should always make your own!
Hey internet friends. Question for ya:
Have you ever thought to yourself "I wish I could marry my toast obsession with my obsession with that moment where my tongue tingles with the ooey-gooey, spicy-sweet flavors of the VERY VERY center of some warm, fresh-from-the-oven skillet cinnamon rolls?"
If you haven't…I BET YOU ARE NOW.
I knew it.
Well, cinnamon-roll-and-toast-loving friends of the interwebz, today your just-thought-it-right-now question of LIFE is being answered: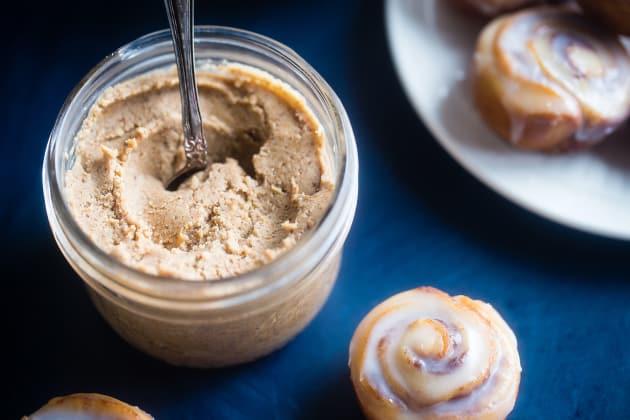 Cinnamon. Roll. Cashew. Butter.
AKA: Cinnamon crack butter.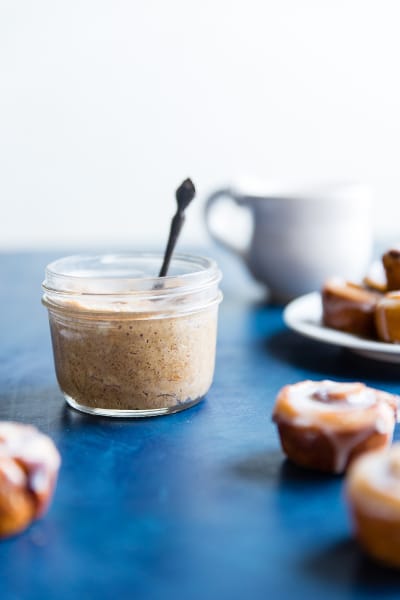 SRSLY.  This stuff? Move over toast 'cause you're gonna be going STRAIGHT in with a SPOON.
Except, don't move that toast over tooooo far since a thick, creamy, perfectly sweet cashew butter slather on top of a crispy, crunchy, golden brown slice of toasty bread is basically about to DEFINE your very morning-person breakfast identity.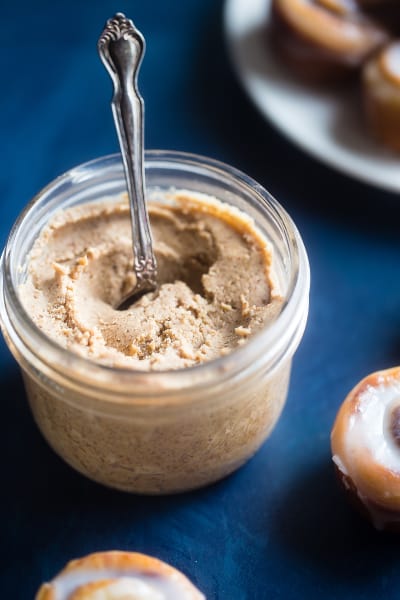 It's like the inside of some whole wheat cinnamon rolls in the sense that the warm bread has got those similar sensations of fresh-from-the-oven baked goodness, and the (5 ingredient!) cashew butter has EVERY single pop of warm cinnamon and deep, rich coconut sugar that you crave.
Not to mention the fact that cashew butter is MEGA smooth and creamy….kiiiiinda like cream cheese frosting.
Except with this underlying, addictive nutty flavor profile that tickles your taste buds in a VRY VRY exciting way.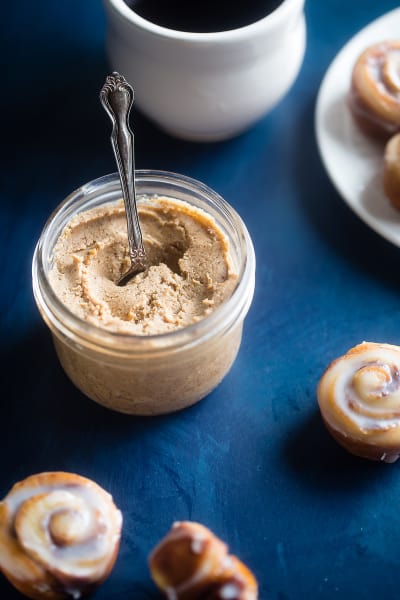 I have this feeling that you are like me in the ways that you crave food variety but are ALSO very apprehensive about straying from your usual food choices. I mean, what if you DON'T LIKE IT and then have a case of food DISAPPOINTMENT. ßwe've all been there. I KNOW that you know what I mean.
Because you are like me, I have a sneaky suspicion that your just-woke-up life has revolved around some healthy cinnamon roll protein oatmeal for the past, uhh, EVER. It's really delish, super EZ and tastes like your most favorite baked good.
BUT. The quest for variety is slooowwwwlyyy creeping its way inside your belly.
ENTER this homemade cashew butter.
Same buttery, sweet, cozy vibes BUT in a way that lends itself to a MILLION options: toast, on top of yogurt, on a muffin, even in a protein smoothie!
So many options with all your feel-good, know-you're-gonna-like-it flavor vibes.
Let's get cozy and discuss the ghee in here.  I know that we've never ever eaten this before, how-EV-ER, it's the super-secret ingredient that is going to make your stupid-simple cashew butter remind you of that moment when your teeth sink into buttery, fluffy bread that is rolled with melty, oozy cinnamon and sugar.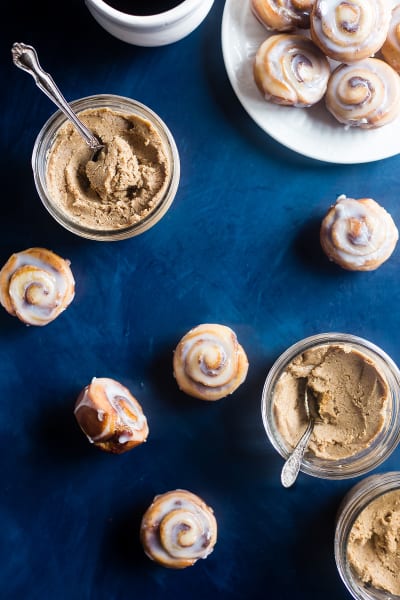 Ghee has this RICH, decadent, buttery flavor that weaves its way in and out of each creamy spiral that you slather onto, well, ANYTHING.
Combine that with a heavy hit of cinnamon and coconut sugar, and you've got the TRIFECTA of cashew butter HEAVEN.
Three cheers to new found breakfasts.
You know, with a little bit of food-loving-safety on the side. 
Are you tired of the dinner routine?
Stuck in a rut or looking for fun new recipes to try?
Our Facebook Group is growing every day! If you haven't joined yet, we invite you to come check it out and join the fun.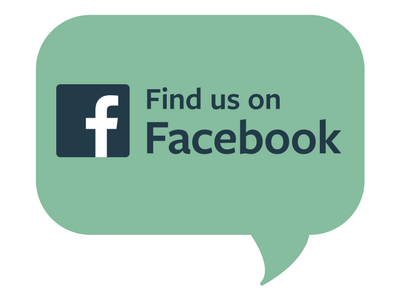 You can ask for recipe ideas, talk about cooking techniques, or get help figuring out the right new pan set for you. If you've already joined, invite a friend along!
Paleo Cinnamon Roll Cashew Butter Recipe
Ingredients
2 cups Raw Unsalted Cashews, roughly chopped (260g)
3 tablespoons Coconut Sugar
1 tablespoon Ghee, melted
1 teaspoon Pure Vanilla Extract
1 1/2 teaspoons Cinnamon
pinch of Salt
Directions
Place the cashews and coconut sugar in good quality food processor and process until the cashews release their oil and become smooth, scraping down the sides as needed. Depending on the strength of your food processor, this could take 10-15 minutes, and you'll have to scrape the sides very frequently. Make sure to let your food processor rest every few minutes if this is the case.
Add in the melted Ghee, vanilla, cinnamon and a pinch of salt and blend until combined.
Transfer to a container, store at room temperature, and DEVOUR!
Notes
You will probably think it's going no where in the first 5-10 minutes. Just be patient – cashew butter takes time!
Recommended
Nutrition Facts
Serving Size
1 tablespoon
Servings Per Recipe 18
---
Amount Per Serving
Calories from Fat 52
Calories
91
---
% Daily Value*
---
* Percent Daily Value are based on a 2,000 calorie diet. Your daily values may be higher or lower depending on your calorie needs.
** Nutrition Facts are estimated based on ingredients and data provided by
Fat Secret
. Please consult a doctor if you have special dietary needs.