Rob Roy
Brandy O'Neill | Nutmeg Nanny
The Rob Roy is a classic cocktail. Good whiskey, vermouth, and your favorite bitters combine to make a delicious way to wind down after the work day.
My dad was always a scotch drinker. Well, I should clarify he was a beer and scotch drinker. He was a plumber by trade so when he got home during the week all he wanted was a cold beer, but on the weekends he was all about the scotch. He would pour a small glass and sip on it for a few hours.
I always thought of scotch to be a business man's drink, so watching my dad with his calloused hands sip away always threw me off. How did he learn to love scotch? When did his love for beer slip away and scotch move in? I made him a Rob Roy once, and while he politely drank it I'm pretty sure he prefers his scotch straight. It's ok, more for me!
When I was a kid, I always thought scotch would taste like butterscotch. Do not make this mistake. They taste nothing alike. Trust me. However, if you take your time and learn about how scotch is made and what goes into the process you can quickly find yourself falling in love. This is exactly how my love for bourbon started.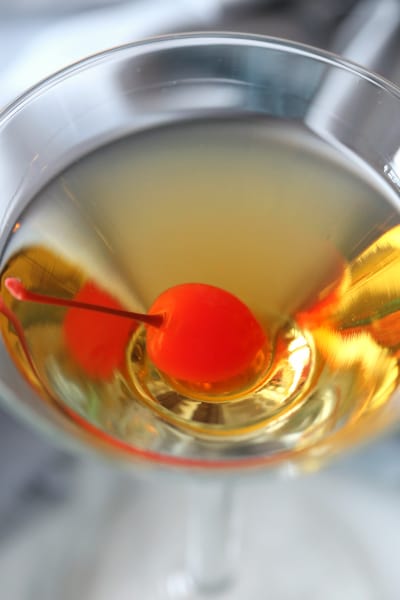 A classic Rob Roy is simply 3 ingredients – scotch, sweet vermouth and a dash of bitters. I have a serious love for bitters so my collection is huge. I used cherry bark vanilla bitters in this cocktail but you could easily use aromatic in its place. No need to go out and buy fancy bitters if you're just starting to use them. Plus, having a bottle of aromatic bitters in the house is never a bad thing.
We just love Brandy's take on cocktails. Try her Moscow mule recipe and pineapple rum cocktail too.  
Ingredients
2 ounces Scotch Whiskey, Good quality
1/2 ounce Sweet Vermouth
2 shakes Cherry Bark Vanilla Bitters
Maraschino Cherry, Optional
Directions
Fill a cocktail shaker with a few cubes of ice and add in scotch, sweet vermouth and bitters.
Stir and strain into martini or coupe glass. Add in a maraschino cherry if desired. 
Notes
Aromatic bitters can be used in place of cherry bark vanilla bitters.
Recommended
Tags: Cocktails, Drinks, Alcohol, Whiskey, Easy