7 Layer Bars: S'mOreo Heaven
Kate Donahue | Food Babbles

7 layer bars that are sent straight down from heaven. We're pretty sure these are where the term "7th Heaven" came from.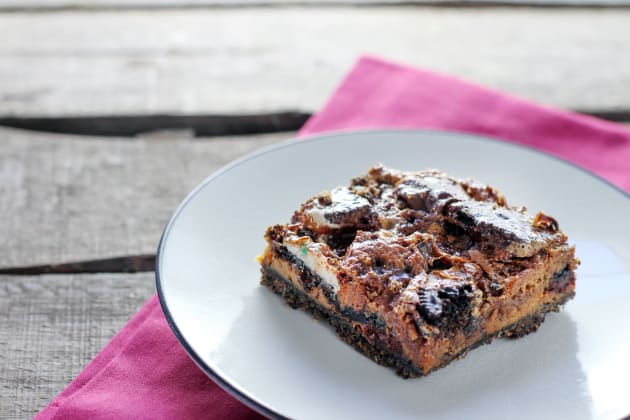 Sometimes in life, there are moments when you make a treat and realize you've created something so insanely good that you cannot wait to share it with people. Simple, everyday ingredients come together to make something better than its parts.
Seven layer bars have been around for a while and are nothing new. They're easy to make and even easier to eat. Those two things probably have a lot to do with their success and popularity.
But what we have here ladies and gentleman are not just any seven layer bars. Oh no. What we have here are S'mOreo Seven Layer Bars!
S'mOreo as in "s'mores" and "Oreo" cookies coming together into soft, scrumptious seven layer goodness. It all begins with a crust of those famous chocolate cream-filled cookies and graham crackers crumbs. To me, that sounds like a very fine start.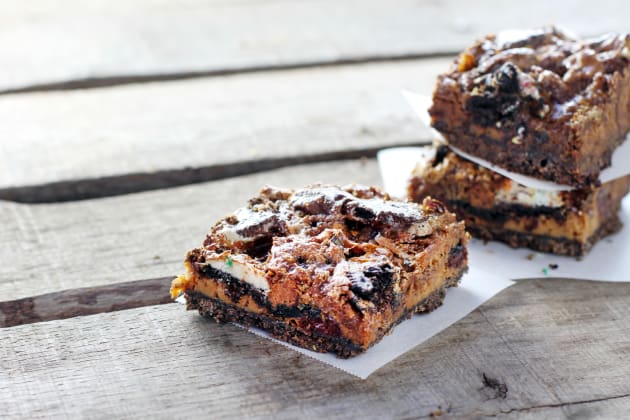 That crazy good cookie graham crust is then topped with two different types of chocolate, graham cracker pieces, more Oreo cookies because, what's not to love about Oreo pieces tucked into decadent chewy bars? I used Birthday Cake Oreos, but feel free to use whatever flavor that strikes your fancy. I've never met an Oreo I didn't like.
And what would a s'mores bar be without mounds of pillowy marshmallows? There must be marshmallows! A drizzle of sweetened condensed milk is the finishing touch. Once baked in the warm oven, the sweetened condensed milk caramelizes to a dulce de leche consistency, the marshmallows and chocolate melt and the whole concoction become a wonderfully soft ooey, gooey bar that is truly irresistible.
Everything that's going on in these S'mOreo Seven Layer Bars is so crazy good! Once made, these will not last long so you may want to hide one or two or five for yourself. They're that kind of treat. You'll thank me later.
Want more oooey gooey bar desserts? You've got to try Karly's Oreo Peanut Butter Brownies recipe or Red Velvet Cheesecake Brownies.
Ingredients
20 oreos (Oreos, divided
6 sheets Graham Crackers, divided (whole Graham Crackers)
4 tablespoons Unsalted Butter, melted
1 cup Miniature Marshmallows
1/2 cup Chocolate
1 Hershey Milk Chocolate Bar, coarsely broken (1.5 ounces)
14 1/2 ounces Sweetened Condensed Milk, (1 can)
Directions
Preheat oven to 350°F. Spray an 8x8-inch baking dish with nonstick cooking spray. Line with parchment paper, allowing edges to overhang so that bars can be lifted out later. Spray parchment paper lightly once more.
In the bowl of a food processor, coarsely break up 14 Oreo cookies and 4 graham cracker sheets. Pulse until fine crumbs form. Drizzle crumbs with melted butter and pulse again until evenly moistened.
Press crumb mixture into the bottom of prepared pan. Bake in preheated oven 10 minutes. While crust bakes, coarsely break remaining 6 Oreos and remaining 2 sheets of graham crackers into a small bowl. Set aside.
Remove crust from oven and immediately sprinkle warm crust with marshmallows, broken Oreos and graham crackers, chocolate chips and Hershey bar pieces. Evenly pour sweetened condensed milk over everything.
Return to oven and bake 50 minutes. Cool completely in pan on a wire rack.
Recommended
Tags: Bar Desserts, Baking, Oreos, Marshmallows, Desserts, Chocolate, Snacks, Family Meals and Snacks