Hawaiian Crockpot Chicken: Dinner for All Seasons
Lisa Grant | Jersey Girl Cooks
Hawaiian Crockpot Chicken is an easy, four ingredient dinner. Make it into sandwiches, sliders for the big game, or even tacos!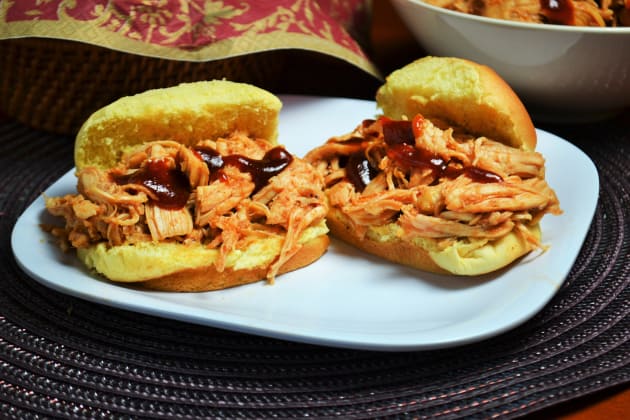 In the winter, I love a meal that warms you up. There is nothing better than coming home to a house that smells wonderful due to a meal cooked in the slow cooker. In the summer, I want a meal that's easy but doesn't heat the house up. Well, I found the perfect all- seasons meal and it is Hawaiian Crockpot Chicken.
My family loves to eat this on Hawaiian or potato rolls but it can be served on a plate with cold slaw and baked beans. Or how about on a tortilla slathered with some cheese? I think it might also be good on homemade buttermilk biscuits.
In the winter or fall, this is pure comfort food while it is also a perfect picnic food to serve in the spring or summer. It feeds a crowd so it is a good option when entertaining or having company over. Many times I will make this for my small family and freeze the leftovers. It tastes just as good leftover as it does eaten the first time.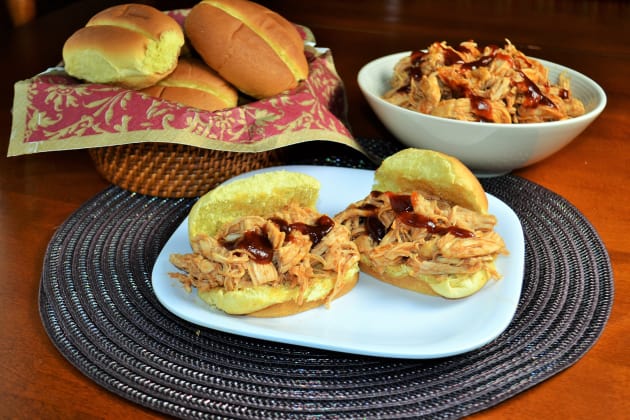 For this recipe, I prefer to use Baby Ray's Spicy BBQ sauce but your favorite BBQ sauce will work. This meal takes 4 hours to cook in a slow cooker but if you want to speed things up, it can cook in a covered skillet on the stove and be done in under 30 minutes. I find that the slow cooker makes the chicken more tender but it is still good cooked on the stove.
My favorite thing about this meal is that it only requires four ingredients. It is rare that I don't have chicken breasts in the freezer along with soy sauce, BBQ sauce and pineapple juice in my pantry. So this is the perfect meal to prepare if I am late on grocery shopping for the week.
Are you looking for other slow cooker meals? Try Slow Cooker Pulled Pork or Shredded Beef Tacos.
Ingredients
5 Boneless Skinless Chicken Breasts, about 3 lbs
1/2 cup Pineapple Juice
2 tablespoons Soy Sauce
1 cup Barbecue Sauce, plus extra for serving
Directions
Place the chicken breasts on the bottom of a slow cooker set to high.
Mix together the pineapple juice and soy sauce. Pour it over the chicken then pour over the BBQ sauce.
Cook covered on high for 4 hours. Remove chicken from the slow cooker and pull apart using two forks.
Place back in slow cooker and leave uncovered for a few minutes. Make sure sauce is mixed into the chicken.
Serve with extra BBQ sauce.
Notes
To cook on the stove follow the above instructions except cook in a large covered sauté pan on medium heat for about 20 minutes or until tender. Once pulled chicken in put back in pan simmer on low uncovered for about 5 minutes so sauce thickens a little.
Recommended
Tags: Easy Dinners, Chicken Breasts, Chicken, Slow Cooker, Crock Pot, Dinners, Sandwiches