Fruit Appetizers: Apples and Peaches Made Fancy
Ethan Adeland | Feeding Ethan
Easy fruit appetizers made with peaches and apples, cheese and more. So easy, and perfect with wine or whiskey!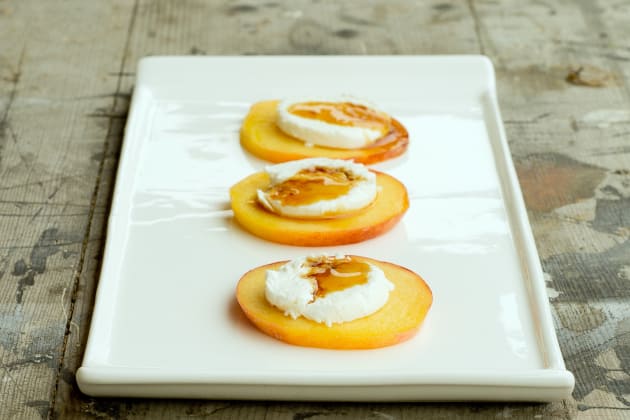 Today is empowerment. It's not so much a recipe as it is a guiding set of principles. Fresh fruit can be a wonderful canvas and can be made fancy, yet maintain its simplicity by adding quality ingredients.
I love taking fruit and baking it with butter, brown sugar and cinnamon as much as the next Food Fanatic (don't miss Katie's easy peach cobbler recipe), but sometimes a piece of fruit just begs to be eaten as Mother Nature intended.
We're all familiar with the classic children's snack of Ants on a Log which consisted of celery, peanut butter and raisins (or chocolate chips as a treat). Well, think of this as the adult version!
By stocking your kitchen with some quality ingredients you can make fruit fancy any time you want! I happened to have goat cheese, black honey, pumpkin butter to go along with the peaches and apples this particular time.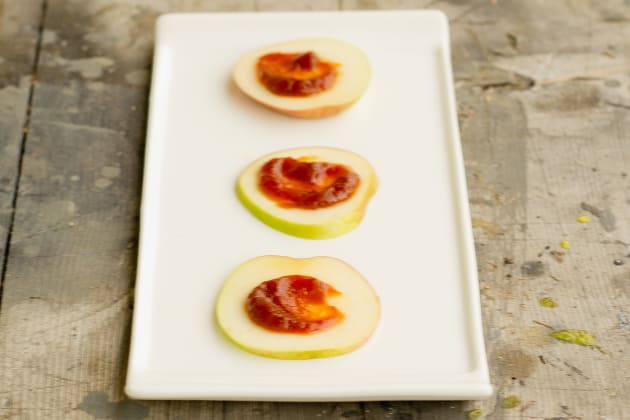 Pears and a little triangle of brie also go perfect together and maybe with a bit of Tracy's raspberry jam recipe or a crushed walnut on top. By having fresh and quality items in your kitchen, the options are really only limited by your own imagination!
Going this route after dinner has many advantages. For starters, after a big dinner, this is a light option that can be picked at slowly and nibbled on. It's also very simple to prepare and doesn't involve much preparation time so it can be done in a matter of minutes.
And lastly, since we eat with our eyes, this looks elegant and really all you did was slice up a piece of fruit, grabbed some cheese and drizzled something on top. No one needs to know it was a last minute idea if you didn't expect your guests to stay for dessert, or to show up early in need of apps.
Making fruit fancy has never been so easy!
Ingredients
For Fancy Peaches:
1 Peach, sliced thinly
1-2 ounces Goat Cheese
Honey, to taste
For Fancy Apples:
1 Apple, sliced thinly
Pumpkin Butter, to taste
Directions
Slice the fruit thinly.
Place, drizzle, smear your cheese, honey or pumpkin butter on the fruit.
Enjoy!
Recommended
Tags: Cooking for One, Appetizers, Easy, Quick, Desserts, Cheese, Apples, Peaches