Apple Cider Oatmeal: Breakfast in 5
Steph S. | ::steph chows::
Easy apple cider oatmeal couldn't be faster to make. It's also super healthy, and a fantastic fall breakfast.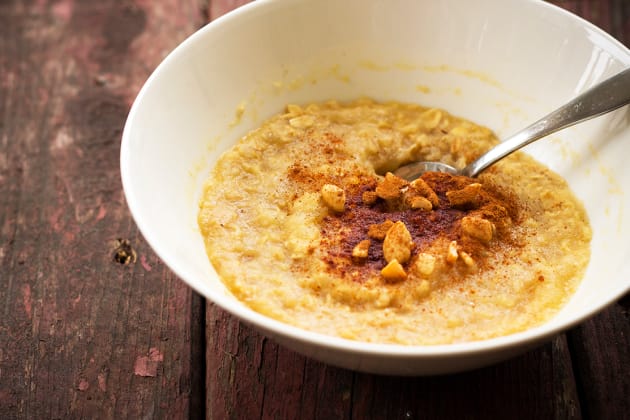 Apple cider is one of those things I tend to drink in its pure form only, unless we're talking about apple cider donuts (I could eat those things every day). I guess that's the exception, otherwise I just drink it straight up, no chaser.
Inspiration struck in the form of oatmeal though, when I was reading Simple Bites. They recently published a blog on ways to cook with apple cider. Why had I never thoughts of doing this?? Aimee's version of apple cider oatmeal involves the stovetop, but I decided on a way that was both at-work and early morning running-late-to-school friendly.
I am the queen of running late. Alarm goes off and I'm out the door within 20 minutes. I choose sleep over morning prep any day, so I've got my routine down to a science. I need every second possible for a few extra winks.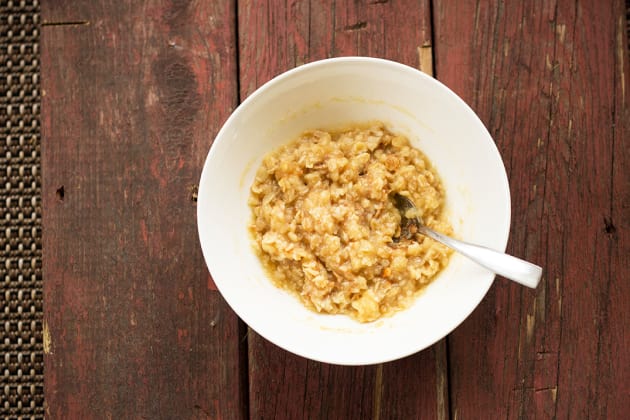 This recipe couldn't be easier; three ingredients tossed in a large bowl and microwaved on 50% for 5 minutes. The result is a total warm apple crisp filling kind of heaven.
Next time I'm going to top this with some homemade pumpkin granola just to make it a complete autumn cliché. Or I could use Erin's apple cinnamon gluten free granola recipe. Either way, I'll be eating this breakfast all winter long, way past the final leaves have dropped.
What's your go-to warm and fast breakfast?
Ingredients
For the Oatmeal:
1/2 cup Rolled Oats
1/2 cup Apple Cider
3/4 cup Unsweetened Apple Sauce
Optional Toppings:
Nuts, of any variety
gluten free prepared granola, or any granola
Cinnamon
Sugar
Honey
Splenda
Brown Sugar
Agave Syrup
Directions
Mix oats, apple cider, and apple sauce in a large bowl.
Microwave on 50% power for 5 minutes.
Remove and top with preferred toppings. Enjoy! 
Recommended
Tags: Apples, Oatmeal, Healthy, Breakfasts, Easy, Quick, Fall