Goat Cheese Stuffed Peppers
Emily Caruso | Jelly Toast Updated
Sweet little peppers stuffed with tangy goat cheese and crunchy panko bread crumbs - perfect for your summer party!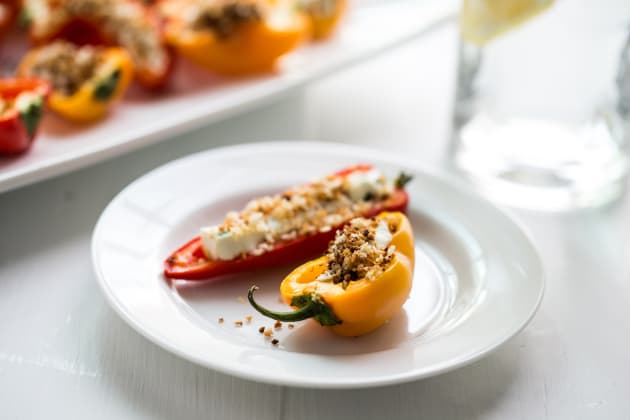 While at the store a couple of weeks ago, I totally impulse bought a bag of the most adorable little sweet peppers. I'm not kidding, these were crazy cute. Now, I know what you might be thinking - picking produce based on it's degree of cuteness may not be wise, but I'm telling you, nothing this cute could taste bad. 
Luckily, I was right. These were sweet, crunchy and made the perfect little snack. The only problem was the fact that they came in a two pound bag, which is kind of a lot of little peppers. It would have been a shame to simply eat them straight out of the bag and not help them live up to their potential of becoming a spectacular appetizer. 
And what could make these tiny peppers become even more spectacular? Goat cheese. And not just plain goat cheese, but goat cheese mixed with fresh herbs and topped with crunchy panko bread crumbs. Oh, yes. 
I've told you about my love of goat cheese in the past with my
Asparagus and Goat Cheese Tart Recipe
and like that recipe, these Goat Cheese Stuffed Peppers are incredibly simple to make. Plus, by using just a few, but powerful ingredients, they pack a serious flavor punch. 
If you're a goat cheese fan as much as I am, you will also love my
Beet and Goat Cheese Tart Recipe
. I must have a thing for tarts, too. Maybe next time it'll be a pepper tart...
Anyway, these Goat Cheese Stuffed Peppers make a great appetizer for a summer party and can be baking in the oven while you're outside grilling up the rest of your meal or mixing up a cocktail or two. Either way, they're spectacular!
So, do you love goat cheese, too? What's your favorite way to use it?
Ingredients
1/2 cup Panko Breadcrumbs
4 teaspoons Olive Oil, divided
25 Mini Bell Peppers, washed
10 ounces Goat Cheese, room temperature
4 ounces Fat Free Cream Cheeses, room temperature
2 tablespoons Chives, chopped
Black Pepper, to taste
Directions
Preheat oven to 350°F.
In a small skillet, heat 1 teaspoon of olive oil over medium/low heat. Add panko bread crumbs and saute until crumbs are golden brown. Remove from heat and set aside. 
Slice peppers in half lengthwise, taking care to leave the stems intact whenever possible. This is purely for presentation, so if you lose a stem or two, don't worry. Remove spongy ribs and seeds. Arrange peppers on a rimmed baking sheet, drizzle with remaining 3 teaspoons (1 tablespoon) of olive oil and set aside. 
In a small bowl, mix together goat cheese, cream cheese, herbs and pepper with a fork until well combined. Spoon or pipe the cheese mixture into the hollowed out peppers. Sprinkle toasted panko bread crumbs evenly over peppers and bake for 12-15 minutes or until peppers are tender and the goat cheese is warm. 
Notes
You may use any fresh herb you like in place of chives.

Tags: Appetizers, Snacks, Party Food, Peppers, Goat Cheese, Independence Day, Baked