4th of July Barbecue Menu: Perfectly Patriotic
Stephie Predmore | Stephie Cooks

We've got the best menu plan around for your 4th of July barbecue. Leave the planning to us - just get to cooking!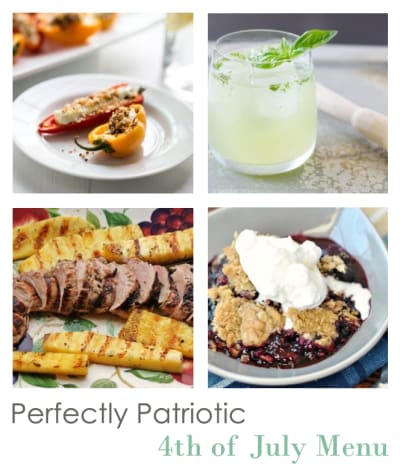 This year, for the 4th of July, let's take a step back and depart from the usual hot dogs and potato salad.
I know, I know. It seems like sacrilege. But I propose we plan a 4th of July BBQ menu that is a little bit unexpected, a little bit familiar, and a whole lot of delicious. Are you with me?
Appetizer: Stuffed Mini Peppers
Everyone needs something to munch on while people arrive and you get the rest of the meal ready to go. Those appetizers are just as important as anything else you serve – they set the tone for the meal! This year, try this Stuffed Mini Peppers recipe. Adorable mini peppers are stuffed with tangy goat cheese and herbs. They're flavorful but still light enough for summer.
25 Servings
7 Ingredients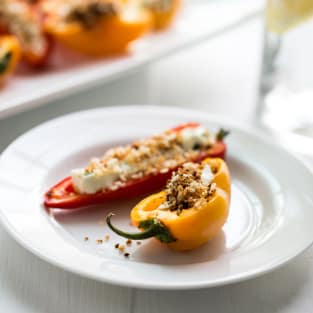 Drink: Basil Gin Smash
While everyone is milling about, it is always nice to have a drink in hand. In addition to beer or wine, try providing a creative mixed drink, such as a Basil Gin Smash. This drink is herbaceous and refreshing, and provides a great opportunity to use up some of the excess basil from your yard.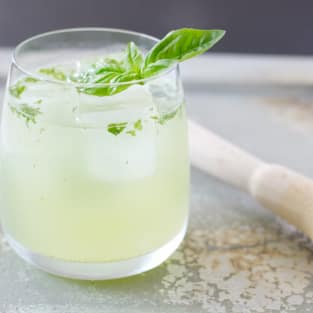 Main: Grilled Pork Loin and Pineapple
Now it's time to think about the main event: Grilled Pork Loin and Pineapple. Grilled pork loin is an unexpected choice, but it pairs well with rosemary and sweet grilled pineapple, making this main dish a hit with crowds.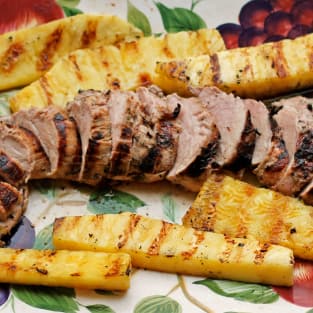 Sides: Crock Pot Baked Beans and Brussels Sprout Salad
For our sides, Crock Pot Baked Beans are a familiar dish made even easier for the host or hostess in the slow cooker.  Brussels Sprout Salad is an unexpected way to use an oft-forgotten vegetable, with a tangy vinaigrette and additions such as walnuts, avocado and blueberries making this a lighter option that does not disappoint on flavor.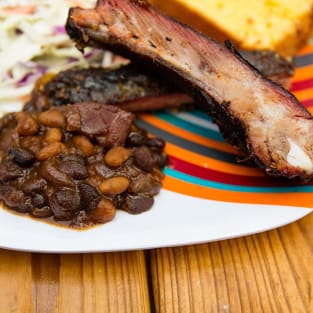 4 Servings
13 Ingredients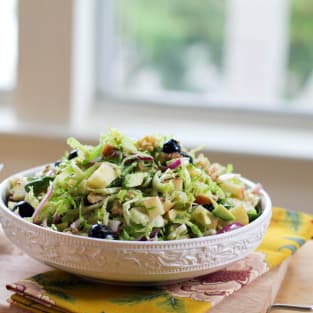 Dessert: Blueberry Crisp
For dessert, let's bypass the traditional apple pie or flag cake and turn to an easy, delicious Blueberry Crisp recipe. Tart-sweet blueberries and a crispy topping make for the perfect summer dessert. Topped with whipped cream or vanilla ice cream, this is the perfect way to end a fabulous BBQ meal. 
10 Servings
10 Ingredients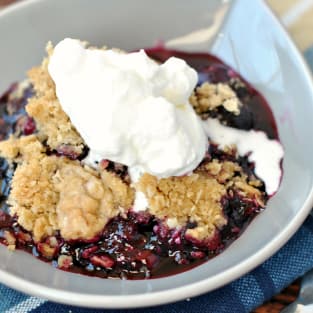 Are you tired of the dinner routine?
Stuck in a rut or looking for fun new recipes to try?
Our Facebook Group is growing every day! If you haven't joined yet, we invite you to come check it out and join the fun.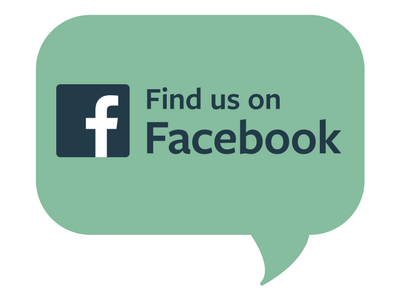 You can ask for recipe ideas, talk about cooking techniques, or get help figuring out the right new pan set for you. If you've already joined, invite a friend along!

Tags: Menus, 4th of July