Coconut Muffins
Steph S. | ::steph chows:: Updated
These coconut muffins aren't just healthy. They are delicious as well. We promise!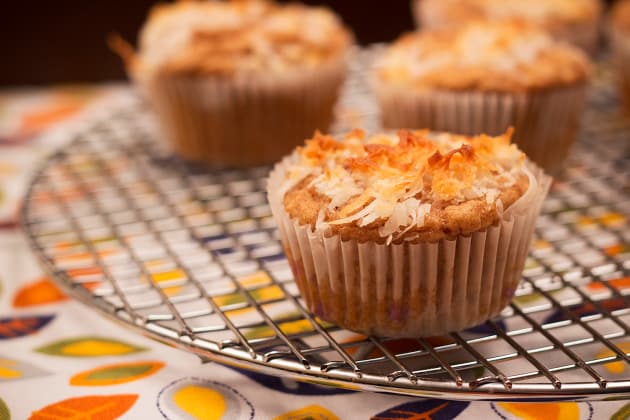 So these started as blueberry coconut muffins. But someone forgot to add blueberries in before topping them off with a dollop of coconut and popping them into the oven.
It totally wasn't me, but that's okay: the mistake has left me with a new healthy muffin to enjoy!
Yes, it's true, they are healthy; whole grain, no added fat (well, except for the teaspoon in the topping), and low in sugar. They will taste horrible you say? You MUST have butter? Just give them a little try, won't you? Humor me once? And then I promise you'll be coming back for more.
I guess I should have started with an introduction. My name is Steph, and I love to chow, but I also like to fight my genetic predisposition of being short and round, so I started the blog steph chows, which focuses on healthy eating that tastes good.
Sure, you'll also find some adorable wheaten terrier photos there, and random crochet and sewing projects, but I know you'll be coming back for the recipes. Because once you start eating healthy things that taste this good... you'll be back for seconds.
NOTE: You'll notice I use Splenda for some of my baked recipes. This comes from a habit of making diabetic friendly treats. I don't use it in all my stuff and I always have a white sugar substitution for those who don't like using it.
Ingredients
Muffins:
3/4 cup Whole Wheat Flour
1 teaspoon Baking Powder
dash Salt
1/4 cup Splenda
1/3 cup Unsweetened Shredded Coconut
6 ounces Fat Free Mixed Berry Yogurt
1/4 cup Unsweetened Apple Sauce
1 large Egg
1/2 teaspoon Pure Vanilla Extract
Topping:
1/4 cup Unsweetened Shredded Coconut
1 teaspoon Canola Oil
Directions
Preheat oven to 350°F.
Mix together 1/4 cup unsweetened coconut and 1 teaspoon canola oil.
In a small bowl, mix together flour through unsweetened coconut.
In a large bowl beat together yogurt, applesauce, egg and vanilla. Add dry to wet and gently stir until just incorporated (don't over mix)
Scoop into greased muffin tins and divide the topping between the 6 muffins.
Bake for 25 minutes or until a toothpick comes out clean.
With or without the blueberries these muffins are tender and delicious.
Notes
Add in a half cup of blueberries for extra sweetness!

Tags: Healthy, Breakfasts, Muffins, Coconut