Banana Bread Pancakes
Megan Myers | Stetted Updated
Banana bread pancakes just scream Saturday morning. Banana bread, a favorite snack across America, gets the breakfast treatment in this simple pancake recipe. ENJOY!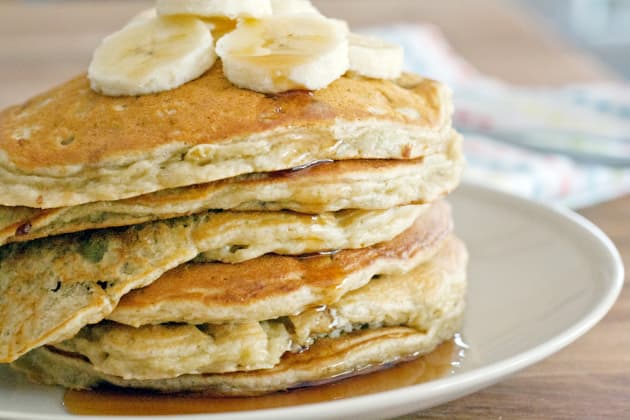 Growing up, banana bread was one of my favorite things to eat. I always looked forward to the end of the school day, when I could rush home and cut myself a thick slice of banana-studded bread to snack on.
These days I don't get to make banana bread often because my son devours the bananas that come into our home, but when I'm able to stash a couple away to ripen I like to try out new recipes. These pancakes were born out of my son's twin loves of bananas and pancakes.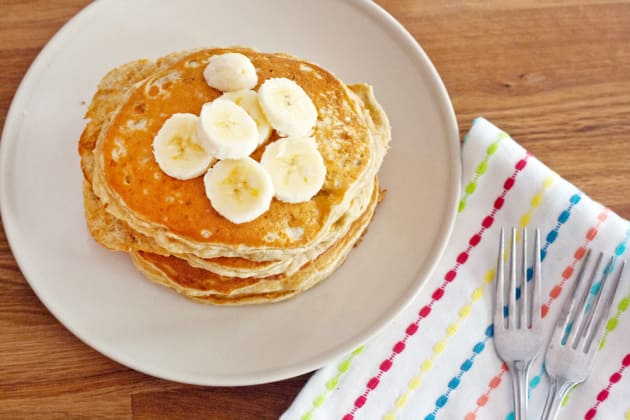 Depending on how thick you like your pancakes, you can easily adjust the amount of milk in this recipe. Less milk will yield fewer, thicker pancakes, while more milk will make more, thinner pancakes.
And why stop at pancakes? Follow our banana muffins recipe to continue taking advantage of this healthy ingredient!
Ingredients
1 cup Flour
1 tablespoon Baking Powder
1 teaspoon Baking Soda
dash Salt
1/2 cup Banana
2 tablespoons Brown Sugar
1/2 teaspoon Cinnamon
1 teaspoon Pure Vanilla Extract
1 large Egg, beaten
1/3 cup Milk, plus more if you like thinner pancakes
1 tablespoon Butter, melted
Directions
Sift together flour, baking powder, baking soda, and salt in a large bowl.
In another bowl, mix banana, brown sugar, cinnamon, vanilla, egg, and milk.
Stir banana mixture into flour mixture until just blended.
Preheat griddle or frying pan over medium heat and spray with nonstick spray, if necessary.
Right before cooking pancakes, mix melted butter into the batter.
Pour batter by 1/3-cupfulls onto the griddle. Cook until sides are dry and bubbles have formed on top, then flip over. Cook until pancakes have puffed slightly and are golden brown. Repeat with remaining batter, adjusting heat on griddle as necessary. Serve with additional banana slices, if desired, and maple syrup.
Recommended
Tags: Breakfasts, Pancakes, Bananas, Griddle