Italian Sausage & Cauliflower Rice
Natalie Perry | Perry's Plate Updated
Italian sausage & cauliflower rice is a quick and easy dinner any night of the week. It's also Paleo, making it super diet friendly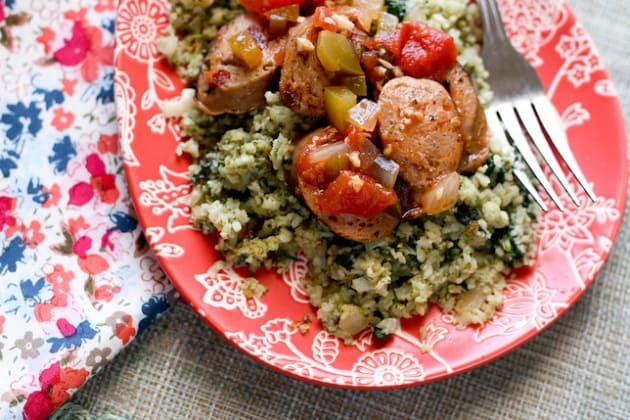 You've had cauliflower rice before, haven't you? If not, you must try it. It's a great alternative to regular rice if you happen to be avoiding grains or looking to reduce your carb intake.
Or if you're in the paleo crowd... which we try to be most of the time. "Try" being the key word. I try to keep one foot in the circle while the other is off searching for ice cream or tacos with actual tortillas. That one foot in the paleo circle keeps me from straying too far, though, much to the delight of my jeans.
So, cauliflower rice is basically cauliflower chopped up into itty bitty pieces and cooked. This particular version is packed with basil pesto and topped with Italian sausage and some sweet Italian relish. Another version of Cauli-rice is the Mexican Chicken and "Rice" recipe I posted a while back, and I even tried it out on my parents while I was visiting.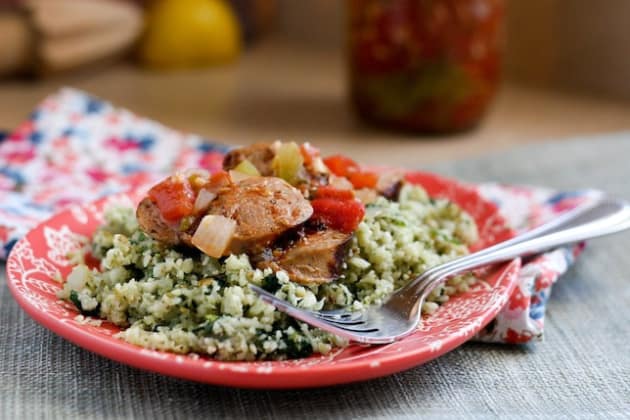 Being the sneaky child that I was (and still am) I told my meat-and-potatoes dad it was a "special kind of rice" so he would eat it. He knows I eat "weird" things, like Indian food. And green vegetables. He just figured it was another one of my strange food choices.
But he ate it -- two big helpings of it, in fact. It's clear that although he's skeptical of my food choices, he trusts me. That means a lot.
If you like this quick paleo meal, you might also like the cilantro-filled Paleo Meatballs Recipe!
Ingredients
1 large head Cauliflower, trimmed and cut into florets
2 tablespoons Coconut Oil
1/2 cup Onion
3-4 tablespoons Basil Pesto
2 cups Baby Spinach
12 ounces Italian Style Chicken Sausage, precooked
Sweet Italian Relish, for garnish
Directions
Place cauliflower pieces into the work bowl of a food processor (you may have to do this in batches). Pulse until cauliflower pieces are about the size of grains of rice.
In a large skillet, heat the coconut oil over medium-high heat. Add the onions and sauté for 3-4 minutes or until translucent. Add the cauliflower to the skillet. Stir to combine, then reduce the heat to medium-low, cover, and let it steam/cook for 5-8 minutes or until the cauliflower is tender.
Meanwhile, slice the sausage into 1/2-inch rounds and heat in a separate skillet. When they are heated through and have a bit of color on them, remove from heat and keep warm.
Stir 3 Tablespoons of pesto and the baby spinach into the cauliflower. Cook until heated through and the spinach is wilted. Taste, adding salt and additional pesto if needed.
Serve the sausage over the cauliflower and top with sweet Italian relish or giardiniera, if desired.
Notes
Prepared basil pesto contains Parmesan cheese. For strict paleo eaters, make your own cheese-free pesto by combining 1 bunch of basil, 2 cloves garlic, 3 Tablespoons pine nuts, and a generous pinch or two of salt in to a food processor. Blend until mostly smooth, then add about 1/3 cup of extra-virgin olive oil into the processor while it's running. Add a little more if necessary to achieve smooth texture. If you aren't using it all right away, freeze into an ice cube tray and transfer to a freezer-safe container once frozen.

Tags: Paleo, Cauliflower, Sausage, Italian, Dinners, Easy Dinners