Indian Chickpea Stew
Julia Mueller | The Roasted Root Updated
Indian Chickpea Stew is your key to a flavorful, well balanced meal under a time crunch! It's vegetarian too, and so good for you.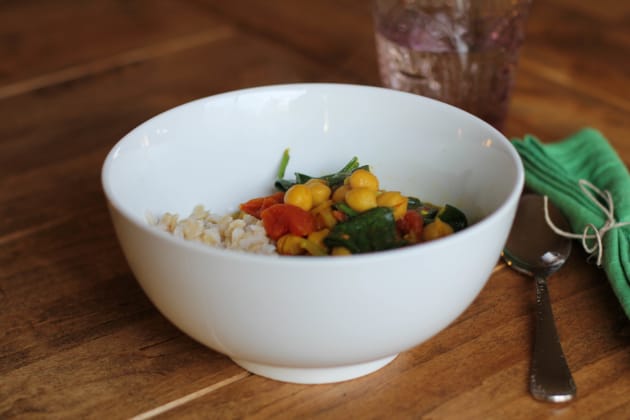 Pursuing value is an important part of all of our busy lives. Negotiating the value of time, the value of cold hard currency and solidifying the value time spent with loved ones is how we framework most days.
We're living in a cost-benefit analysis sort of world, when trading one item or activity for another because of the difference in perceived or real value is the means by which most or all decisions are carried out.  Which task is more pressing, what leads to a more significant outcome, what can I put off for the fifth day in a row? And is my favorite yogurt on sale?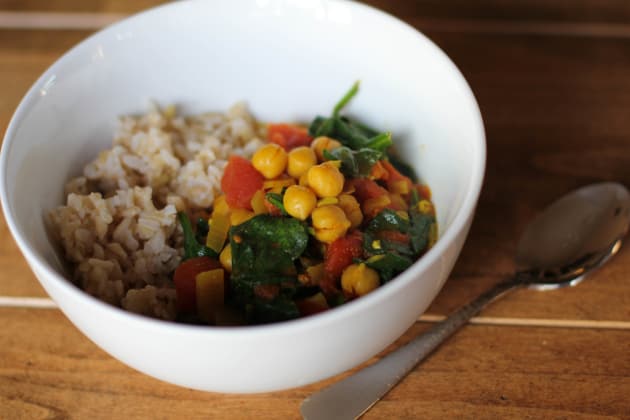 An easy recipe such as this Indian Chickpea Stew is a definite value-adding meal. Not only does it take about 35 minutes to make from start to finish, but it's very easy on the budget and carries the exotic appeal of dining out.
Meal planning while juggling multiple projects plus a full time job can be a difficult equation to balance.  For this reason, one pot or two pot recipes are my saving grace. Chopping fresh ingredients and allowing them to stew creates flavorful and well-balanced meals.
This Indian Chickpea Stew has all sorts of nutrients and requires no effort at all. You can add chopped chicken or shrimp if desired, or simply leave it vegetarian. The recipe makes a great deal of food for serving a big group friends, or leaves you with excellent leftovers to take to work.
After a long day, slowing down to enjoy a healthful, tasty, time-friendly meal is well deserved and needed.
Ingredients
1 tablespoon Grapeseed Oil
1 large White Onion, chopped
4 cloves Garlics, minced
1 28-ounce can Diced Tomatoes
2 15-ounce cans Garbanzo Beans, drained and rinsed
2 cups Vegetable Broth, low sodium kind recommended
1-1 1/2 teaspoons Turmeric
2 teaspoons Ground Cumin
1 teaspoon Coriander Seed
2 teaspoons Fresh Ginger, ground or fresh
1 teaspoon Salt
1 Bay Leaf
6 ounces Baby Spinach
Brown Rice, for serving
Directions
In a large pot or Dutch oven, sauté the onion over medium heat until it begins to brown, about 8 to 10 minutes.
Add all of the ingredients except for the spinach and stir to combine. Cover and bring the pot to a boil.
Once a full boil is reached, lower the heat to medium low and allow the stew to cook at a gentle boil about 15 minutes.
Remove the cover from the pot and add all of the spinach. It's okay if the pot is very full at this point; the spinach will cook down.
Put the cover back on and allow the spinach to steam about 30 seconds to 1 minute before stirring it into the stew to incorporate it.
Cook an additional 2 minutes then serve over cooked brown rice.
Notes
Olive oil can be used in lieu of grapeseed oil.

Tags: Vegetarian, Indian, Gluten Free, Simmered, Chickpeas, Easy Dinners, Easy