How to Make Queso Fundido Chorizo Hamburgers
Christine O
The amazing flavor of these burgers is worth every moment of prep time.

You'll find that this Mexican inspired recipe is like nothing you've ever had before.

And don't be surprised if you crave it over and over again.

We're making Queso Fundido Chorizo Hamburgers!
You'll need 8 ounces ground pork chorizo and 1 pound ground beef.

Cook the chorizo until it is done, drain.

Combine the cooked chorizo in a mixing bowl with the ground beef, 1 teaspoon chili powder and 1/2 teaspoon salt.

Mix together and form into 4 patties.

In a large skillet, heat 2 teaspoons olive oil over medium-high heat.

Add in 2 fresh whole poblano chiles, cored, seeded, and sliced and 1 sliced onion and saute until tender, about  7-10 minutes.

On a grill set to medium-high heat, grill the burgers until desired doneness is achieved. About 2 minutes per side for medium rare.

When you flip the burgers, top each with a slice of monterey jack cheese a heaping pile of the onion/poblano mixture, and then another piece of monterey jack.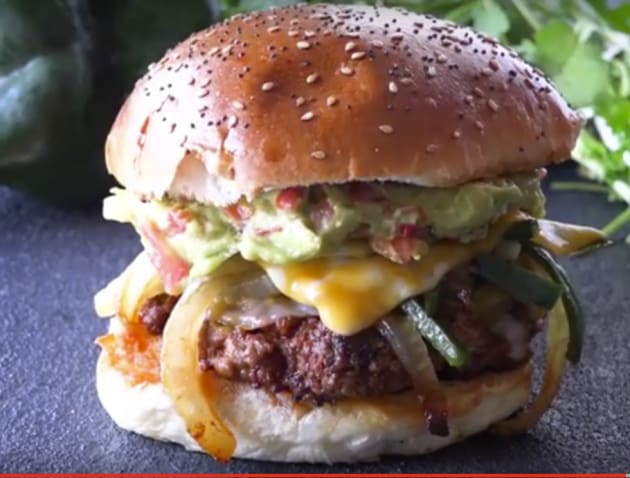 Check out the video below for all of the tasty tips and details.

Toast the buns.

Then serve hot off the grill topped with guacamole.

Eat and enjoy!