You just get home and it's getting late and your tired…

But your family is still hungry and dinner needs to get made.

We've got just the recipe to make everyone happy.

Let's make "Feed Me Fast" Chicken!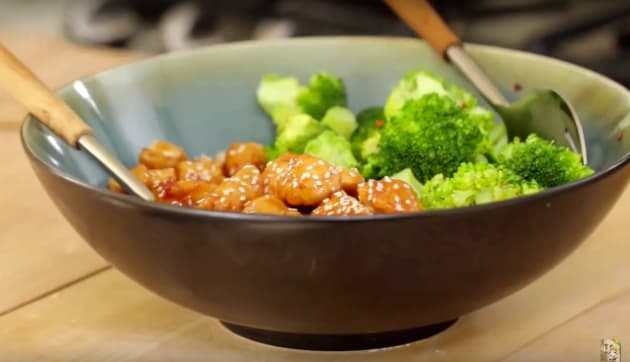 Place rice in microwave and cook according to package instructions. Usually takes about 4 mins to complete.

Then prep the chicken.

Place 3 tablespoons cornstarch in a large bowl. Cut 3/4 pounds chicken tenders into bite sized pieces, toss in the cornstarch and set aside.

Heat toasted sesame oil in a large skillet on medium high.

At the same time, heat large pot on medium high with a shallow amount of water on the other burner, covered.

Combine soy sauce, mirin, toasted sesame oil, honey and garlic in a bowl. Stir to combine and set aside.

Then once the oil is shimmering add the chicken. Cook until golden brown on one side. Flip chicken, once cooked through add the sauce.

Allow to simmer until chicken is coated and sauce has thickened.

Meanwhile, throw the broccoli florets into the water. Turn off the flame. Cover and steam broccoli while sauce is thickening on chicken.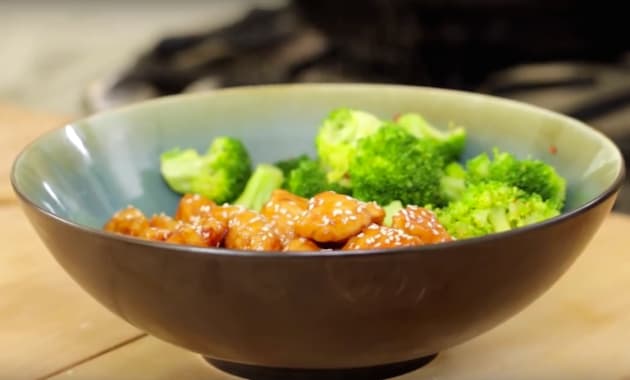 Check out the video below for all the details.
Then in a large bowl, place the cooked rice on the bottom, on one side add the broccoli on top.

Sprinkle broccoli with a drizzle of toasted sesame oil and a few red pepper flakes. On the other side add the chicken and sprinkle with sesame seeds.

Then it's time to eat and enjoy!