Lemon Ice Cream Cake Recipe
Julianne Bayer Dell | Beyond Frosting

Lemon Ice Cream Cake will be the most spectacular dessert to bring out at a barbecue. Refreshing lemon all the way through!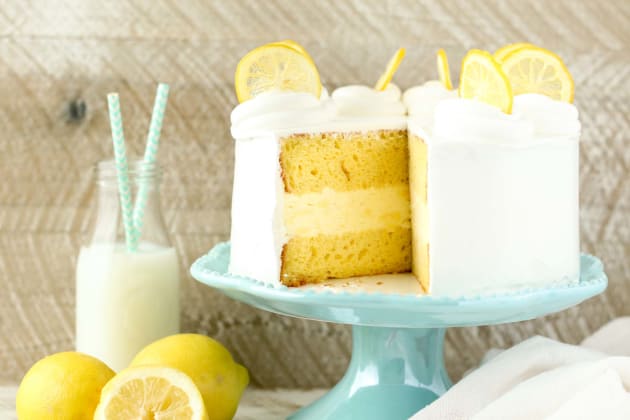 I must be loving lemon lately because I just shared my Easy Lemon Bundt Cake last month! I'm back again for more. This is actually the third lemon cake I've made in just the last couple months! 
This layered Lemon Ice Cream Cake features two layers of lemon cake with a no-churn lemon ice cream layer sandwiched between them. It's covered in whipped cream and garnished with candied lemons. 
With summer approaching, I'm looking for all things fruity and refreshing. Ice cream cakes have been a staple in my house since we were kids. Everyone had a choice of regular cake or ice cream cake for his or her birthdays.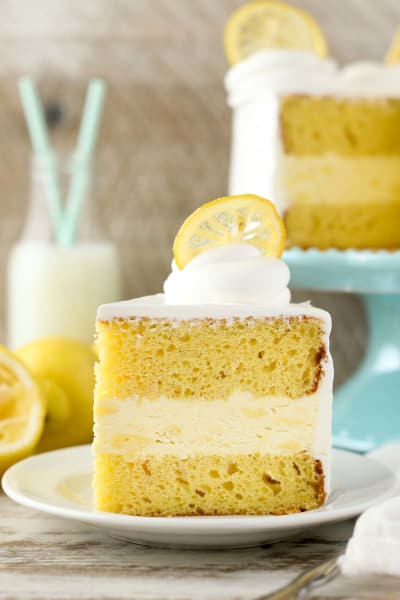 My dad still makes himself an ice cream cake for his birthday every year. A couple years ago, I got him some 6-inch pans so he didn't have to make such a large cake for himself. 
The cake layers are quick and easy, just grab a box of lemon cake mix and instant lemon Jell-o, plus a few other miscellaneous ingredients. I baked these using 8-inch pans, which helps make each layer nice and thick!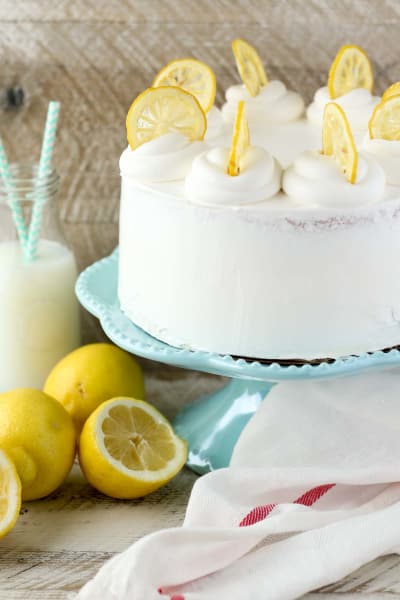 Then there's the middle layer, which is a no-churn lemon ice cream, which just so happens to be the same filling I use for my Lemon Ice Cream Pie. I've been wild about that one ever since I made it. 
When building an ice cream cake, it's most helpful if you can bake the cake and build it in the same size pans. For instance, I mentioned these were baked in 8-inch pans, but I also use my 8-inch springform pan to build the cake. Then I can just remove the edges.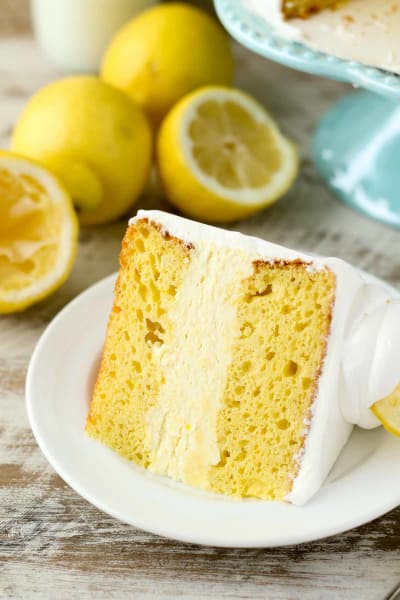 If you don't have the 8-inch pans, then you can use 9-inch pans; your cake just won't be as tall. Lastly, if you don't have the springform pan, that's okay too, you can just line the pan with plastic wrap so it can easily be removed. I also like to put a cake board on the bottom of the pan. 
Sometimes the cake shrinks when it's bakes, so you might find that the layer of ice cream is wider than your cake. That's ok!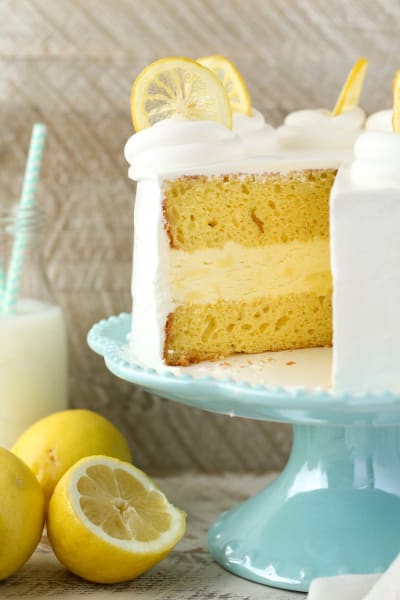 Just take serrated knife and run it under hot water, then shave off the extra ice cream. You can then use an angled spatula or knife and smooth it out before frosting. 
Speaking of frosting, it's up to you if you want to use Cool Whip or whipped cream. Personally, for frosting cakes, I find Cool Whip is easier because it can easily be handled multiple times. Whereas the whipped cream can get too soft while you're working with it.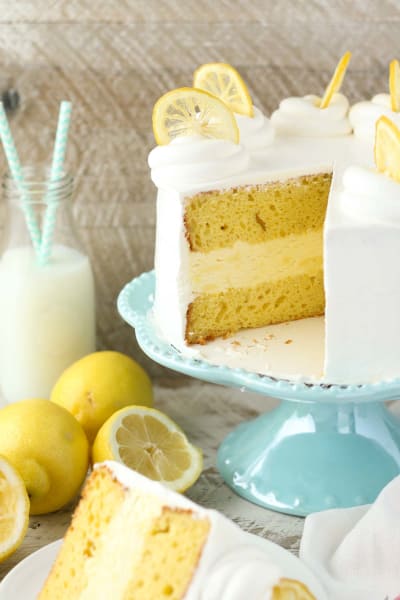 I also prefer to add two layers of the frosting. I add the first, freeze and then add a second layer later on. 
Ice cream cakes do take a bit of planning because you have to bake the cake of course, then you build it with the ice cream, and finally you need to wait for it to freeze before you can frost it.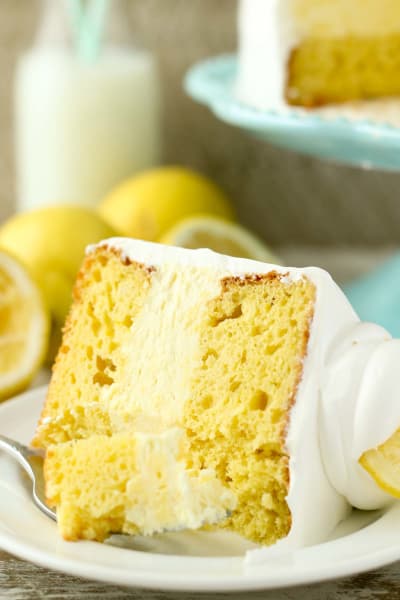 It's best to make this at least one day ahead of time. For the garnish, I used some candied lemons. These were originally intended for a different recipe, but I thought they were just too pretty, so I threw them on this cake.
These are totally optional as well because these need at least a day's time to dry. I grabbed the recipe for the candied lemons from Our Best Bites.
Don't be intimidated by these ice cream cakes, these are actually really easy! 
Planning a dinner party and need some inspiration?
How about looking for a new slow cooker dinner idea?
We've got you covered in our ever-growing Facebook group! If you're not a member yet, why not?!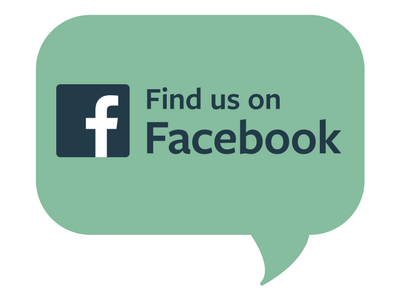 We're chatting cooking techniques, dessert ideas, and everything in between. If you're already a member, invite your friends to join us too!
Lemon Ice Cream Cake Recipe
Ingredients
For the Cake Layer:
1 box Lemon Cake Mix
1 3.4 oz box Instant Lemon Pudding
1 cup Milk
1/3 cup Vegetable Oil
3 large Eggs
1 large Egg White
1 teaspoon Pure Vanilla Extract
zest of one Lemon
For the Lemon Ice Cream:
1 1/4 cups Heavy Whipping Cream, plus 2 to 3 tablespoons, divided
1/2 cup Powdered Sugar
1 8 ounce package Cream Cheese
1 3.4 oz box Instant Lemon Pudding
1 teaspoon Pure Vanilla Extract
zest of one Lemon
For the Frosting:
2 8 ounce containers Cool Whip
Directions
For the Cake Layer:
Preheat the oven to 350°F. Grease and flour two 8-inch cake pans.
In a large mixing bowl combine the cake ingredients: cake mix, pudding mix, milk, vegetable oil, eggs, egg white, vanilla extract and lemon zest. Beat on medium-high speed until all of the ingredients are well mixed.
Pour the batter into the prepared pans, dividing evenly.
Bake at 350°F for 25-30 minutes. Test your cake for doneness by inserting a toothpick into the center of the cake. If the toothpick comes out clean, then your cake is done. Allow the cake to cool completely.
For the Lemon Ice Cream:
Prepare the whipped cream first. Place a medium-sized metal mixing bowl in the freezer for 5-10 minutes to chill.
Pour the heavy whipping cream into the chilled bowl and beat on medium-high speed until the heavy cream starts to thicken.
Next, slowly add the powdered sugar and continue beating on high speed until stiff peaks form. Set the whipped cream in the refrigerator for later.
Beat the softened cream cheese on medium-high speed for 2-3 minutes until the cream cheese is smooth and free of lumps. Scrape down the sides of the bowl as needed.
Add the dry instant lemon pudding mix and 2 tablespoons of heavy whipping cream. Beat on medium high speed for two minutes until pudding is well mixed into cream cheese. The cream cheese will thickened. You can add additional tablespoons of heavy cream until the cream cheese is softened so it will easily mix into lemon filling.
Add the vanilla extract and lemon zest. Beat on medium speed until well combined.
Finally, fold in the prepared whipped cream, turning the filling over from the bottom to the top and continuing to stir until it's well mixed.
To Assemble the Cake:
Use a springform pan or your cake pan that is the same size as your cakes (in this case, 8 inches). Wrap the edges of the pan with saran wrap. Place a cake board in the bottom of your pan, under the saran wrap.
Tort the top of each cake layer so that it is completely flat using either a cake leveler or a serrated knife. Place the first layer on top of your cake board.
Pour the ice cream base over top of the cake and spread evenly with a spatula.
Place the second layer of cake on top. Freeze for at least 4 hours until the ice cream layer is completely frozen.
Sometimes, the cake shrinks when it's baked, so the edges of the ice cream are wider than the cake. Shave the edges of the cake if you need to even them out by using a hot serrated knife.
To Frost the Cake:
Spread the Cool Whip with an angled spatula, covering the surface of the cake as evenly as possible. If you decide apply more than one layer of frosting, it's easier to add one layer, refreeze for an hour and then add another layer and freeze again.
Pipe the boarder of the cake using a large open start tip. You may have leftover Cool Whip.
This cake should be kept in the freezer, and it is best kept in a freezer-safe cake container.
Notes
You do not have to use Cool Whip for the frosting. Homemade whipped cream works just fine, but I think Cool Whip is easier to work with.
To make the candid lemon, I followed this tutorial using one lemon. Note that these need at least 24 hours to dry.
Recommended
Nutrition Facts
Servings Per Recipe 10
---
Amount Per Serving
Calories from Fat 218
Calories
657
---
% Daily Value*
26%
Total Carbohydrate
78g
---
* Percent Daily Value are based on a 2,000 calorie diet. Your daily values may be higher or lower depending on your calorie needs.
** Nutrition Facts are estimated based on ingredients and data provided by
Fat Secret
. Please consult a doctor if you have special dietary needs.