Wilton Nonstick Donut Pan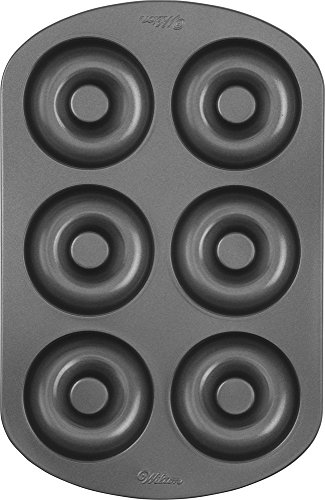 List Price:

$9.99

Your Price:

$8.39

You Save:

$1.60 (16%)
Buy Now

Warranty:

Limited 10-year warranty
Customer Reviews:
Product Description
The Wilton Nonstick Donut Pan makes it easy to bake up your own delectable donuts at home. Make breakfast fun again!
Made with a nonstick finish, this donut pan is a must-have for any baker. Fried donuts are a lot of work and mess, but baked donuts are as simple to make as your favorite muffin — and a whole lot more fun!
Recipes are included with the donut pan to help you get started in your breakfast experiments. Because the pan is nonstick donuts come out cleanly and perfectly shaped. Cleanup is easy by hand or in the dishwasher.
With the Wilton Nonstick Donut Pan, you can have donuts for breakfast any day of the week!
Wilton Nonstick Donut Pan Recipes
Tags:

Related Products:

MPN:

2105-0565

Model:

2105-0565

Product ID:

2105-0565

GTIN-13 / EAN Code:

0078433201073

Weight:

0.84 lb

Depth:

12.68 in

Width:

8.15 in

Height:

0.98 in

Color:

Black

Brand:

Wilton
Show Comments