This Easy Instant Pot Cake Recipe Will Change Your Life
Nicole Austin

Have you ever made cake in your Instant Pot? This easy Instant Pot cake recipe is a total game changer.
Would you believe me if I told you that you can bake in your Instant Pot? You absolutely can, and this easy Instant Pot cake recipe will blow you away.
The Instant Pot is adept at making everything from soup to turkey dinner, from carnitas to ribs and, yes, Instant Pot desserts are also a thing.
With this particular recipe, you can create a delicious carrot cake bake that will please your entire family! And, you can make it in under 40 minutes.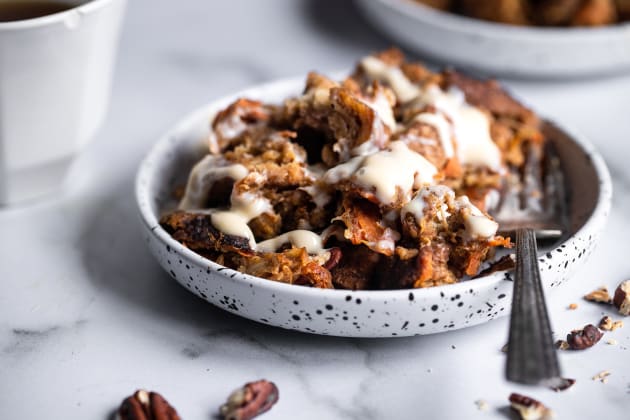 What could be better than a sweet and hearty cake, made in under an hour, that can double as a breakfast casserole?
This tasty and super simple Instant Pot carrot cake recipe is a total crowd pleaser and it tastes like you spent much longer in the kitchen.
How Do You Bake in an Instant Pot?
If you've never used your Instant Pot to make dessert or to bake, you might be wondering how on earth it works. It's actually pretty simple!
In fact, one of the best things about making dessert in the Instant Pot is the way it cooks. Technically, it's not really baking at all.
When you bake something in an oven, hot air moves around your baked goods, transferring heat evenly toward the center.
When you "bake" in an Instant Pot or similar electric pressure cooker, the food is actually cooked by steaming instead of baking.
An Instant Pot heats water under a tight seal, creating a high pressure that allows the temperature to get much hotter, cooking quickly.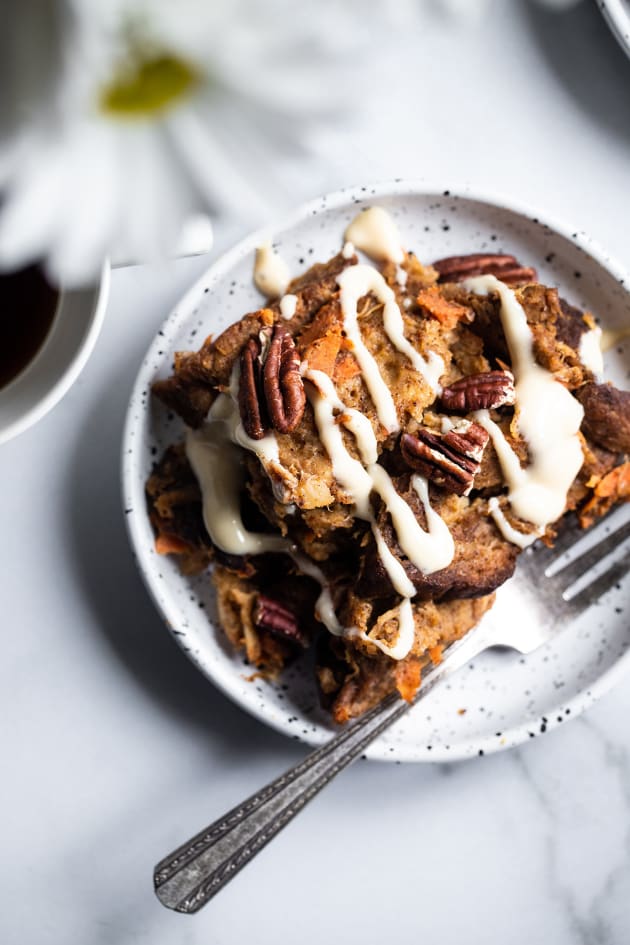 The upside to pressure cooking is that your food doesn't get dry making it perfect for retaining all the moisture you want in a dessert!
Unlike traditional baking, where you'll have crisp edges and a soft interior, the steam in an Instant Pot won't result in crispiness.
That makes making baked goods in the Instant Pot particularly well suited to bread puddings, or a softer fluffy cake.
Our Instant Pot carrot cake French toast recipe is the perfect example of one such moist cake that is ideal for the Instant Pot.
Why Make Dessert in an Instant Pot?
Sometimes I just want something sweet, but with all the tasks I have to get done in a day, I don't have time to shop, prep, and then bake.
Waiting for hours in the kitchen to frost a standard cake or let cookie dough set is now a thing of the past with Instant Pot recipes.
Or maybe you're like me and you have a jam-packed holiday that starts first thing in the morning with kids.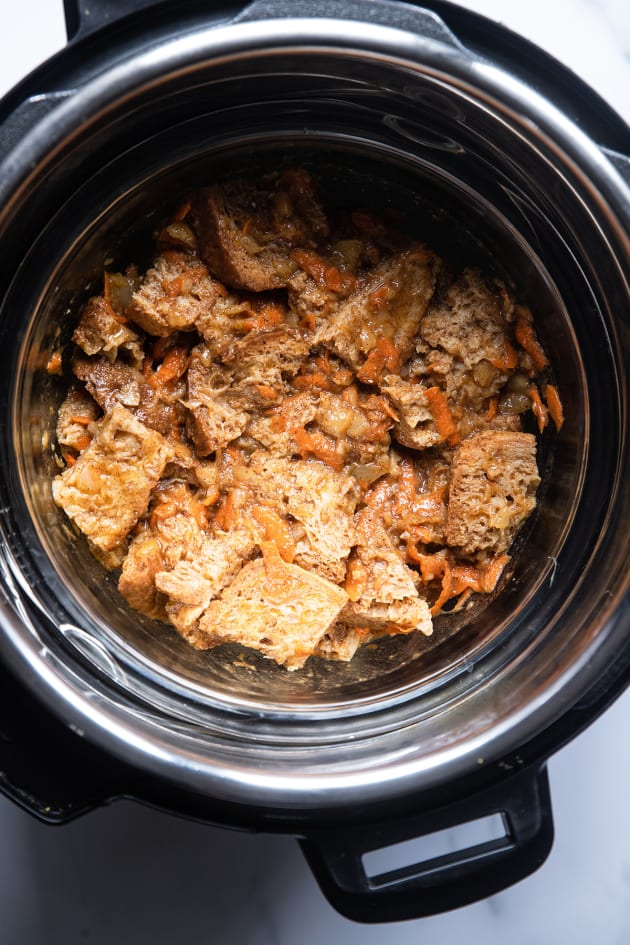 You want a breakfast that they're happy to eat, or even one that is tradition-worthy, without giving yourself yet another check mark on a long to-do list.
I mean, muffins are pretty much cake anyway, right? So it's no worse than those, or some amazing pancakes. At least that's what I tell myself.
(Speaking of, our carrot cake muffins and carrot cake pancakes are also amazing, if that's more your thing!)
The simplicity of an Instant Pot means you can try just about anything without dirtying the entire kitchen, and very likely without messing up (always a good thing!)
In fact, you could make a delicious Instant Pot dinner and quickly flip around make a super decadent homemade dessert.
While someone dishes out dinner, you could clean the inner pot, toss in your cake ingredients, and have dessert ready before bed time. That's a win!
How to Make Instant Pot Cake
Now that we all understand that baking in an Instant Pot isn't really baking, let's talk about Instant Pot cake, shall we?
One thing to know - you can't just pour cake batter directly into the bottom of the pot and expect to deliver a cake.
It's also important to note that a standard cake pan, or even a springform pan or bundt pan, generally won't fit in an Instant Pot.
So, do you need an Instant Pot cake pan? Sort of! You have the option of using a small silicone cake pan, which fits the Instant Pot and works great.
Alternatley, make something like carrot cake bake, pudding cakes or even a chocolate lava cake or Instant Pot cheesecake recipe.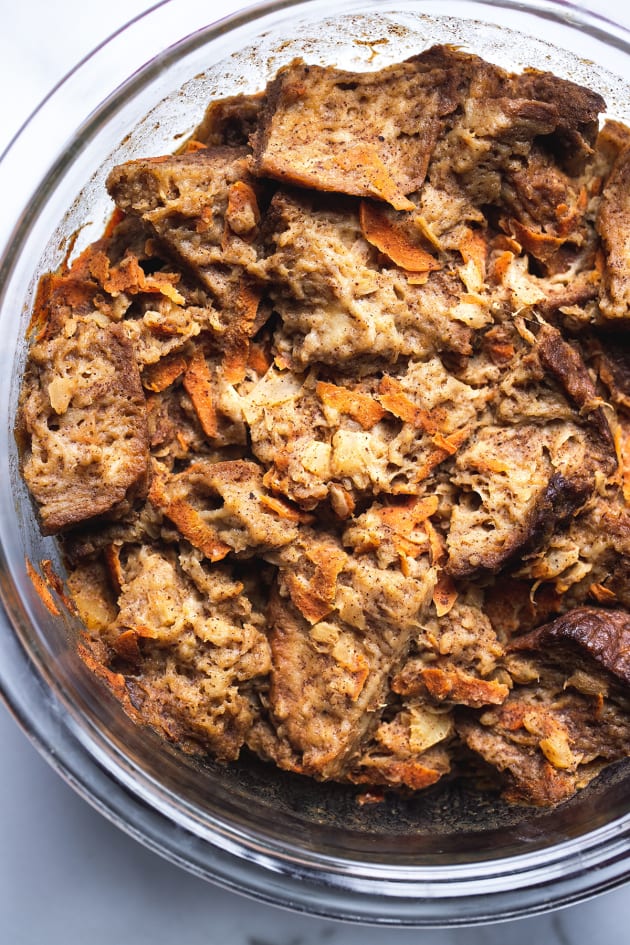 If you prefer a cake that looks more like a cake, having the right pan will be key. You can then bake just about anything you'd like!
There are a number of easy recipes out there for Instant Pot lemon cake, for instance, and many others that use boxed cake mix.
If delicious cake is your end goal, you could try an Instant Pot chocolate cake recipe or even an angel food cake.
Since keeping things simple is the name of the game, this carrot cake French toast bake is my pick.
Instant Pot Carrot Cake
It's rumored that carrot cake has been around since the 1500s, and when you taste this easy to make recipe that tastes gourmet, you'll see why.
Carrots, like zucchini, are a veggie that just lends itself to sweet treats without any fuss, and I'm here for it!
(Carrot cake scones and paleo carrot cake cookies are also delicious, not to mention, as a Maine native, my soft spot for these carrot cake whoopie pies.)
This recipe begins by greasing a heat-safe glass mixing bowl, dumping all the ingredients in and placing it in the bottom of the Instant Pot.
When the cook time is up, set a trivet on the counter, carefully remove the large bowl and transfer it to the top of the trivet to cool to room temperature.
Finish it off by drizzling a homemade cream cheese frosting over the top of the cake or dust it with powedered sugar for extra sweetness.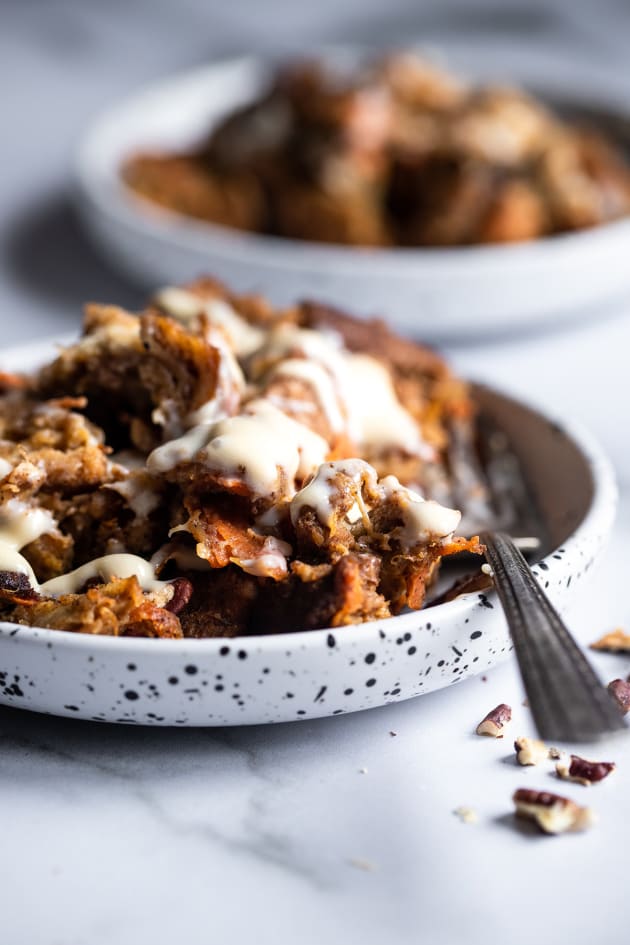 The next time you're craving something sweet, give this Instant Pot version of carrot cake a try or an easy Instant Pot chocolate cake.
It's such a great way to make the moistest cake that cooks up in less time than you ever knew possible. 
One of the best things about this recipe is the versatility, which really sets it apart from the rest.
You can make it gluten free to accommodate special diets and thanks to the variety of flavors and textures, you'll never notice the difference.
To enjoy it with a gluten allergy or sensitivity, exchange the half loaf of bread of your choice with seven slices of gluten free white bread.
If you want to omit dairy, simply drizzle the maple syrup on to finish off the flavoring. A few modifications can go a long way for you, your family, or guests.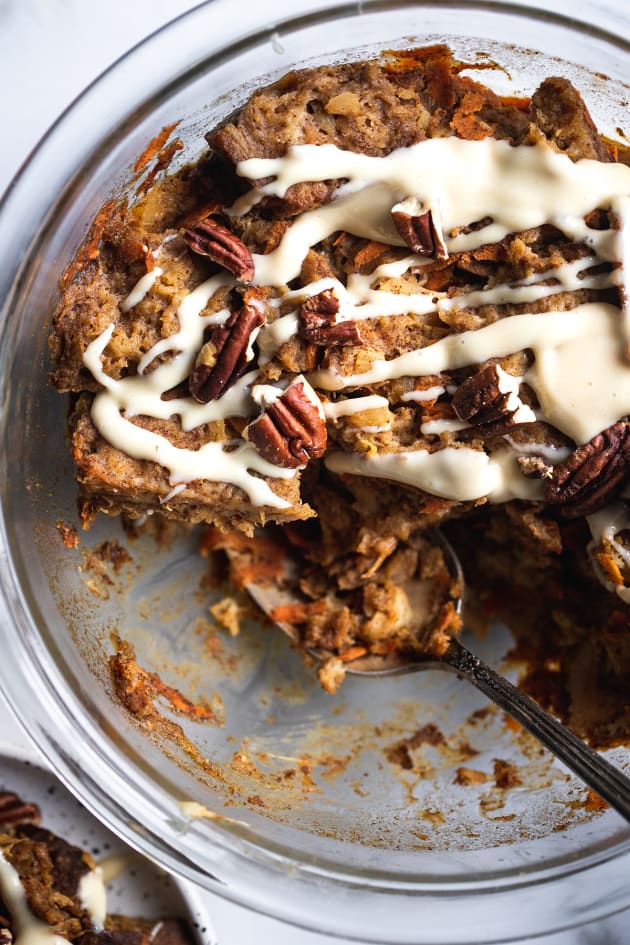 Planning a dinner party and need some inspiration?
How about looking for a new slow cooker dinner idea?
We've got you covered in our ever-growing Facebook group! If you're not a member yet, why not?!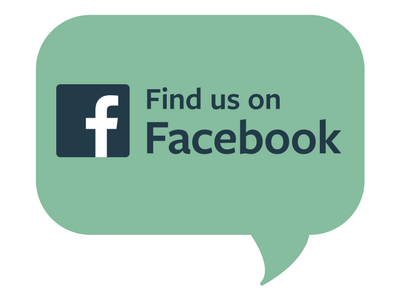 We're chatting cooking techniques, dessert ideas, and everything in between. If you're already a member, invite your friends to join us too!

Nicole is a self-published author of fiction novels, and a lover of food and spending time in the kitchen with her six children. She lives in coastal Maine where she loves exploring new recipes especially those that can save time, money and wow a crowd.

Tags: Instant Pot, Carrots, French Toast, Cakes, Easy Desserts, Easy