What is Raising Cane's Sauce?
Cyd Converse

Learn more about Raising Cane's Sauce, the tangy, creamy dipping sauce that everyone is raving about!
If you adore tender, fried chicken fingers (and who doesn't?) then you'll just love Raising Cane's!
If you haven't come across it before, Raising Cane's is a chain of fast food restaurants, with 430 locations in the United States and a further 20 internationally.
Raising Cane's ONLY serves chicken fingers (with accompaniments) - and you know that when a restaurant specializes in something, it's gonna be good!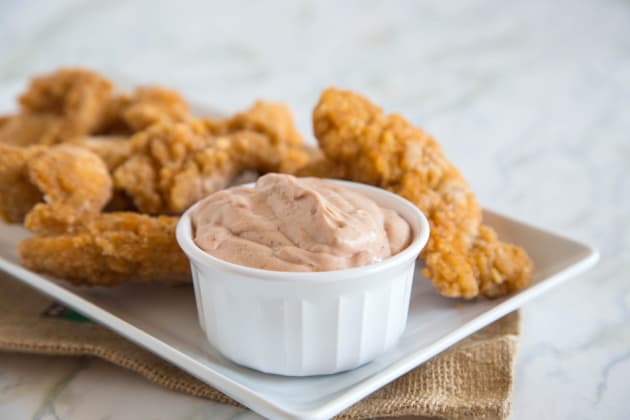 There are 2 things that make Raising Cane's chicken fingers extra special. One is the fact that they are always freshly made to order, with fresh (not frozen) chicken tenderloins. And the other is the delicious (but top secret) Raising Cane's Sauce.
This signature sauce is freshly made each day in the restaurants' kitchens, using a blend of spices and seasonings. The precise recipe is only known to Cane's managers, who are sworn to absolute secrecy about its details.
But we have a copycat recipe for you that comes pretty darn close to the original!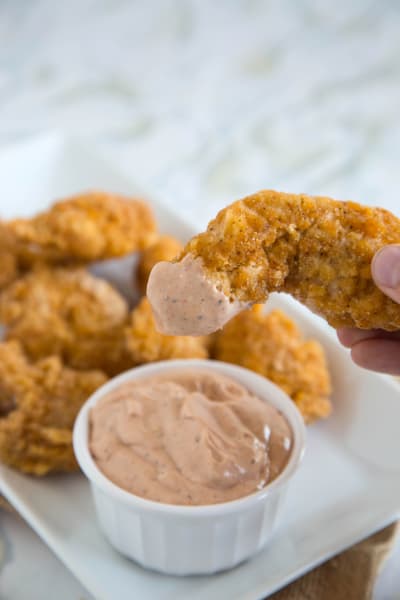 If you crave the wonderful flavor of Cane's sauce with your homemade chicken fingers (or there just isn't a Cane's restaurant near you) then try this Raising Cane's Sauce recipe. Problem solved!
Tip: Always prepare your sauce in advance. It only takes around 30 seconds to prepare, but the flavors seem to come together much better when it's left to sit in the fridge for a couple of hours before serving.
How long will homemade Cane's sauce last?
Store the sauce in an airtight container in the refrigerator, where it will last for up to 2 weeks.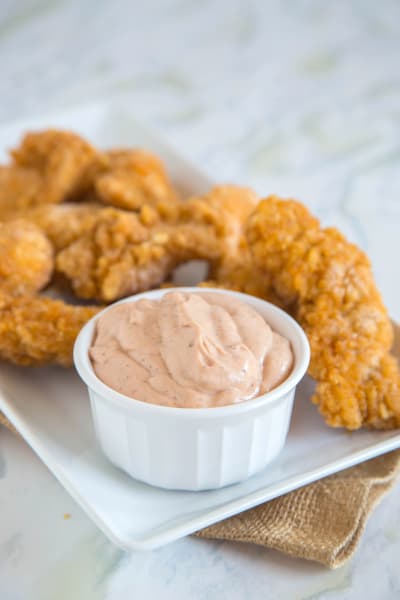 Other ways to enjoy Raising Cane's Sauce
This tangy dipping sauce isn't just for chicken fingers! There are lots of other yummy ways to enjoy it.

Try serving it with

And if you like things a little spicy, we find that adding a dash of Louisiana Hot Sauce really kicks things up a notch!

Cyd is a native of Upstate New York, born to a family of women who love to cook and host parties. She shares her love of all things food, home and entertaining on her blog, The Sweetest Occasion and on Instagram.

Tags: Chicken, Sauces, Dips, Side Dishes, No Cook