Cheeseburger Quinoa
Taylor Kiser | Food. Faith. Fitness.
Cheeseburger quinoa is a one pot meal worthy of any rushed weeknight. It's got all the flavors of a cheeseburger, but it's good for you too.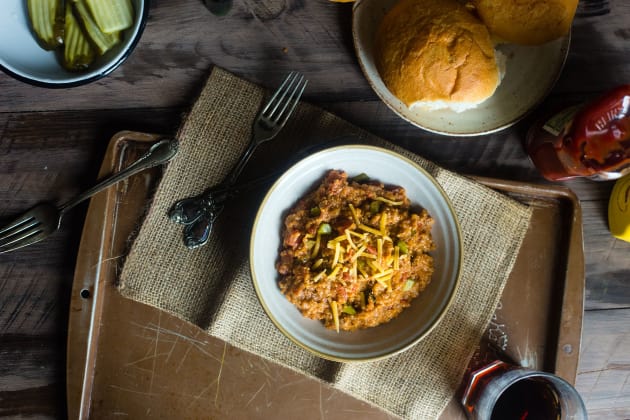 Why yes I am telling you that putting PICKLES and MUSTARD and TOMATOES in quinoa is a RLY GOOD IDEA today.
I already can sense the HARDCORE judgement that is coming out of your how-can-quinoa-ever-ever-EVER-taste-like-a-cheeseburger SOULS.
My best friends of the internet world, it has HAPPENED.
It's no secret that I am totally, madly in LUV with a little quinoa action. I mean, it just adds this EXTRA SOMETHIN' SOMETHIN' to things like pumpkin quinoa curry or a crock pot BBQ chicken quinoa recipe.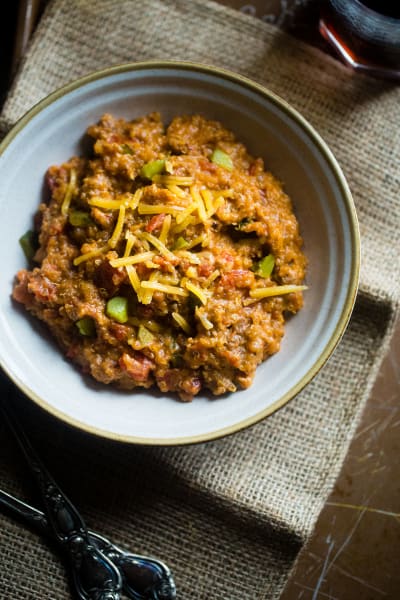 So, that's the base of the deliciousness that is your newest-favorite-weeknight-meal that I PINKY PROMISE that EVERYONE in your family that likes food is going to ask for on rep-EAT.
#RunOnSentencesFTW
BUT THEN. Your mouth dives right into morsels of juicy, SUCCULENT (is that an awkward word? I feel like yes) beef and sinks through swirly flavor profiles of tomato! Mustard! Crunchy, tangy pickles!
Aaaand…CHEESE. Lots and lots of cheese.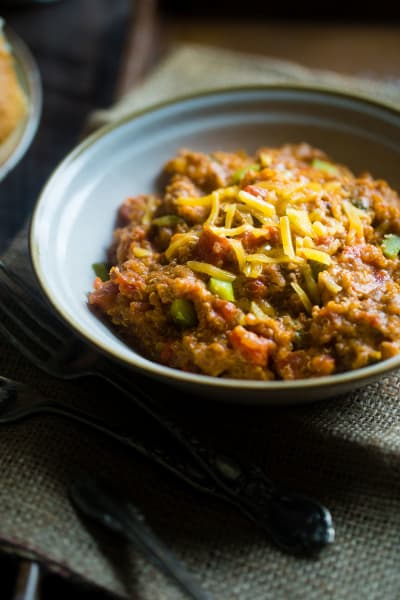 When we do "cheeseburger" we do CHEESEburger am I right friends?
I'm not even going to beat around the bush. When this recipe popped its comfort-food-like-but-still-SUPER-nutritious-and-wholesome self into my little brain space, I started to become concerned for my own thoughts. ßNot the first time this has happened. You know this.
I thought that telling you that pizza quinoa was a thing made you judge me enough…and now here the thoughts were telling me to tell you that quinoa could also double as a CHEESEBURGER.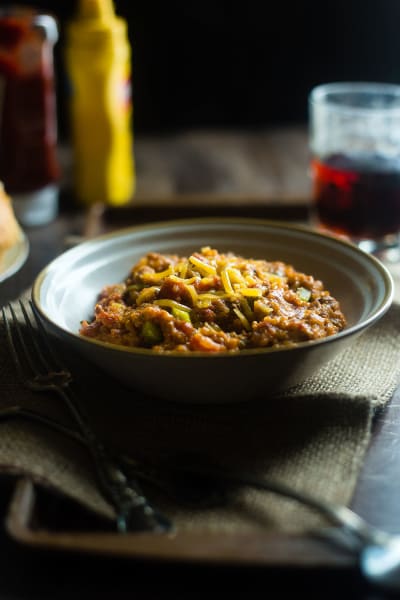 Except with no bun. No grillin'. No ability to only use your hands and not utensils.
So when the flavors danced and mingled around my mouth, and basically SHOUTED "I TASTE LIKE OOEY-GOOEY CHEESY BURGER HEAVEN," I knew that a second opinion was needed.
I would never want to tell you something without have SUBSTANTIAL evidence that it is, in fact, a FACT.
So, obviously the Hubonana to the rescue.
I was VRY VRY concerned about Mr. FFF's reaction. Whenever I tell him that I made something-to-taste-like-something-but-its-not-actually-that-something (confusing?) he gets all "BUT IT'S NOT THAT THING SO HOW CAN I COMPARE."
For example: he's still trying to figure out the jalapeno popper chicken. "BUT HOW CAN I COMPARE CHICKEN TO A PEPPER I JUST DON'T KNOW."
His imagination: it needs some work.
AND AND AND, you GUYS, he AGREED that it was giving him all the same happy belly feelings that he gets when he munches through a real-life cheeseburger. RIGHT DOWN TO THE PICKLES. NO NON-IMAGATION ABILITY REQUIRED.
P.S: pickles in quinoa, it's going to be the newest latest and greatest food trend of 2017. PREDICTION.
That might be a little bit of a stretch, but it's what all the cool-food-eating-kids are doing for however long it takes you to read this post.
And, because I know that you want to continue on your quest to being the coolest-cat around, I am HIGHLY suggesting that you carry that over into your real-person life.
Cheeseburger quinoa: the latest champion of your east-weeknight-dinner-loving HEARTS.
Ingredients
2 teaspoons Olive Oil
1/2 pound Lean Ground Beef, 93%
1/2 cup Onion, diced
2 teaspoons Garlic, minced
1 cup Low-Sodium Beef Broth, plus 2 tablespoons
1 14.5 ounce can Petite Diced Tomatoes
1 tablespoon Tomato Paste
1/2 tablespoon Prepared Yellow Mustard
1/2 teaspoon Salt
pinch of Black Pepper
1/2 cup Quinoa
3/4 cup Reduced Fat Shredded Cheddar Cheese, 3 ounces
1/4 cup Dill Pickles, plus additional for garnish
Directions
Heat the olive oil in a large, high sided pan on medium/high heat. Add in the beef, onion and garlic. Cook, breaking up the beef, until full cooked and no longer pink, about 5-7 minutes
Add in the broth, diced tomatoes, tomato paste, mustard, salt and pepper and stir until well mixed. Then, stir in the quinoa until well mixed.
Bring the mixture to a boil. Once boiling, cover the pan, turn to heat to low and cook until the quinoa absorbs the water and is creamy, about 1 hour.
Once cooked, stir in the cheese and pickles.
Garnish with extra pickles, if desired and DEVOUR
Recommended
Tags: Healthy Eating, Healthy, Quinoa, Ground Beef, Cheese, Tomatoes, Easy, One Pot Meals, Easy Dinners, Simmered