Prickly Pear Martini
Dan George | Mantitlement
This prickly pear martini goes down smooth and easy. And just look at that gorgeous color!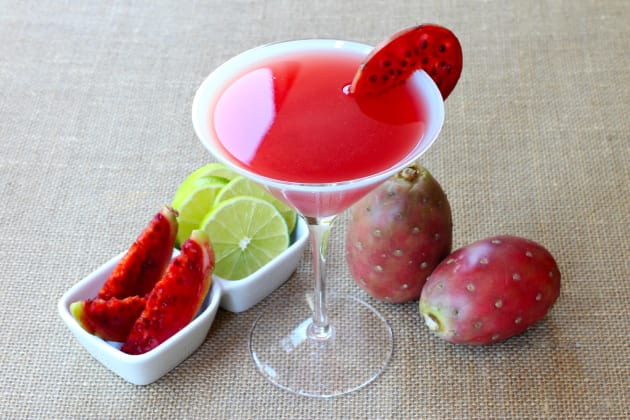 Sometimes I head out to the store just to look around and get ideas. That might seem weird to you… but making new food and cocktail recipes three to four times a week isn't as easy as it might seem.
The cocktails are usually more fun to make because obviously once we get done testing and mixing we get to drink them. Sometimes it is early in the day and we'll only have a few sips… but it can also sit in the refrigerator and wait for us until cocktail time.
So when I went to the store looking for fall fruit inspiration I saw the usual. Blackberries, apples, pears… but then I saw these cactus pears. Cactus pears are also called prickly pears and yep – those I have heard of. I am sure at some point Christie and I have had a few prickly pear martinis and loved them. But I have never made one of my own, so the challenge was on.
It was a success. I might be stocking up because this Prickly Pear Martini turned out so tasty we almost used all our props. It's basically the same type of combination as a Cosmo, which I'm sure everyone's had, just swapping out the cranberry juice for the prickly pear juice. And instead of triple sec I used pear liquor. So it's sort of like a Cosmo – but I guess not entirely…

Peeling these pears is pretty easy with a veggie peeler, and then comes the fun part. Push the fruit through a strainer and get out all the juice. One prickly pear is going to make you one martini so like I said – you're going to need to buy a few.

All there is left to do is start making the drink. Juice, mix, shake, and pour.

Then drink. And repeat.

Cheers!

Tags: Cocktails, Drinks, Easy, No Cook, Vodka