Pan Seared Flank Steak: Summer's Favorite Cut
Christina Lane | Dessert for Two
Pan Seared Flank Steak can also be grilled. Either way, you're looking at a fantastic dinner topped with spicy pepitas!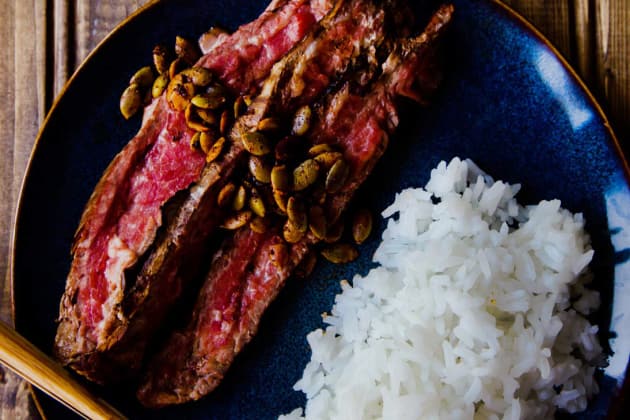 How are your grill skills? Are you itching to fire up the grill and sear up some meat? I welcome grilling season with open arms. I love cooking outside because it keeps the heat out of my house.
Since I'm usually grilling for two, with the exception of the weekends when I'm cooking for friends and family, I have a few tips on how to grill for two.
Tip #1: When you get your meat home from the butcher, divide it up into portions and freeze what you won't use right away. I know it seems like a good idea to cook it all at once, but that creates A LOT of leftovers for two people. I can only add sliced steak to so many meals throughout the week before I'm looking for something new.
Tip #2: Don't waste that extra grill space! Our protein for two is only going to take up so much room on the grill. Use the excess grate space for your side dishes: vegetables take on a delicious flavor when charred over high heat. Plus, dessert on the grill is fun! Try my grilled peaches with Frangelico sauce and homemade cinnamon ice cream.
Tip #3: Out of propane or charcoal? Don't fret! Our small portion of protein can easily cooked inside in a blazing hot cast iron skillet, or even under the broiler in the oven. In fact, my favorite way to cook a fatty cut of beef, like a ribeye, is under the broiler. If you scoff at the lack of charcoal flavor in a steak, remember that most steak house restaurants cook their meat this way.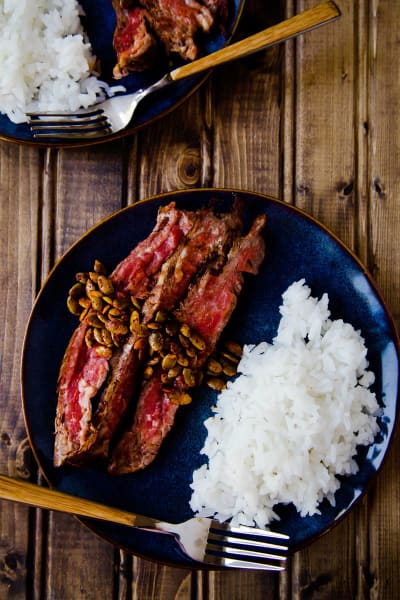 Since a flank steak is a lean cut of meat, I recommend searing it in a cast iron skillet if you're not up for grilling.
For this flank steak, I cut it in half when I got home from the butcher. I froze the other half for another day. Be sure to cut against the grain when doing this. This left me with about 3/4 pound of meat.
Finish this amazing meal with Christina's grilled peaches, skillet peach cobbler, or slow cooker cobbler with all the berries!
Ingredients
For the Steak:
3/4 pound Flank Steak
2 tablespoons Canola Oil
Salt and Pepper, to taste
For the Pepitas:
1/2 cup Raw Pepitas, (shelled pumpkin seeds)
1 1/2 teaspoons Smoked Paprika
1/4 teaspoon Cayenne Pepper
Salt and Pepper, to taste
2 teaspoons Fresh Lime Juice
For Serving:
Cooked White Rice, optional
Directions
Preheat the grill to high, or place a cast iron skillet on the stove and turn the heat to high. When you can only hold your hand over the cooking surface for 3 seconds, you're ready to cook.
Add 1 tablespoon of the oil to the pan (or grease the grates with the oil using a paper towel).
Sprinkle both sides of the steak with salt and pepper, then place it in the pan (or on the grill). Turn the heat down to medium.
Let cook for 8-10 minutes without touching.
Flip the steak, and cook for another 5-10 minutes, depending on how you like your steak. Use a thermometer for precise cooking. I pull my steak off at 120, and then cover it with foil to rest for at least 10 minutes.
While the steak rests, make the chile pepitas. If you're grilling, use a heavy (NOT nonstick pan), place it on the grates.
Add the remaining tablespoon of oil and the pepitas to the pan. Stir to coat the seeds in the oil and beef drippings. Add the spices and a pinch of salt. Cook until fragrant and toasted, about 4 minutes. Remove from the heat, and stir in the lime juice.
Slice the steak against the grain, and sprinkle the pepitas on top. Serve with rice, if desired.
Recommended
Tags: Cooking for Couples, Cast Iron Cooking, Steak, Beef, Pumpkin, Spicy, Grilling, Easy Dinners, Dinners