Worst Cooks in America Finale: Who Won?
Emily Caruso | Jelly Toast
Who won Worst Cooks in America? Read on for a detailed review.
It's here, it's here! The Worst Cooks in America finale is here! I've got it out of my system.
We are at the very last episode of the season and it's safe to say that Rasheeda and Alina are no longer among the Worst cooks in America. While that is all fine and good, we can't just walk away now and not find out who comes out on top. Who will be the best of the worst
As the final two cooks standing from the original group of 14, both Rasheeda and Alina have shown great consistency and growth throughout the competition; each not without their stumbles. Now it will come down to who can prepare the most impressive meal for the panel of experts that chef Bobby and Chef Anne have assembled.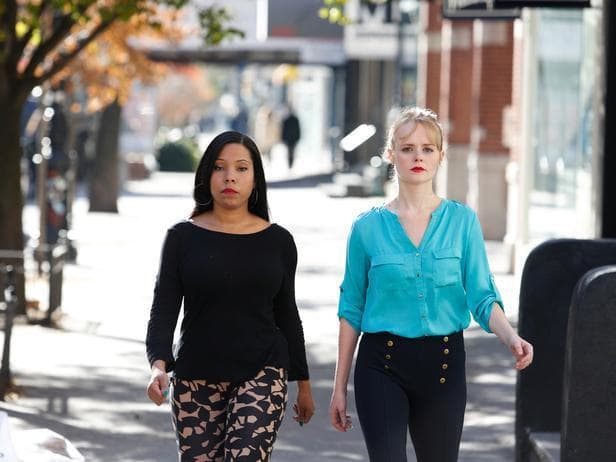 With this being the finale and all, we skip right past the usual Skill Drill, and get right to the final cooking challenge.

Rasheeda and Alina will each have to prepare a three-course meal for a panel of three culinary experts. Chefs Anne and Bobby have a little surprise in the way of returning (previously eliminated) recruits to help out each team. On the Red Team, Rasheeda gets Sue, Michael and Aadip to help her out and Alina is greeted with Big Mike, Carla, and Chet.

Hopefully, there are no hard feelings after last week's elimination. The good news is that the returning recruits won't be cooking, but instead will be helping with grocery shopping and taste testing during their practice round. Thank goodness. Rasheeda would definitely be brought down by Adip's 'grilled cheese'.

The teams break off to meet with their Chefs for a menu planning session. Bobby wants to play to Alina's strengths and is creating a menu that has big, bold flavors as well as using some techniques that Alina has learned throughout the competition. He has Alina making polenta with lobster, pork tenderloin and bread pudding.

Anne suggests that Rasheeda makes some raviolo seeing as how she was so successful with her pasta making during the last challenge. For the main course, Rasheeda will be preparing Cornish game hens with chicken liver pate under the skin. Now, Rasheeda admits to hating chicken liver, but is a team player and totally goes with what Anne suggests.

That is a smart move not to argue with Anne, but I wonder how well she'll be able to pull off something that she, herself, doesn't think is appetizing. We'll have to wait and see. For dessert, Rasheeda will make crepes with apples, walnuts and caramel gelato. Let's just hope Rasheeda's gelato won't turn into a huge pot of scrambled eggs again. Mmm...Caramel-y scrambled eggs...

On to the shopping!

Both teams are having a ridiculous amount of fun at the market. Perhaps I need to start playing with live lobsters, climbing shelves and riding on the end of my cart if I want to liven up my weekly shopping experience. Oh, and Rasheeda takes the time to score a phone number from the 'cutie on duty' at the market. At least she had more luck than Carla has had so far with Chef Bobby.

Back at the kitchens, Rasheeda and Alina get to work on their practice run. They will cook through their entire menu with Bobby and Anne right by their side, coaching them the entire way. This way they will have made each dish at least once before the final meal tomorrow. And considering the fact that Rasheeda has never made crepes and Alina until very recently burnt meat on purpose to ensure it's 'doneness', this is a necessary practice.

Rasheeda nails her first dish of raviolo with a runny yoke inside. Anything with a runny yoke makes my heart go pitter patter, so I am completely on board with this dish. Bobby even loves it and then seems nervous about Alina's chances. Especially considering Alina's first dish doesn't go over as well with her team. It's under seasoned and therefore underwhelming.

Rasheeda is squeamish with the chicken liver pate and is really not feeling the dish as a whole. After tasting it, her team, unfortunately agrees. Alina nails her pork, cooking it perfectly and the flavors wow her team. Bobby is feeling much better about the final meal. His confidence increases when Alina's bread pudding also turns out delightful. Rasheeda's crepe needs a bit of work texturally, so she'll need to step it up to the level of her raviolo if she wants to beat Alina tomorrow.

After the practice round is over, we get a glimpse of the recruits back at the house. For some reason, they think having an onion chopping contest is a good idea, and all I can think, is that this seems like a good way to lose a finger the night before $25,000.00 is on the line. Just saying.

The Final Meal
Rasheeda and Alina arrive at The Dutch, the restaurant in NYC where they will be cooking their final meal for the culinary experts: Anita Lo - Chef and owner of Annisa, Floyd Cardoz Executive Chef of North End Grill, and Andrew Carmellini - Chef and Owner of The Dutch and author of American Flavor. The experts will be judging a blind tasting of each course and will be declaring their favorite overall meal.

Alina and Rasheeda get to work in the kitchen. Alina is in the zone as she makes her custard and dices up apples and bread for her dessert. Rasheeda is looking good as she gets her pasta prepped. Things go from good to shaky for Rasheeda when two of her yolks burst in her raviolo. Chef Anne is about to stroke out as Rasheeda rushes to try to remake two of her raviolo. Her problem seems to lay (get it?) in the fact that she can't seem to separate an egg. It may be her giant acrylic nails that are standing in her way, but unless she's willing to rip them off in the heat of battle, she's going to need to make it work. Luckily, she gets it done, so now we'll have to wait to see how the judges respond.

During the main course prep, Rasheeda is bound and determined to not make another bland chicken dish. She is packing those little Cornish hens up to their proverbial eyeballs with chicken liver pate. It is oozing everywhere and is less than appetizing at this point. Alina on the other hand has perfectly cooked her pork, and as long as her pesto sauce and sides don't flop, she's lining herself up for a win.

The dessert prep has me very nervous for Rasheeda. Her knife cuts are getting sloppy, her gelato is a weird consistency and her crepes are looking...thick. None of this adds up to success. We'll have to wait and see if she can pull it together.

Bobby is extremely nervous about Alina getting water in her bread pudding because a watery dessert is what ruined his team last season. He is anxious to not have a repeat of that failure. Luckily, Alina pulls off a perfect looking bread pudding that she almost ruins by some unusual plating of the sauce. A quick wipe down of the plate has things fixed up, but not before giving Bobby a little panic attack. Have some faith, Bobby. You picked a wild card for a reason.

And now for the tasting...

The judges taste each course side by side and are not told who made what. Hence, blind tasting.

Appetizer
Rasheeda is spot on with her Raviolo al'Uovo. The judges love it and commend the dish for a perfectly runny yolk and beautifully balanced flavor. That runny yolk is a thing of true beauty, let me tell you. Well done, Rasheeda.

Alina's Lobster Scampi with Creamy Polenta & Garlic Chips impress the judges, however, Chef Anita Lo feels that the garlic may have ruined the dish for her. It's over cooked and slightly bitter flavor is hard to get past.

Main Course
There are elements of Rasheeda's Cornish Game Hen stuffed with Chicken Liver Pate & Frizzled Brussels Sprouts that the judges appreciate. They love the risk that the dish takes with such unique techniques. Chef Cardoz feels that there is too much liver pate going on in the dish and it may take away from the success of this plate. I couldn't agree more.

Alina's Pork Tenderloin with Jalapeno Pesto and Roasted Brussels Sprouts gets wonderful comments from the judges. From the flavorful crust, to the impressive pesto and the perfectly cooked Brussels sprouts, the judges are very complimentary.

Dessert
The judges have several very good things to say about Rasheeda's Roasted Butternut Squash, Apple and Walnut Crepe with Cinnamon Gelato. They love the flavors and, for the most part, are happy with the variety of textures. Chef Anita Lo mentions that her gelato was completely melted by the time it arrived at their table and Chef cardoz feels the crepe could be thinner. Nobody likes a thick crepe unless it's called a pancake.

As for Alina's Apple Bread Pudding with Cinnamon Creme Anglaise & Whipped Cream, the judges can't stop raving. The texture, flavors and the incorporation of booze into the dish really create a sophistication that surprises them. Everything is better with booze, right?

The Judging
Before the judges share their thoughts, Chefs Anne and Bobby bring out Rasheeda and Alina. Both finalists did a downright impressive job with this meal and should have nothing but pride for it. Especially considering where they were just weeks ago. Seriously, well done, ladies!

The judges talk to Rasheeda and Alina and tell them that their thoughts come basically down to the riskiness that Rasheeda put into her menu and the flavor that Alina put into hers. Risk vs. Flavor.

And the winner is... ALINA!

She's had some ups and downs, but in the end, she brings home the win and with that win comes 25 thousand dollars and a 5 thousand dollar gift card to Kohls. Not too shabby for someone who up until 6 weeks ago couldn't boil a noodle.

Needless to say, Bobby is thrilled and Anne is disappointed. I feel the worst for Rasheeda, but she doesn't go home empty handed. She will be receiving a 5 thousand dollar gift card to Kohl's as well. She'll be able to show off her skills to her sister. And maybe that guy from the grocery store if things go well.

I'm thrilled that Alina won, not only because it gave Bobby Flay his first win, but because Alina has been a consistent force in the kitchen during the entire competition. She has done a great job of balancing what Chef Bobby has taught her with her own ideas and instincts. I think she could be a real natural in the kitchen and hope she continues cooking. I know Marhsall will be the happy beneficiary of all her new found culinary skills.

Congratulations, Alina!

For more on the winner of Worst Cooks in America, check out our exclusive Q&A with Alina.

And for more Food Network recipes, follow our link!

 

Tags: Cooking Shows, Worst Cooks in America, Food Network
Sign Up for Weekly Personalized Recipes. FREE!