Alina Bolshakova Talks Bobby Flay, Worst Cooks in America Lessons and More
Emily Caruso | Jelly Toast
Alina Bolshakova is still alive on Worst Cooks in America. Read on for our exclusive chat with the aspiring chef.
Worst Cooks in America is entering into its final three episodes of the season, as both teams are down to three recruits and the heat is on.
I recently had the opportunity to speak with Alina Bolshakova, one of the final three recruits on Chef Bobby's Blue Team. Her fearlessness and creativity in the kitchen has served her well and it was pleasure getting to hear more about her experience on the show.
Read on for excerpts from our exclusive Q&A...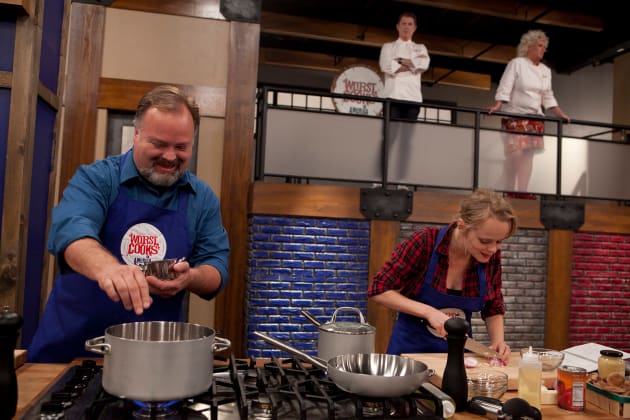 Food Fanatic: I'm a big fan of the show, and you've been so much fun to watch. The challenges that the chefs throw at you seem intimidating, even for an accomplished home chef. Was there a moment on the show that was particularly daunting?
Alina: Yeah! Butchering a chicken with the head still on. I actually never even took the head off. I just couldn't do it. I tried to raise that butcher knife to take the head off and...I just couldn't do it. I think I covered it with a kitchen towel and just kept going. It was not like going to the store, buying a real chicken all cut up with no trauma!

FF: What was the major driving force behind signing up to be part of the show?
Alina: I am a caretaker and the gentleman that I am taking care of is very, very close to me. He's really like a father figure to me. I lost my father a year ago, and this gentleman that I am taking care of has really stepped into that father role. After losing a father and getting closer to someone else who has stepped into that role, you really don't want to lose them.

You want to do everything you can to make them better. He's a diabetic and I wasn't really able to cook anything for him. You can get takeout, but there is so much sodium in it. I could take regular cooking classes, but they're so expensive and you never know how the teacher is going to be. When this opportunity came along and I knew that Chef Anne is such an incredible teacher and Chef Bobby is so known for his great cooking, this would be great for me to go into this and really learn something to be able to provide for the gentleman that I care for.

FF: Have you been able to take the skills that you learned on the show and apply it to your everyday life?
Alina: I really have! Chef Bobby taught us so much about flavors and spices and how food can get such life to it. Even just slicing a little jalapeno pepper or tarragon. Tarragon is now my favorite herb and flavor to put into sauces. Learning about these flavors has made me so confident in the kitchen. Oh, and knife skills! You need a sharp knife, too. I went and I got myself good knives because when I first got home, my knives were falling apart and I couldn't cut with them anymore. At first the chef's knife was very scary for me, but now it's my favorite knife to use and cut with.

FF: Chef Anne has demonstrated her ability as a great teacher with her record over the last several seasons, did Bobby Flay turn out to be a successful teacher, as well?
Alina: He is a very good teacher. We kind of joked about that Anne is like a teacher for Kindergarteners and Bobby is like a teacher for college. But, yes, he is a really good teacher. He's very patient and kind and I think as a student you really need that because you feel supported by him when you try these new things. He's really awesome.

FF: Were you happy to be picked by Bobby and be part of the blue team?
Alina: Yes! In the beginning, actually, I wasn't sure who's team I would want to be on, I just wanted to learn how to cook. But I was ecstatic when he picked me, especially after trying to cook my own chicken, which they wouldn't even try. But Chef Bobby was kind about it. I was like, "I want to work with Chef Bobby! He seems really kind!"

FF: What was the most difficult skill or challenge to master or get through?
Alina: Honestly? The hamburger challenge. I wanted to cry after that one. Oh my gosh, it was the most stressful thing. My hamburger really kind of fell apart and I tried to glue it back together with cheese. Then I tried to make sweet potato fries and I boiled this peanut oil so high, then I put the fries in and smoke went off. It was insane! I felt like I was shooting a music video there was so much smoke. My fries never turned out really well because apparently you need to cook them once, dry them and then put them back in. That was what the chefs told us after the challenge.

FF: What was your favorite challenge, the one that came the easiest to you or that you had the most fun doing?
Alina: The cake! The cake was fun, yeah. I was able to go crazy on that. I like decorating stuff. Thank god I had the boys so I was able to go crazy with that cake, putting an egg on it. Well, a fake egg at least. It was challenging though, the cake, because all of us are 'fake and bakers' like Carla said. Ron Ben-Israel was such great teacher, though, and he was so thorough about teaching us. The only thing I could think of when doing that challenge was to calm down because as soon as you stress out everything goes haywire.

FF: Did they give you any instruction before shooting or were you truly thrown right into each challenge?
Alina: You are thrown right into it, yes. There is no like, "hey, this is what is going to happen". Walking into the first challenge where we did steak and potatoes, I thought, "well, this is a cooking class, we're going to learn how to boil eggs correctly." Then they start you off with filet mignon and I have never cooked steak. Like, ever. It's just not something I do, and I thought I was going to ruin it. So seeing steak and potatoes, I was like, "oh my gosh..."

FF: It definitely seems like you have a knack for pairing unusual ingredients, for instance in the gelato challenge. I got nervous watching you and the amount of ingredients that you were using. How did you pair all of those flavors together and have it work?
Alina: My gelato was actually just three ingredients, because the first pot I had to throw away because I just put so much stuff in there. But I ended up using saffron, basil and raspberry. I didn't even know what saffron was, the only reason I put it in is because it looked like raspberries. At least it was the same color. So I figured this should work. And Bobby likes spice and I knew that saffron was spice so I was like, "well, I don't know what kind of spice this is" but I put it in. I think the funny part was that they thought it was walnut so I thought, "I guess I'm a genius!". But it was kind of cool, because after you go home and are trying to make regular food, you're not as scared. I think, "wow. I made a gelato. Or at least attempted to". I'm not as scared anymore to try crazy things.

FF: Did you prefer the challenges where you had to recreate one of Bobby's dishes or where you had free creative reign to make what you like?
Alina: I preferred when I had to just copy because I feel like it was easier. I love puzzles, and to me, if you had to replicate a recipe, it was like a puzzle and I got it. When we were on our own, I was like, "what do I do now?" It was stressful. I did like being able to put on my mad scientist cap on when they just let us go free. I mean, cinnamon on a burger is great!

FF: So, tell me. On the take-out challenge, did you really have to race the delivery guy?
Alina: Yeah! And that man was driving pretty fast. When he knocked on our door, we had to stop cooking.

FF: So...honestly, do you order take out anymore?
Alina: Actually, I really don't. After the burger challenge, I can't even go through the drive thru now. I just can't do it.

FF: Now that you're home, what is something that you've been able to refer back to in your everyday cooking that you learned on the show?
Alina: I like to make that Chicken Chasseur recipe that Bobby taught us. I love using tarragon as an herb, and in the sauce it's great. Another day, I tried the filet mignon that almost sent me home and it turned out well because I was able to take my time. And I made it for the man I take care off and he said it was the best meal he'd ever had!

FF: Do you have any advice for someone who might be intimidated by cooking for themselves?
Alina: Don't be afraid to experiment. I think the beauty of letting us go free is that now we are able to make our own flavors and not to be afraid of that. It's good to have a recipe at the beginning to learn the concept, but then not be afraid to go for it. And if it doesn't turn out well, try again. This experience took the fear of the kitchen away from me.

FF: Is there any teaser you can give us about this week's show?
Alina: It's going to be another feisty episode! Especially watch out for the main dish challenge. It's going to be crazy and fun and there was a moment where I thought I better go out with a bang if I'm going to go.

FF: Do you have any parting thoughts for the Worst Cooks in America viewers?
Alina: Cooking is now fun because I'm not afraid. Make food fun and if you make it with love, it'll turn out even better than you expect it to be.

Tags: Worst Cooks in America, Exclusives