Slow Cooker Chicken Curry
Katie Jasiewicz | Katie's Cucina Updated
Slow cooker chicken curry is everything you want in a weeknight dinner. Let your slow cooker do all the work for you. Utilize leftover basmati rice to add to your meal.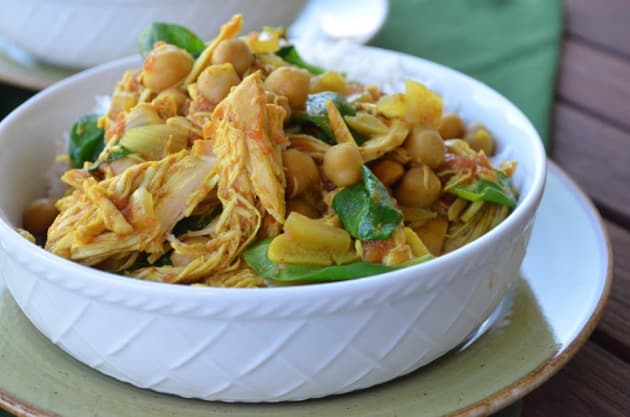 I love to make a wide variety of foods from all over the world. I'm always experimenting with new flavors and mostly get inspiration from restaurants that I eat at.
I just started eating curry over the past decade and enjoy it very much. My husband isn't a big fan, although by slowly introducing him to dishes like Beef and Asparagus Curry, he has begun to enjoy the flavors of India as well.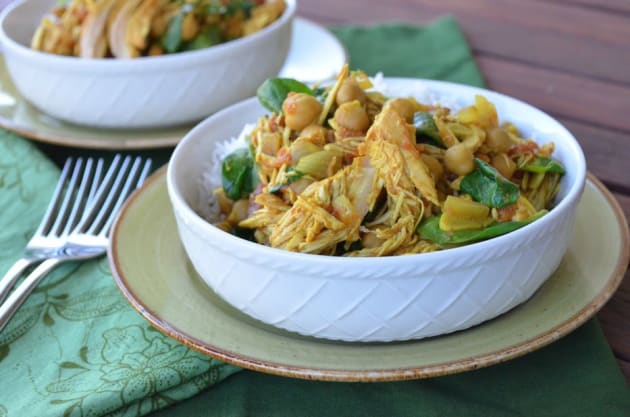 Over the past few years, I have tried a few curry slow cooker recipes. Each turned out quite bitter. This time I decided to cut the curry powder during the majority of the cooking time. I wanted just a tiny bit of curry powder to cook all day in the slow cooker.
By adding in the majority of the curry powder just before you're ready to serve, it cuts out the bitterness that can form over hours of cooking on low. This Slow Cooker Curry Chicken & Chickpeas can feed an army and freezes well.
NOTE: If you're looking for a vegetarian curry dish (not cooked in a slow cooker but cooked on the stove top) I'd highly suggest my Chickpea Curry.
Ingredients
1 15-ounce can Garbanzo Beans, rinsed and drained
1 28-ounce can Diced Tomatoes, undrained
1 cup Chicken Broth
1 Bay Leaf
5 teaspoons Curry Powder
teaspoon Ground Ginger, ground
1/2 teaspoon Salt
1/4 teaspoon Black Pepper
1 pound Chicken Breast
1 small Onion, diced
3 cloves Garlic, minced
1 tablespoon Cornstarch
2 tablespoons Fresh Lime Juice
1 package Spinach
Basmati Rice, for serving
Directions
In the slow cooker add drained garbanzo beans, tomatoes, broth, and bay leaf. Mix in 1 teaspoon of curry powder, 1 teaspoon of ground ginger, salt, and pepper. Mix well until seasonings are blended in. Then add chicken, diced onions, and garlic. Make sure the chicken is covered with the sauce.
Place the lid on the slow cooker and cook on low setting for 8-10 hours or on high for 4 to 5 hours.
Once the chicken is done, remove the chicken and shred. Take 2 tablespoons of the broth and add it to a bowl. Mix with 1 tablespoon cornstarch. Stir in cornstarch mixture.
Then stir in remaining 4 teaspoons of curry powder, 1 teaspoon of ground ginger, lime juice and spinach.
Mix in shredded chicken and let it stand for 5 minutes (lid on) or until spinach starts to wilt.
Reheat leftover basmati rice. Serve the curry chicken and chickpeas over the rice.
Notes
The package of spinach should be nine ounces.

Tags: One Pot Meals, Chicken Curry, Slow Cooker, Chicken, Indian, Curry, Dinners