How to Make the Best Homemade Rosemary Focaccia
Christine O
Once you've tried your own homemade bread, you'll never buy store bought again.

This perfectly backed focaccia bread is perfect for sandwiches, alongside a soup or just as a quick snack.

Best of all, it's both easy to make, and delicious.

We're making Homemade Rosemary Focaccia!
First, dissolve 1/2 tablespoon yeast in the warm water and 1/4 cup extra virgin olive oil in a large mixing bowl or stand mixer.

Stir in 1/2 tablespoon salt, 2 teaspoons sugar, and 2 and 1/2 cups flour and knead until it forms a nice smooth dough (which should take less than 5 minutes, even when doing it by hand instead of in a mixer).

Let the dough rise 1 to 1 and 1/2 hours.

Then, lightly grease a baking sheet and preheat your oven to 425 F.

Shape the risen dough into a ball and flatten it out with your hands, stretching it or rolling it into a nice 8 to10 inch inches diameter disc. It should only be about 1/2 inch thick.

Lay it out on the prepared baking sheet.

Now, rub the surface of the dough with 2 teaspoons olive oil.

Use your fingers to poke at the dough creating lots of little divots over the whole disc.

Sprinkle 1 teaspoon dried rosemary, 1/4 teaspoon sea salt, and 1/4 cup freshly ground cracked pepper over the whole thing (or whatever flavor combination you desire).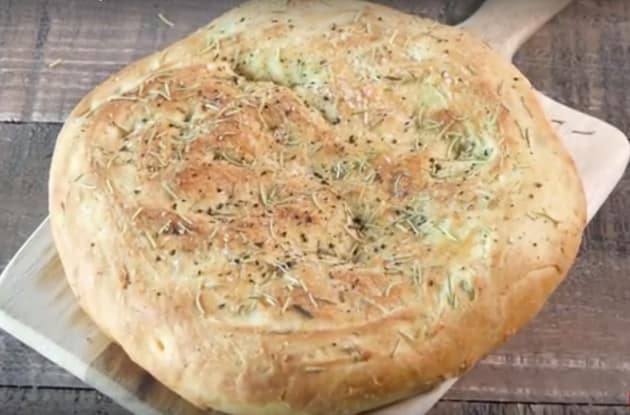 Check out the video below for all the tips and delicious details.

Bake in the preheated oven for about 20 minutes, until golden brown.

Then slice, eat, and enjoy!