If you like strawberries, you're going to love this cake.

It's not only refreshingly light, but it's absolutely delicious.

And despite looking impressively complicate, it's easy to make.

Let's make Strawberry Swiss Roll!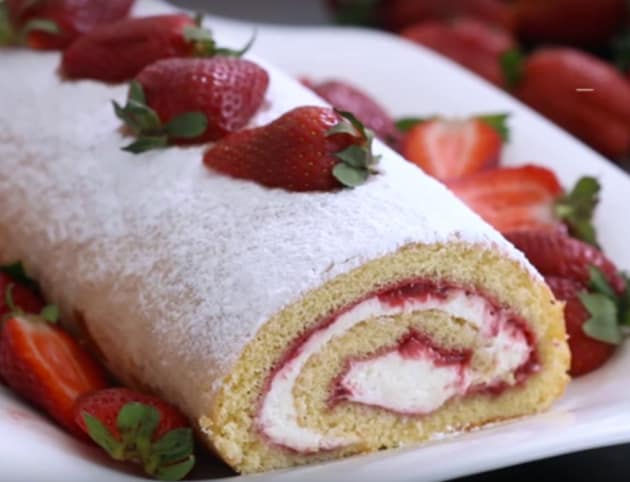 Prepare the strawberry jam filling. In a small saucepan put 10 ounces of strawberries cut into small pieces, 1/4 cup sugar and 1 tablespoon water. Bring to a simmer, stirring occasionally.

Press the strawberries with the back of the spoon to speed up the process. Simmer until the mixture is thick, for about 15 to 20 minutes. Remove from heat and let cool completely before using.

Prepare the cake. Preheat the oven to 350F. Butter a 12X16 inch baking tray and line it with parchment paper.

In a medium bowl whisk 3/4 cup flour with 1 teaspoon baking powder and 1/2 teaspoon salt. Set aside.

In a large bowl add 4 eggs, sugar and 1 teaspoon vanilla extract. Beat with an electric mixer until lemon yellow and foamy. Add 2 tablespoon oil and mix until well incorporated.

Gradually add flour mixture.

Pour the batter into the prepared baking tray and spread evenly into the corners using the back of the spatula.

Bake for 12 to 15 minutes until a toothpick inserted into the center comes out clean. Take a kitchen towel and generously sprinkle with powdered sugar. This helps the cake not stick to the towel.

Flip the cake over the towel. Remove the parchment paper and dust with powdered sugar.

While still hot roll the cake up in the towel. You will have to do it while is still hot/warm otherwise it cracks. Let cool completely.

Prepare the cream cheese filling. In a bowl, beat 9 ounces cream cheese with 1/2 cup powdered sugar and 1 teaspoon vanilla. In another bowl whip the 1 cup chilled whip cream with an electric mixer until it forms stiff peaks. Fold together.

Unroll the cake and spread the strawberry filling evenly over the cake.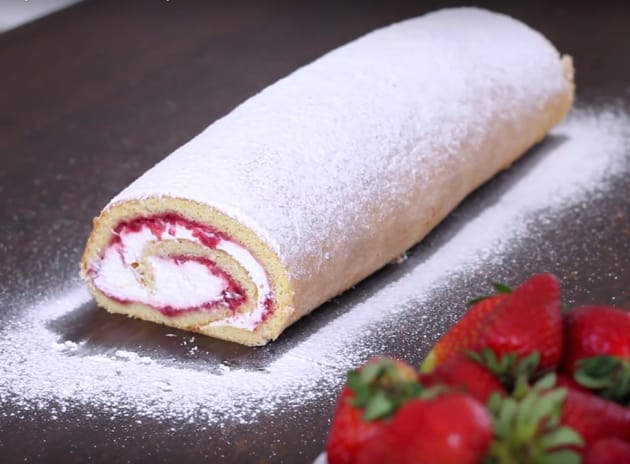 Check out the video below for all of the delicious details.

Spread the cream cheese filling on top of the strawberry filling.

Roll the cake back up. Refrigerate for at least 1 hour before serving.

Sprinkle with more powdered sugar before serving and decorate with fresh strawberries.