Want a unique dessert for your next tasty treat?

We've found a way to combine two of our favorites.

Let's make mini s'mores eclairs.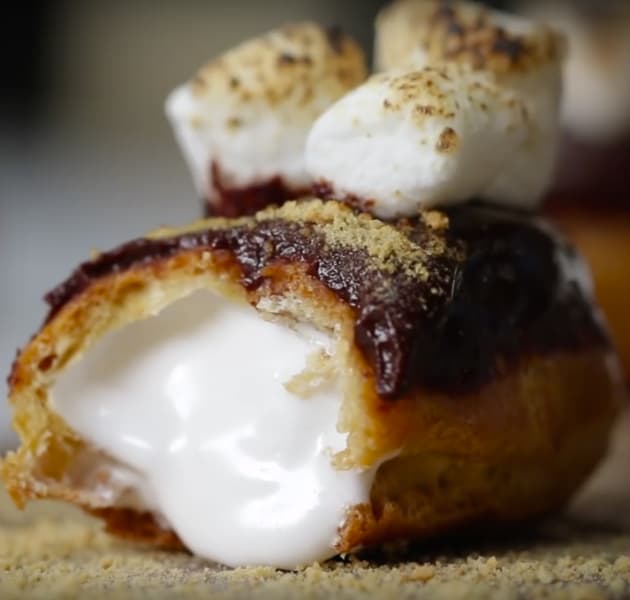 Preheat oven to 425˚F.

In a medium saucepan, add 1/2 cup unsalted butter, 1 cup water, and 1 teaspoon salt over medium heat. Allow all the butter to melt and bring the mixture to a boil.

As soon as the mixture begins to boil, reduce heat to medium-low and add in 3/4 cup flour and 1 pack graham cracker crumbs. Using a wooden spoon, mix thoroughly to combine.

Continue stirring for about two minutes. The dough should form into a ball and easily pull away from the sided of the pan. Remove the mixture from heat and leave to cool for 5 minutes.

Add in 3 eggs to the cooled dough, one at a time, being sure to fully incorporate each egg before adding the next. (The eggs will initially be difficult to incorporate into the dough - but continue stirring vigorously and they will eventually come together to form a smooth shiny dough)

Once the dough comes together, transfer it to a piping bag and pipe onto a parchment-paper-lined baking sheet into 2-3 inch logs.

Smooth out any peaks/tails caused by piping with a wet fingertip to ensure your eclairs cook evenly and maintain an even shape.

Brush the eclairs with beaten egg.

Bake in a preheated oven for 10 minutes. Then, without opening the oven, reduce heat to 350˚ (175˚C) and bake for an additional 15 minutes.

Remove eclairs from oven. Using the tip of a knife, cut a small "x" into the bottom of each eclair and transfer to a cooling rack with the x side facing up.

Fill a piping bag fitted with a narrow tip with 14 ounces marshmallow fluff.

Just before serving, pipe the fluff into the cooled eclairs. Break apart 4 ounces dark chocolate and add to a small microwave safe bowl.

To a separate, small microwave safe bowl, add the heavy cream. Microwave 1/2 cup heavy cream for one minute.

Remove and immediately pour the hot cream over the chocolate pieces. Stir until the chocolate has melted and a nice ganache has formed. If necessary place the bowl with chocolate and cream in the microwave for 10 second increments, stirring after each until smooth.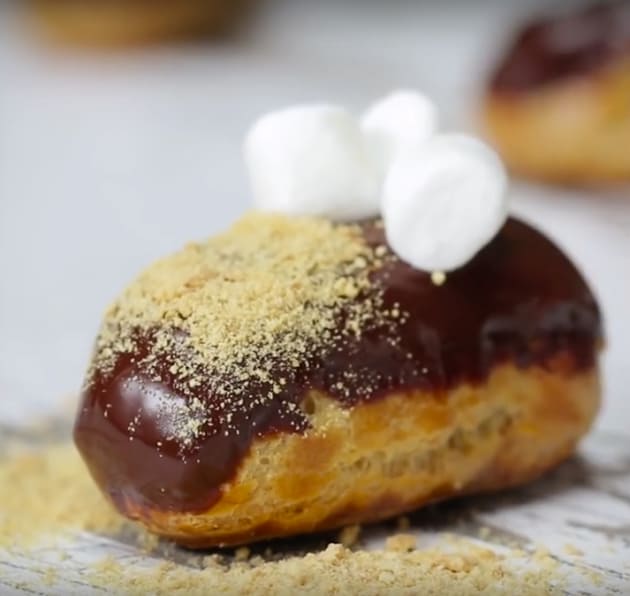 Dip the top side of the filled eclairs into the melted chocolate.

Sprinkle with additional graham cracker crumbs and top with mini marshmallows. Iif you have a kitchen torch you can "toast" the marshmallows to make them super cute.

Check out the video below for all the delicious details.

Best served immediately. Enjoy!