How to Make Guilt-Free Creamy Chicken Alfredo
Christine O
It's rich. It's creamy. It's absolutely delicious.

But all of that wonderful flavor comes with a price…calories!

However, we may have found a way to indulge your craving for this amazing Italian meal without ignoring your diet.

Let's make Guilt-Free Creamy Chicken Alfredo!
Bring a stockpot of water to a boil and add 1 pound of fettuccine noodles. Simmer according to the directions on the box.

(To make this dish even healthier, you can use whole wheat noodles.)

Chop 1 clove garlic and add it to the boiling water with the pasta. This mellows out the garlic and infuses the pasta with its flavor.

In a large mixing bowl, add 1 cup yogurt, 1/2 teaspoon salt, 1/4 teaspoon Italian seasoning, and 1/4 teaspoon red chili flakes. Stir to combine.

Once the noodles are cooked through, turn off the heat, strain, and return the noodles to the hot pot.

Add the1 tablespoon butter and toss so the pasta is coated.

Carefully add the pasta to the yogurt mixture and stir until the sauce is evenly distributed.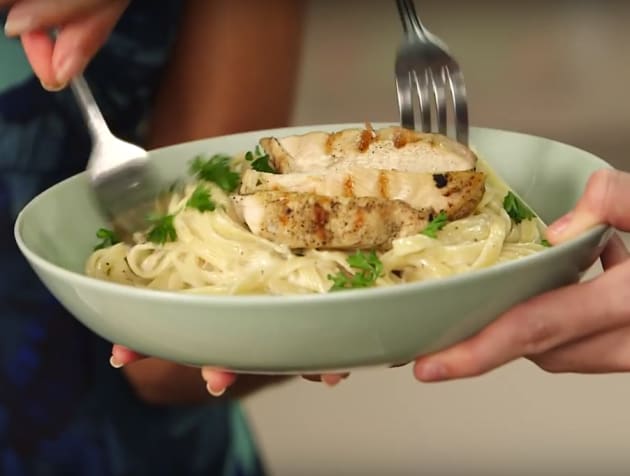 Check out the video below for more tips and all of the delicious details.

Sprinkle with 1/2 cup grated parmesan cheese and give it another toss.

Serve each plate with half a chicken breast on top, a sprinkle of parsley, extra cheese and a dusting of salt and pepper and a hint of nutmeg.

Then serve, eat, and enjoy!