How to Make Girl Scout Samoa Cookies at Home!
Christine O
So you're craving those amazing Girl Scout cookies but there's not a scout in sight to sell them to you.

What to do?

Did you know you can make them at home?

So let's get to it and make Samoas Girl Scout cookies!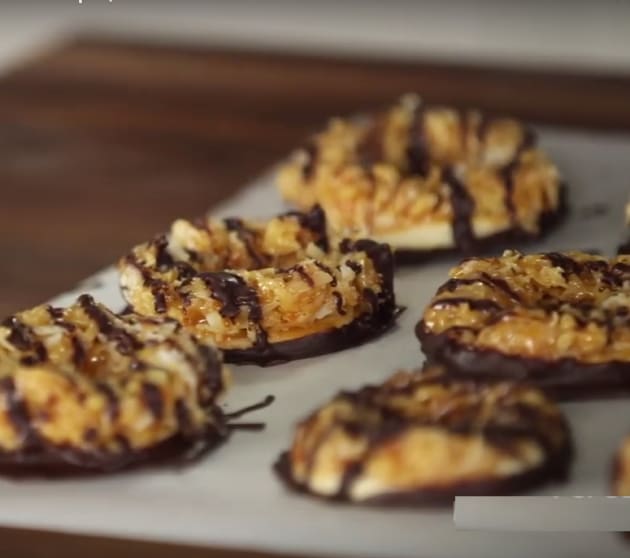 Preheat your oven to 350ºF.

In the bowl of a stand-up mixer fitted with the paddle attachment, cream together 1 cup unsalted, room temperature butter and 1/2 cup sugar until light and fluffy.

In a separate bowl, whisk together 2 cups flour, 1/4 teaspoon baking powder, and 1/2 teaspoon salt.

Add the flour mixture to the creamed butter in thirds, being sure to scrape down the sides of the bowl as necessary. Once incorporated, add 2 tablespoons milk and 1/2 teaspoon vanilla extract, and mix until the dough comes together.

Flatten out the dough and wrap in plastic wrap. Refrigerate for about 1 hour or until the dough is firm.

Once the dough has chilled, roll out the dough on a lightly floured surface until it is 1/8 inch thick. Use a doughnut-shaped cookie cutter or two biscuit cutters to cut out cookies.

Place cookies on a parchment-paper-lined baking sheet using a spatula, and keep going until you have used up all of the dough.

Bake cookies for 10 to 12 minutes, rotating the baking sheet halfway through, until the cookies are a pale golden brown. Remove from the oven and let cool completely.

Now let's make the coconut topping: Melt 15 ounces soft caramels, 3 tablespoonsmilk, and 1/4 teaspoon salt in a double boiler by placing the caramels in a medium saucepot set over a large saucepot of simmering water.

Cook until the caramels are fully melted. Remove the saucepot from the heat and pour 3/4 of the melted caramel over 3 cups shredded, sweetened, toasted coconut in a large bowl.

Carefully spread the remaining caramel on top of the cooled cookies and then press on the coconut caramel mixture on top of each cookie. Let the cookies cool for 30 minutes. If the caramel-coconut mixture thickens too much or the caramel sets, return it to the double boiler and warm it up until it is spreadable again.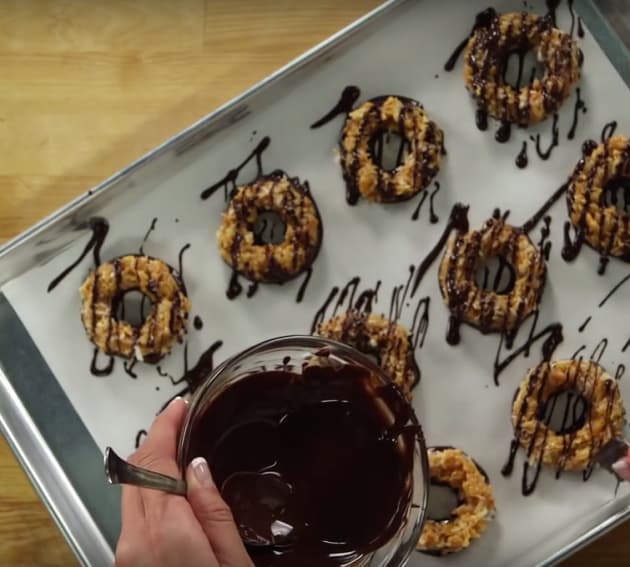 Check out the video for all of the delicious details.

Melt 8 ounces dark chocolate in the microwave. Dip the bottom of each cookie in the chocolate and place it on a wax-paper-lined baking sheet. Use a fork to drizzle chocolate on top of each cookie in a zigzaggy pattern.

Let cookies sit until chocolate hardens.

Then eat and enjoy!
Tags:

Related Videos:

Copycat Desserts Videos, Desserts Videos, Snacks Videos, Cookies Videos, Chocolate Videos, Caramel Videos

Uploaded by:

Uploaded: