This recipe is a must for any chocolate lover.

It's elegant enough to serve at any dinner party and light enough to want to have a second helping.

And the creamy chocolate taste is just plain decadent.

Let's make Chocolate Soufflé!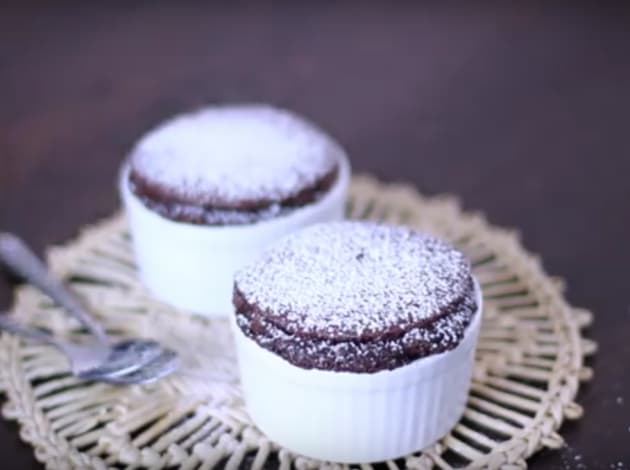 Preheat your oven to 375°.

Butter the inside of your soufflé molds ( we used 3 1/2 Inch or 9 cm Ramekins).

Dust the molds with granulated sugar, then pour out the excess.

Place 3 tablespoons milk and 1 tablespoon  cream in a small saucepan and stir over medium heat until it boils.

Remove from heat and add 2 ounces of dark chocolate. Let sit for 1 minute then stir until well combined and all of the chocolate has melted.

Add 1/4 cups unsweetened cocoa powder and 3 tablespoons water. Whisk until very hot over double boiler.

Remove from the heat and set aside to cool for few minutes.

Meanwhile whip 3 egg whites with 1/4 teaspoon salt until foamy. Gradually add 5 tablespoons sugar and beat until stiff peaks form.

Add 3 egg yolks to chocolate mixture and whisk in to combine.

Using a rubber spatula gently mix one-third of the egg whites into chocolate mixture. Then fold the chocolate mixture into the remaining whites.

Spoon batter into prepared molds.

Bake for about 13-15 minutes, until the soufflé has risen to about 1 and 1/2 inches above the dish.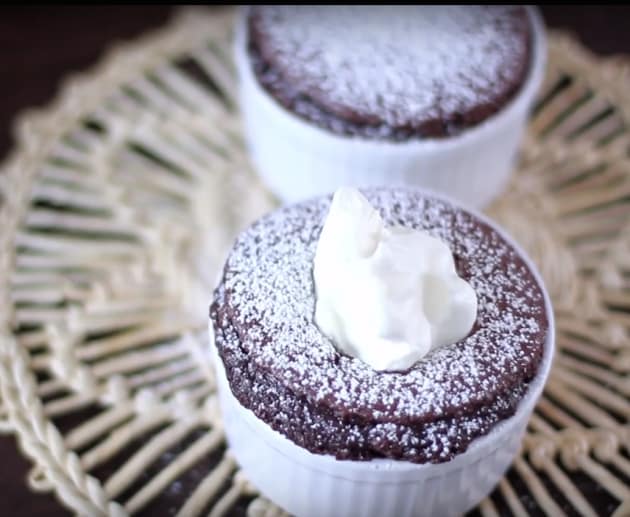 Check out the video below for all of the delicious details.

Meanwhile whip 7 ounces whipping cream with 1 tablespoon powdered sugar if used for serving.

Remove from the oven and dust the top with powdered sugar and add a spoon of whipped cream.

Youl'll want to serve immediately as the soufflé will begin to deflate after in 2 minutes.

Eat and enjoy!